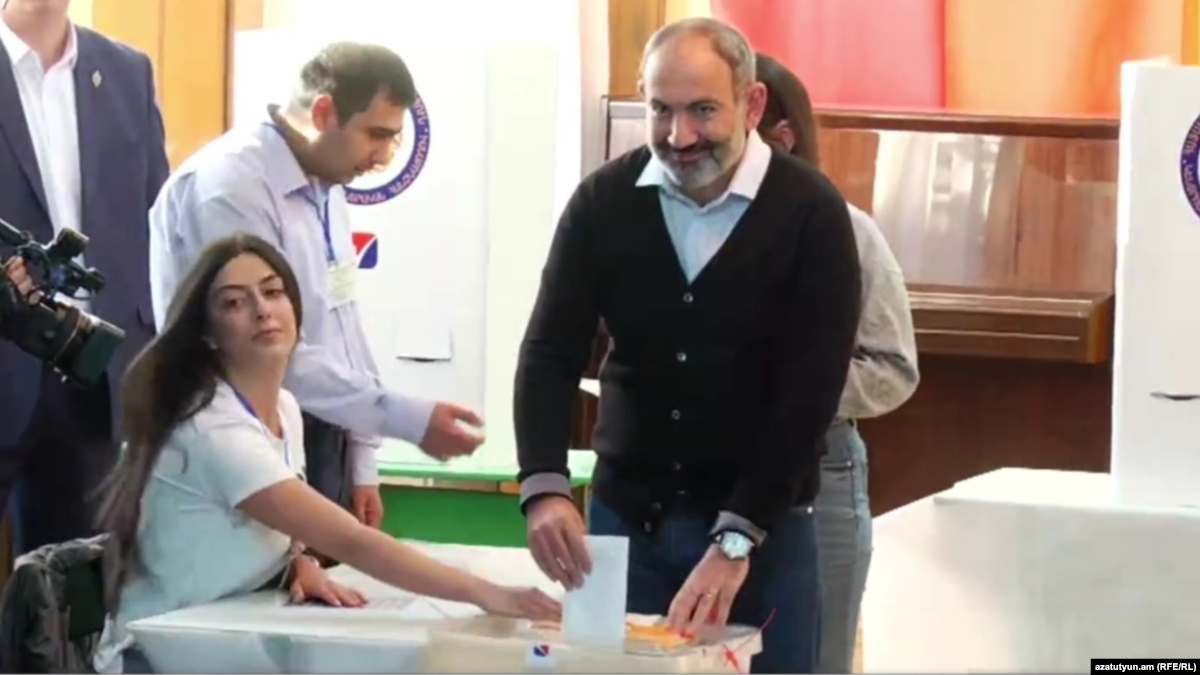 elections
Yerevan Holds Snap Municipal Polls After 'Real' Election Campaign
September 23,2018 15:16
YEREVAN -- Voters in Yerevan are heading to the polls to elect a new city council in Armenia's first major election since opposition lawmaker Nikol Pashinian became prime minister after leading a wave of antigovernment protests in May. The voters in ...and more »

YEREVAN -- Voters in Yerevan are heading to the polls to elect a new city council in Armenia's first major election since opposition lawmaker Nikol Pashinian became prime minister after leading a wave of antigovernment protests in May.
The voters in the Armenian capital are choosing on September 23 the 65 members of the Council of Elders, after Taron Markarian resigned as mayor in July.
Members of new council will be selected under a proportional representation system and will later elect a new mayor unless a political party or bloc wins more than 40 percent of the votes. In that case, the person holding the top position on the winning list will automatically become mayor.
Speaking to journalists after casting his ballot, Pashinian expressed satisfaction with the "heated" election campaign ahead of the vote.
"This election campaign was a real campaign, and all the forces, including the current government, understood that they must fight for every vote," he said.
"They say passions run high, but this happens in any democratic country. From now on passions would run high during each campaign, because the elections will be real. We have to get used to real elections and real campaigns," the prime minister added.
The elections in Yerevan, where nearly half of the country's population lives, are a major test for the new government of Pashinian, whose popularity is based on his anticorruption and economic-reform stance.The prime minister still faces a parliament mostly made up of members of the former ruling Republican Party.
Twelve political parties and alliances taking part in the September 23 elections, with the pro-Pashinian alliance being led by popular actor and producer Hayk Marutian.
Lawmaker Naira Zohrabian tops the list of the Prosperous Armenia Party (BHK).
The Heritage party's candidate for the post of mayor is Raffi Hovannisian, who served as Armenia's first foreign minister in 1991-92 and was a top rival of former President Serzh Sarkisian in the disputed 2013 presidential election.
Participants in the elections also include the Yerkir Tsirani party, the Armenian Revolutionary Federation (Dashnaktsutyun), and the Country of Law (Orinats Yerkir) party.
However, the former ruling Republican Party is not participating.
Its senior member Markarian submitted his resignation on July 9 after serving as Yerevan mayor for seven years.
The Council of Elders could not elect a new mayor, triggering early elections.
Earlier this month, the Armenian parliament voted to increase penalties for giving people cash and other enticements to vote for a particular candidate, party, or programs during elections and referendums.
Armenia's opposition has for years complained that elections were rigged to favor the ruling party.

RFERL