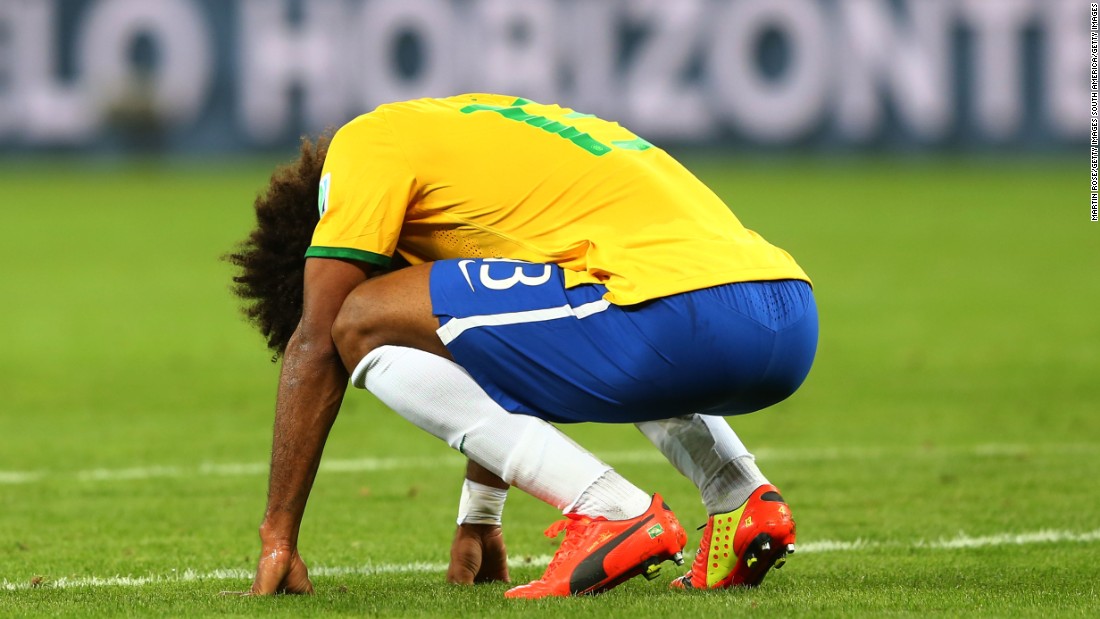 world news
World Cup: Brazil needs to avoid another historical upset for redemption
June 10,2018 08:31
(CNN) They won't be at Russia 2018, but for one day in 1950 the Americans were kings of the soccer world. Led by a team of semi-professionals, the US pulled off a 1-0 win against tournament favorite England in front of a crowd of over 10,000 in Belo ...
Led by a team of semi-professionals, the US pulled off a 1-0 win against tournament favorite England in front of a crowd of over 10,000 in Belo Horizonte, Brazil.It was a shock then, but statistically the result still holds up as the greatest upset in World Cup history, according to data analysts Gracenote.The US, whose goal came from a Joey Gaetjen header in the 38th minute, had just a 9.5% chance of winning going into the match, based on Gracenote's calculations.It would take Team USA another 44 years and a tournament held on home soil to win a World Cup match, a 2-1 victory over Colombia.
Gracenote's historical number crunching ranked every previous World Cup team's chances going into a match. Statistics factored in previous results, home field advantage, and the level of match importance, with friendlies given a low weighting.
"Sometimes surprises are perhaps not as big as people think they are," says Gracenote Sports' head of analytics Simon Gleave.

1-on-1 with World Cup winning captain Lothar Matthäus 02:32

READ: 11 moments that shook the World Cup
READ: And the winner of the 2018 World Cup will be ...

Upsets take different shapes

Switzerland's 1-0 win in 2010 over eventual tournament winners Spain takes second place in the Gracenote rankings. The Swiss had just a 10.3% chance of winning the match over the tournament favorites and escaped despite shooting just 6 shots on goal to Spain's 22.
But the loss probably served to wake up Andres Iniesta, David Villa and co. enough to go on a winning run.
Algeria's 2-1 win over a West German team led by Karl-Heinz Rummenigge in 1982 is ranked the third-greatest upset of all time.
Any Algerian old enough will remember where he or she was when the North Africans stunned one of Europe's powerhouses.
Led by an assist and winning goal from Lakhdar Belloumi, Algeria pulled off the inconceivable in its first-ever World Cup match. West Germany eventually lost to tournament winners Italy in the 1982 final.

1-on-1 with England young gun Marcus Rashford 01:23

In fourth place is Ghana's win over the Czech Republic in 2006 with the Black Stars given just a 13.9% chance of beating a team led by Pavel Nedvěd.
Making their World Cup debut, the Ghanians had already lost to Italy entering the match in Cologne, Germany. But a goal just 70 seconds in from Asamoah Gyan set the tone and Ghana won 2-0.
Another match at the 1950 World Cup provided another major upset -- this time in the final.
With hosts Brazil leading 1-0 and seemingly cruising to victory in front of a crowd of 200,000 in Rio De Janeiro's Maracana stadium, Uruguay scored twice in 13 minutes to claim the tournament and stun the hosts.
Uruguay were given just a 14.3% chance of winning the 1950 World Cup decider -- not that much lower than Germany's 22% chance of beating Brazil in the 2014 World Cup seminfinals.

1-on-1 with Vincent Kompany: 'A big part is luck' 01:59

READ: How Australia kept fit on 250,000 km World Cup journey
READ: Your Country Needs You! What nationality means to the modern-day footballer

Brazil's road to redemption

Brazil's 2014 World Cup was billed as a redemption of sorts, to do away with the bitter feelings from Uruguay's shock win 64 years earlier.
Instead, an injury to star striker Neymar and a suspension of stalwart defender Thiago Silva, contributed to a 7-1 thumping at the hands of the eventual victors.
Brazil's loss to Italy in 1982 was equally devastating -- but at least that happened thousands of miles away in Spain.
Led by the likes of Zico, Socrates, Falcao, Junior and Eder, Brazil's '82 World Cup squad was probably the the most hyped World Cup team to ever lose a tournament.
Going into its second-round battle, Italy had less than a 19% chance of winning the match. But the Azzurri picked the right time to pull of what is still its biggest World Cup upset -- putting together a perfect match behind a Paulo Rossi hattrick.

Dante on Brazil's 7-1 defeat to Germany 02:09

Italy went on to win the tournament, while the Brazilians redeemed themselves by winning the 1994 and 2002 Word Cups.
Which defining World Cup moment stands out for you? Have your say on our Facebook page or by tweeting @CNNSport
Could redemption be in the cards again for the Brazilians after its 2014 meltdown?
Gracenote has yet another statistic of note: There is a 35% chance that Brazil and Germany could meet again in Russia, with the two countries forming the second-most likely final matchup.
First, however, Brazil will have to escape potential major upsets in its group stage at the hands of Serbia (10.7% chance of winning) and Costa Rica (11.4%).

Photos: Key World Cup moments
Geoff Hurst, 1966 – Did it cross the line? With the scores between England and West Germany level at 2-2 in the 1966 World Cup final, striker Geoff Hurst's shot hit the crossbar and deflected downwards. At first a goal wasn't given, but then allowed after consultation between the referee and linesman. The game ended 4-2, securing England's first and only World Cup victory.

Photos: Key World Cup moments
Pele, 1970 – Brazil's 100th World Cup goal, celebrated wildly by Pele, who jumped into the air with joy as his side took the lead in the final against Italy. The game ended 4-1 to Brazil -- their third World Cup victory.

Photos: Key World Cup moments
Dutch great Johan Cruyff scored three goals in the 1974 World Cup, twice against Argentina in the second round and then against Brazil in a 2-0 win that sent Holland through to the final.

Photos: Key World Cup moments
Harald Schumacher, 1982 – An ugly moment. German goalkeeper Harald Schumacher clattered into France's Patrick Battiston, who was through on goal, knocking him unconscious at the 1982 semifinal in Spain. Schumacher was unmoved as his opponent was stretchered off the field.

Photos: Key World Cup moments
Diego Maradona, 1986 – "The Hand of God" needs little introduction. England vs. Argentina, the quarterfinal of the 1986 World Cup in Mexico. A mis-hit clearance was heading into the hands of goalkeeper Peter Shilton, before a leaping Diego Maradona intercepted it with his hand, punching the ball into the net. The game ended 2-1, with Argentina going on to win the World Cup.

Photos: Key World Cup moments
Roger Milla, 1990 – One of the greatest ever World Cup celebrations. Roger Milla turned on the style at the 1990 World Cup in Italy, which saw his Cameroon team reach the quarterfinals -- the furthest an Africa team has ever gone in the competition.

Photos: Key World Cup moments
Andres Escobar, 1994 – An own-goal by Colombia's Andres Escobar had tragic consequences. Less than a week after seeing his team eliminated from the competition due to his error, Escobar was shot dead on the streets of Medellin, a murder linked to drug lords who lost huge amounts of money on the result.

Photos: Key World Cup moments
A Dutch master at work ... Dennis Bergkamp stops Frank de Boer's pass dead, transferring the ball to his left foot as he twists past Argentina's Roberto Ayala. His third touch, again with his right boot, flicks it past Carlos Roa, the keeper. Three perfect touches to take the ball from a speculative punt upfield to what remains one of the ultimate moments of skill ever displayed in a World Cup.

Photos: Key World Cup moments
2006, Zinedine Zidane – A rush of blood to the head. With the 2006 World Cup final moving into extra-time, goalscorer Marco Materazzi muttered a few words to France legend Zinedine Zidane, who returned with a headbutt to the Italian's chest. In his last ever professional match, Zidane was red carded and Italy went on to win on penalties.

Photos: Key World Cup moments
Luis Suarez, 2010 – Another South American -- this time Uruguayan Luis Suarez -- another handball. This one, however, was less subtle. Suarez's hands prevented Ghana from bagging a winner in extra-time. He saw red, and Asamoah Gyan's whacked the resulting penalty against the bar. Uruguay went on to win on penalties.

Photos: Key World Cup moments
Brazil vs. Germany, 2014 – One of the biggest humiliations the World Cup has ever seen. Brazil has struggled for form throughout the tournament, which was being played on home soil for the first time in 64 years, and met an impressive German side in the semifinals. But few could have predicted what was to follow: a 7-1 demolition by the visitors, who went on to lift the World Cup trophy.


football,World Cup: Top upsets of all-time - CNN