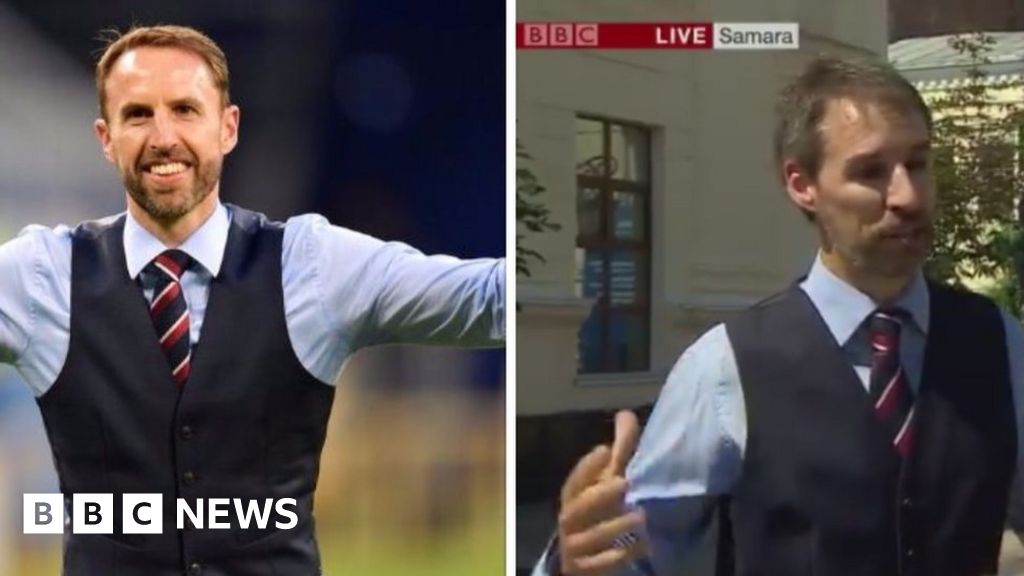 world news
World Cup 2018: Tributes to Gareth Southgate... and his look-alike
July 08,2018 14:30
England has a new hero. And in case you didn't know, he wears a waistcoat. After England beat Sweden on Saturday to reach the Fifa World Cup semi-finals, everyone fell even further in love with team manager Gareth Southgate and his dress sense.and more »


Image copyright EPA, BBC
Image caption England football manager Gareth Southgate and look-alike Neil Rowe, from Surrey, EnglandEngland has a new hero. And in case you didn't know, he wears a waistcoat.
After England beat Sweden on Saturday to reach the Fifa World Cup semi-finals, everyone fell even further in love with team manager Gareth Southgate and his dress sense.
It comes after the former footballer was widely praised for his compassion when he comforted a Colombian player who missed a penalty.
BBC journalist Andrew Marr captured the country's mood when he presented his usual Sunday programme wearing - you guessed it - a waistcoat.

Marr paid tribute to the man of the moment as began the programme by talking about Brexit negotiations.
"A big confrontation with Brussels looms. Those who have waited are now blessed with a calm and decisive leader they can believe in. So thank you, Gareth Southgate," he said.
Meanwhile, sports presenter John Acres appeared on BBC Breakfast wearing a paper cut-out version of the waistcoat.

Image caption BBC Sports presenter John Acres wearing a paper waistcoatFootball fans have also posted pictures of themselves wearing waistcoats over England shirts in the blazing summer sun.

Southgate's new fame is turning the spotlight on to the men who happen to look like him.
One was spotted in the stadium stands in Samara, Russia, on Saturday.
"Did you see that look-alike Gareth Southgate in the crowd? Complete with waistcoat, fooled me, I was thinking what is Southgate doing in the crowd," wrote Twitter user Carl Campbell when he spotted the look-alike, Neil Rowe, from Surrey, England.
You might also like:
Southgate plays down role as 'fashion icon'
The unlikely lads inspiring England
Gareth Southgate's compassion praised
Mr Rowe told the BBC that the similarity was spotted years ago, when he was asked to sign napkins after Southgate missed a penalty at Euro 96.
"Some fans here in Russia believe I am the real one. Some Colombians were having a go at me yesterday, saying well done to your team for beating us," he explained, adding that he was also given free beer in a bar.
"It's been about 500 selfies a day here easily - I've got jaw-ache."
And what's it like sporting the full Southgate attire?
"Last night was just about bearable. But after wearing it all day in the heat, I could do with some extra vents. This waistcoat isn't made for Central Asian summers," Mr Rowe explained.
Fans in Samara have been snapping selfies with him - probably the closest they'll get to meeting the real deal.

world cup 2018 world cup world of tanks world of warcraft world of warships world world map world of warplanes world cup live world trade center