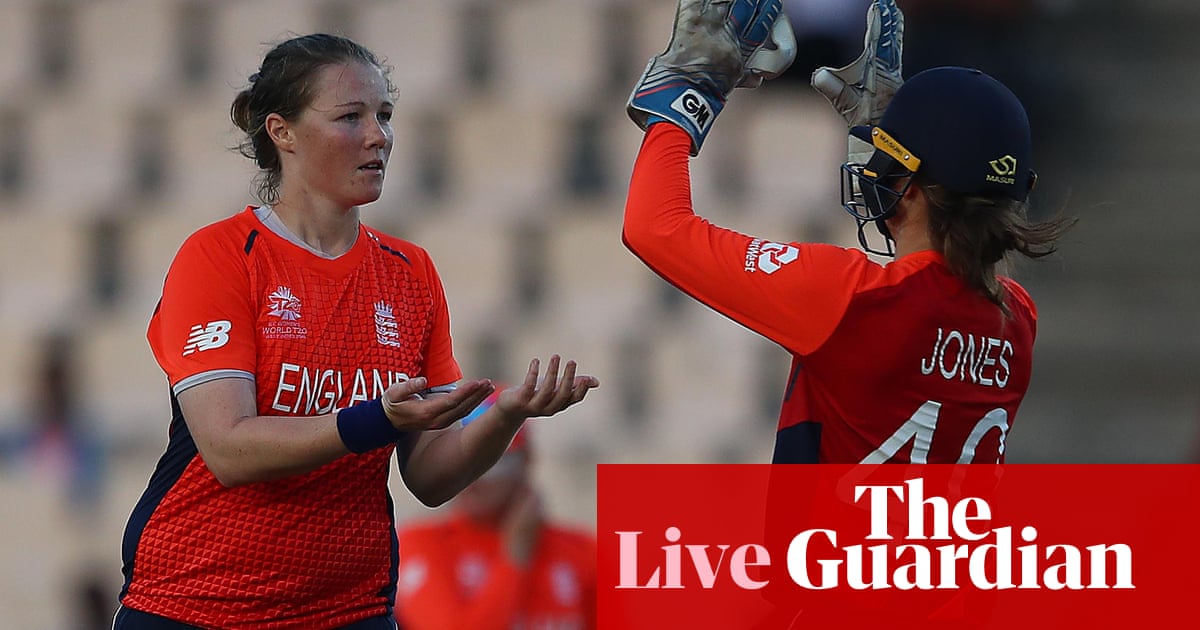 world news
Women's World T20: England beat South Africa to close on semis – as it happened
November 17,2018 01:19
No one steers our opinion. This is important because it enables us to give a voice to the voiceless, challenge the powerful and hold them to account. Readers' support means we can continue bringing The Guardian's independent journalism to the world.


England's net run rate is 2.27, according to Sky, while West Indies' is 2.28. But that will be immaterial if England keep playing as well as this. They were right on it throughout, and poor old South Africa were only on it for 20 minutes. Thanks for your company, and – if your name is Malcolm, Cressida or Andrew – for your emails. The OBO will be back in about six hours to see if England's men can be as ruthless as the women.

England go top of Group A, and although they will lose that spot tonight if West Indies beat Sri Lanka, they will go through to the semis. South Africa go home, which is less than their talent deserves.

Well, that was crushing. England not only had seven wickets up their sleeve, but 35 balls as well. SA did well to get back into the game with those three wick wickets, but Knight and Jones didn't blink and added 27 off 23 balls. The Player of the Match is Nat Sciver, for those sensational figures of 4-1-4-3. And England have played so well that they had someone take a hat-trick and not be Player of the Match.

England win!! By seven wickets

Amy Jones, showing supreme confidence, takes a step down the track and belts a four to settle it.

14th over: England 83-3 (Knight 14, Jones 10) Ismail returns, drops short, and pays the price as Jones cuts for four, before Knight pulls out another of her textbook straight drives. It's all over bar the hugging.

Heather Knight is helping England cruise over the line. Photograph: Matthew Lewis-IDI/IDI via Getty Images

13th over: England 72-3 (Knight 9, Jones 4) Amy Jones, so impressive behind the stumps, brings the same cool temperament to the crease, working the ball around for singles. van Niekerk's golden arm, as Mark Butcher calls it, has conjured up two wickets, but England need only 14 now.

12th over: England 69-3 (Knight 8, Jones 2) There's hardly room for a captain's innings here, so Heather Knight plays a captain's stroke – a straight drive, oozing calm authority. That's the shot of the night.

11th over: England 62-3 (Knight 3, Jones 1) Another good over for SA, so England have now managed 10-3 off the last four overs. Foony game, cricket.

Wicket!! Beaumont c Klaas b van Niekerk 24 (England 60-3)

Here they go, here they go – Beaumont sees a full toss, tucks in, and holes out. Game on!

10th over: England 59-2 (Beaumont 24, Knight 1) So a sudden change, from 52-0 off seven overs to 7-2 off the last three. Could England be about to choke?

Wicket! Sciver b Daniels 2 (England 58-2)

Oooh.. Sciver makes the same mistake as Wyatt, getting too far over to off and being bowled round her legs. South Africa have the faintest of sniffs.

9th over: England 58-1 (Beaumont 24, Sciver 2) Well bowled van Niekerk, but her instant impact suggests that her strategy may have been misguided – too many seamers. Is it too late?

Wicket! Wyatt b van Niekerk 27 (England 55-1)

Where's the breakthrough? Here! van Niekerk brings herself on and strikes first ball, as Wyatt lines up a lap and gets too far across to the off side, leaving her leg stop exposed. She made 27 at a run a ball, excellent stuff.

8th over: England 55-0 (Wyatt 27, Beaumont 23) Again Daniels puts the plug back in, but where's the breakthrough?

7th over: England 52-0 (Wyatt 26, Beaumont 21) Beaumont has great wrists and she knows how to use them – a flick into the on side for two off Klaas, a straight drive for four, and that's the fifty partnership. The game is almost up.

Danielle Wyatt has got off to a flying start. Photograph: Matthew Lewis-IDI/IDI via Getty Images

6th over: England 41-0 (Wyatt 21, Beaumont 15) On comes Moseline Daniels with her left-arm medium, and the change of angle helps, producing four dots, a one and a two.

5th over: England 38-0 (Wyatt 20, Beaumont 13) A tidier over from Klaas, but SA need wickets.
"Glidden?" says Andrew Benton (2nd over). "You just reminded me of the Glidd of Glood." Nice. You won't believe how many times I had to type glidden to stop the sodding spell-check turning it into gladden.

4th over: England 35-0 (Wyatt 18, Beaumont 12) Beaumont comes to the party with a lovely easy clip to the midwicket boundary. Ismail, perhaps trying too hard, then serves up a half-volley outside off which Beaumont blazes through extra cover for four more. The last ball is pulled for two, and England's total after four overs is more than SA managed off the first ten.

3rd over: England 24-0 (Wyatt 17, Beaumont 2) Kapp restores order for the first half of her over, but then Wyatt bludgeons a length ball through the woman at cover. She is threatening to finish this off all on her own.

2nd over: England 18-0 (Wyatt 12, Beaumont 1) At the other end it's the equally experienced Shabnim Ismail, who has a nightmare. The first ball goes for four byes, thanks to a bobble; the second is glided (glidden?) for four, as the ball goes through third man's hands; the fourth is slashed for two; the fifth slashed for four. Great batting from Dani Wyatt, all controlled aggression.

1st over: England 4-0 (Wyatt 2, Beaumont 1) The experienced Marianne Kapp takes the new ball and finds some away-swing, but the England openers go down the track to reduce it and get busy with a few singles.
The win predictor is giving SA a 7pc chance of winning this. Harsh, but fair.

So England need 86 to win, or 4.3 an over. They can afford to be old-school, but it might be wiser to go for it and not invite a fine attack to get on top.

Wicket! Hat-trick!!!! Fourie b Shrubsole 4 (SA 85 all out)

"You beauty, Anya Shrubsole!" says Nasser, and he's not wrong. Fourie swings to leg, hits only thin air, and the ball takes the top of leg, so Shrubsole has a hat-trick to go with the cover of Wisden. A suitable end to a chaotic innings for SA, and a very satisfying one for England. But it's not over till the other side bat. See you shortly.

Anya Shrubsole celebrates her hat-trick after bowling Yolani Fourie. Photograph: Matthew Lewis/IDI via Getty Images

Wicket! Klaas c Beaumont b Shrubsole 0 (SA 85-9)

Two in two! Klaas has a go at a length ball and gives Beaumont a comfy catch in the covers.

Wicket! Ismail b Shrubsole 1 (SA 85-8)

Ismail goes for the big heave, as she has to, and loses her off stump.

19th over: South Africa 85-7 (Ismail 1, Fourie 4) Fourie almost gets caught at mid-on, but squeezes it through for a much-needed four.
"I'd just like to clarify," says Malcolm Parks, "that I sent my previous email when only two wickets had fallen. Things seem to have escalated a little since then! I guess we may still get 20 overs each, but it doesn't seem too likely at the moment. I'm also following along with the chess match happening at the moment, which is intriguing in its own way. I am hopeless at chess, just like I am hopeless at cricket. And football. I like to think of myself as a true attendee connoisseur. Preferably with wine." Don't we all, Malcolm. Your health.

18th over: South Africa 79-7 (Ismail 0, Fourie 0) A double-wicket maiden! And Sciver finishes with figures of 4-1-4-3. That's not a bowling spell, it's a pin number.

Wicket! Tunnicliffe c Winfield b Sciver 4 (SA 79-7)

A slower ball, and Tunnicliffe holes out too, to mid-on. Sciver has three for 4. Sensational bowling.

Wicket! Tryon c Ecclestone b Sciver 27 (SA 79-6)

Just when danger looms, England snuff it out. Sciver tempts Tryon into another big hit and her pull goes straight up in the air, to give Ecclestone the simplest of catches. Shame.


Women',s World Twenty20,Women',s cricket,Cricket,England women',s cricket team,Twenty20,Sport