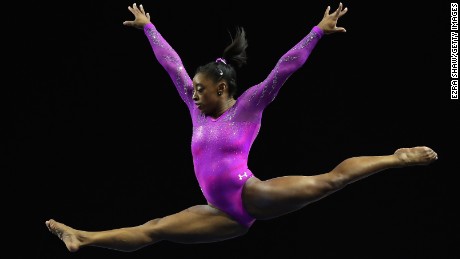 us
With Rio Olympics on the line, which US gymnasts will make the cut?
July 09,2016 14:15
(CNN) It's hard to be more dominant than gymnast Simone Biles. For three years, Biles hasn't lost an all-around competition (the combined score in all four events -- vault, uneven bars, beam and floor exercise). She is a three-time world champion in ...
For three years, Biles hasn't lost an all-around competition (the combined score in all four events -- vault, uneven bars, beam and floor exercise). She is a three-time world champion in the all-around and a four-time U.S. all-around champion. Clearly, she's the favorite to win the gold in the all-around competition at next month's Rio Olympics.Still, a spot on the team isn't a given, Biles said as she heads into this weekend's U.S. Olympic Team Trials."It would be bad if I walked into this competition saying, 'I already have my spot on the team,' " Biles said Thursday. "And I feel like if my personality was like that -- which it isn't -- I wouldn't be as good in practices, because ... I would hold back if I thought I already had a spot. But since all of us are here for the same reason, we all just go full force."The U.S. Olympic Team Trials for women's gymnastics will be held Friday and Sunday nights at the SAP Center in San Jose, California. There will be two consecutive days of all-around competitions, with all four events taking place Friday (airing live at 9 p.m. ET on NBC) and again on Sunday (live 8:30 p.m. ET on NBC).Fourteen gymnasts qualified or were invited to compete in the trials. Five will be named to the U.S. Olympic Team, which will be announced after the competition ends Sunday. The Olympic Selection Committee is made up of Martha Karolyi, the U.S. women's gymnastics national team coordinator; Steve Rybacki, director of elite athlete programs; and athlete representative Terin Humphrey.The gymnast with the highest combined all-around score from the two days of competition will automatically qualify for the team, and Biles' résumé makes her a heavy favorite to clinch that top spot.There's also some added incentive for Biles: She's never competed in the Olympics."I have the biggest goal of my whole entire life ahead of me, so it's been pretty easy every day to come into the gym and be motivated," she said.A few others have been in this spotlight before. In 2012, Gabby Douglas earned the top all-around score at the U.S. Olympic Team Trials for an automatic berth. She went on to win the all-around gold medal at the London Summer Olympics.But Douglas has a daunting task ahead of her. No woman has won the Olympic all-around gold medal and returned to the games since Nadia Comaneci did it in 1980 after winning the gold four years earlier."I thought it would be easy coming back, but it's been up and down," Douglas said Thursday, according to the USA Gymnastics website. "There's always going to be bumps in the road or rocks in your shoes; you can't get away from that. It's a matter of: Are you going to break or are you going to be a lot tougher?"Aly Raisman, who was part of the gold medal-winning team in London with Douglas, also is competing this weekend. On Thursday, she said she's feeling calmer than this time four years ago."I just have to take in the fact that it's my second Olympic trials and that's definitely something to be proud of -- four years later to still be here," Raisman said Thursday. "So I'm trying to just kind of cherish the moment and not think about the pressure and just think about more enjoying the moment."All seven members of the 2015 U.S. Women's World Championships team that won the USA's third consecutive team world title are expected to compete: Biles, Douglas, Raisman, Brenna Dowell, Madison Kocian, Maggie Nichols and MyKayla Skinner.The rest of the field for the trials is Christina Desiderio, Rachel Gowey, Lauren Hernandez, Amelia Hundley, Ashton Locklear, Emily Schild and Ragan Smith.
USA Gymnastics,Simone Biles,Gabby Douglas,Aly Raisman,sport,U.S. gymnastics: Who will be the final five? - CNN.com