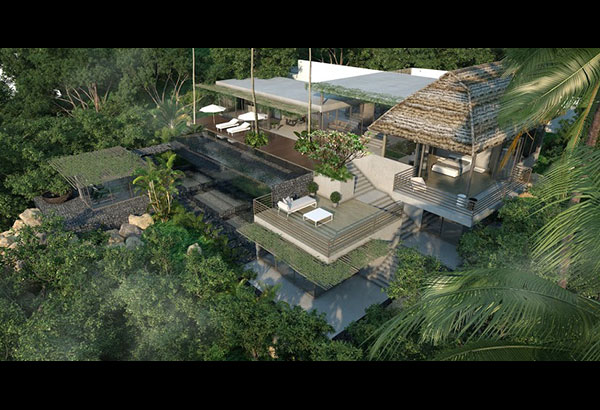 lifestyle
Ugen island: Lifestyle of the ultra rich and very private
July 23,2016 08:28
With made-to-measure, I will sit with you and ask if you're into a healthy lifestyle, if you're a workaholic, or if you're into entertainment because there are certain rooms we can interchange — it could be a home theater, a library or a gym." He adds ...
They had him at spicy food. For luxury real estate developer Andrew Sparrow, that's all it took to come down to Bicol. He has headed firms that develop five-star hotels, luxury resorts in the Caribbean and Indian Ocean, and mixed-use communities worldwide, so when someone tells him, "You have to acquire this place," well, it's something he's been hearing regularly for the past 25 years.
But it was an architect friend that told him about the island, which belonged to a family that was "land-rich but cash-poor." Andrew said, "But it's so far away, how do I even get there?"
"They have really spicy food down there," the architect said.
Bicol had him at spicy laing and chili prawns — and to top it all, a beach with sand that turned pink when the sun rose.
This island — two islands, in fact — is now called Ugen, a name inspired by a key concept in Japanese aesthetics and East Asian art called yuugen or profound beauty.
"I said, what can we do with this island? I went back several years ago to a time when we were developing in the Caribbean. We went across an island called Mustique and that's the inspiration of Ugen."

Lifestyle Feature ( Article MRec ), pagematch: 1, sectionmatch:

Mustique is a private island in the eastern border of the Caribbean Sea, where the rich and famous vacation, including Prince William and Kate Middleton, the Duke and Duchess of Cambridge.
Andrew says, "We weren't the developer of Mustique, but I went over and found that Mick Jagger, Shania Twain, Tommy Hilfiger and other celebrities had homes there. What made this island different is the way they've integrated to the local population. They've educated them, trained and given them jobs and connected the entire community together. I said I'd love to do this in Asia."
That was eight years ago. The timing for such a project wasn't right and he didn't have an island. He had both those things last year — except an investor, "one that didn't think piling concrete and playing with environmentalism was the way to go."
Enter Katsumasa "Katz" Aikawa, a Japanese businessman who was in the Philippines from 1998 to 2009. His decision to invest in the Philippines is a fulfillment of his father's dream. "My father wanted to invest here before he died in 2009. He had a business in Cebu and he told my wife that when he died, he wanted his ashes to be spread in the Philippines. So I came back in 2010 to Cebu to do that."
With Katz as Ugen CEO and Andrew as director of development, Ugen was now ready to be developed. Also coming on board were Katz's Enveron Realty, a property firm under the Japan-based Aikawa Group, Budji+Royal Architecture and Design, and Blue Development Inc.
" Today is the time to do something like this — a luxurious private island surrounded by pink beaches, coves, caves, an unparalleled marine system, and a sustainable master-planned community," says Andrew. " We started reaching out to the ultra-high net worth of the Philippines in January this year and got the most incredible response."
The price started at USD$1 million and today it starts at $1.5 million.
"The people we approached said that's not a problem. Quality, privacy, exclusivity and sustainability are the things they want and that's exactly what we're going to deliver."
 
 
 

 
Ugen's main island will have 67 multi-million-dollar villas with sizes ranging from 400 to 2,700 sqm. Homeowners can choose from two types of villas: made-to-measure, which is designed from a basic structural framework; and bespoke, which allows the homeowner to design every detail from scratch.
"With the bespoke villa, Royal, myself and Budji will design it with you from start to finish. With made-to-measure, I will sit with you and ask if you're into a healthy lifestyle, if you're a workaholic, or if you're into entertainment because there are certain rooms we can interchange —  it could be a home theater, a library or a gym." 
He adds that there will be a common look in the villas' design. They will all be modern tropical with glass walls, and thatch roofs from Batanes that can be easily replaced should they be damaged by a typhoon.
"Before we came here, we were developing in the Caribbean, which is hurricane central so we know how to build these things.  For Ugen, if you're on the beach we will raise you up three meters so even with any form of typhoon surge, your home is secure. All our windows are designed for 240-km. winds. The only thing we're checking now is coconut projectiles because if that happens, every home will come with shutters." 
The term "ultra-high net worth" is tossed around so many times you begin to wonder about this country. But you know these are the quiet rich who value privacy above all else.
When Ugen started selling, they expected local buyers to account for only 20 percent, but Andrew and Katz were surprised that the demand was so high. "Within two weeks, 350 people said to us, okay. But we want an eclectic mix, so we will bring in Europeans, Japanese, AustralAsians and Middle Easterns. I think it will be 50-50. Frankly, when you're going that high-end, cultural differences disappear, everybody's the same — they're all wearing slippers, shorts and polo shirts. Everybody gets along well because there's the common language of business and success."
The age profile of buyers has also become younger. When Andrew was doing Raffles and Fairmont Makati eight years ago, the buyers' age started at 57 or 58 years old. Today, they're getting late Gen Xers or people from mid to late 40s. 
"The common thing they want is personalization and craftsmanship." And a certain lifestyle they are used to — or have experienced abroad but is not available here. Ugen promises to give them that.
Getting to their private villas is via a seaplane from Manila Bay with their partner AirOne, with the plan to have their own planes when Ugen is fully operational.
"We are revolutionizing the vacation home for the ultra-luxury sector," says Andrew. "They told us that people are working harder and making more money than ever before, but what they're lacking is time as a family or as a couple. Ugen is set up for those types of people.
"Our pilot who's been all over the Maldives will take you there in 90 minutes on a seaplane with big leather seats, absolute luxury. Before you go there, we get your shopping done, we don't want you bringing your groceries. Your butler will plan your entire trip wherever you may wish to go in the local area because there are many things to do, not just diving. Your housekeeping will be done and by the time you arrive, your AC is preset to the temperature you want." 
If the family owns a grand villa, which is about 1,500 sqm., they can frolic around the private infinity pool or watch a movie together. And if they're a couple, a hillside villa is perfect for its extreme privacy. "It's boarded by lush trees and broad setbacks so that you can run around naked in your bedroom or terraces and no one will see you.
"There are options we can put in the villas, too, such as a private Japanese spa or onsen and an indoor/outdoor movie room. Every villa will have its own intimate dining gazebo. We will place the dining villa in the most spectacular location so you can watch the sunrise or sunset. Each one is unique with special trees and topography."
Romantic walking trails and boardwalks will be installed around the island and shaded by trees; private coves where you can picnic; and stables and equestrian trails.
"Also the most amazing tree-house bistro," he says. "We told Royal Pineda we want a bistro surrounded by tree canopies. When you've had your cocktail, you go to your private dining location." 
Ugen is planning to develop a high-end boutique resort on the main island, which will have 40 to 50 rooms, in the same luxury category as Aman Resorts. And on the second island, a guesthouse with 20 to 25 rooms which will be used as a culinary school on weekends.
Katz Aikawa says, "Ugen takes tourism to a level that has never been seen before in the region. Bicol and the Sibuyan Sea have an ideal climate and the region has a hidden charm that is different from other destinations in the world."
While Bicol seems to be overshadowed by Palawan's marine treasures, it turns out that it has an amazing reef system, too.
This discovery was made because of the location of the jetty. "Four months ago, I came up with the great idea of where to build the jetty for the seaplane," says Andrew. "But first, we got a marine biologist to come in to check if it's a good place to do it. So he went diving all around Ugen and called me the same day. He said, 'Andrew, I got some bad news — you cannot build a jetty here. The good news is that what I found is what I would regard as the second Anilao, it has the most spectacular reef system.' That isn't by accident. We are in the fastest current area in the Philippines. It comes off the Pacific Ocean, the San Bernardino Strait, and brings the nutrients in and drops them off in these straits. That's why the marine life and system is spectacular."
So Andrew called up DENR Secretary Gina Lopez and Ugen eventually partnered with the World Wildlife Fund and Bantay Kalikasan of ABS-CBN Foundation. Some of the environment-friendly steps Ugen is doing are: every tree that is cut will be replaced with two; every stone that will be moved will be used in the construction; natural materials like abaca are going to be used in the buildings; the beach will not have any construction in it except for 20 percent; and the footprint construction will be no more than four percent of the entire two islands. 
But even better, they will construct an underwater museum to create a sustained livelihood for the locals. "Like what they did in Cozumel, we will go to the local people, who are about 1,425 living on the island, and tell them we will give you jobs to build statues and plant them beneath the ocean and we will pay you to look after them. For every person that comes to visit the museum, you will take every dollar yourselves." 
* * *
Visit the author's travel blog at www.findingmyway.net, follow her on Twitter and Instagram @iamtanyalara.
To know more about Ugen, log on to www.ugenisland.com or call 734-8352. Follow them on Facebook, Twitter and Instagram @ugenisland.

,philippine news,psn,freeman,banat,feature