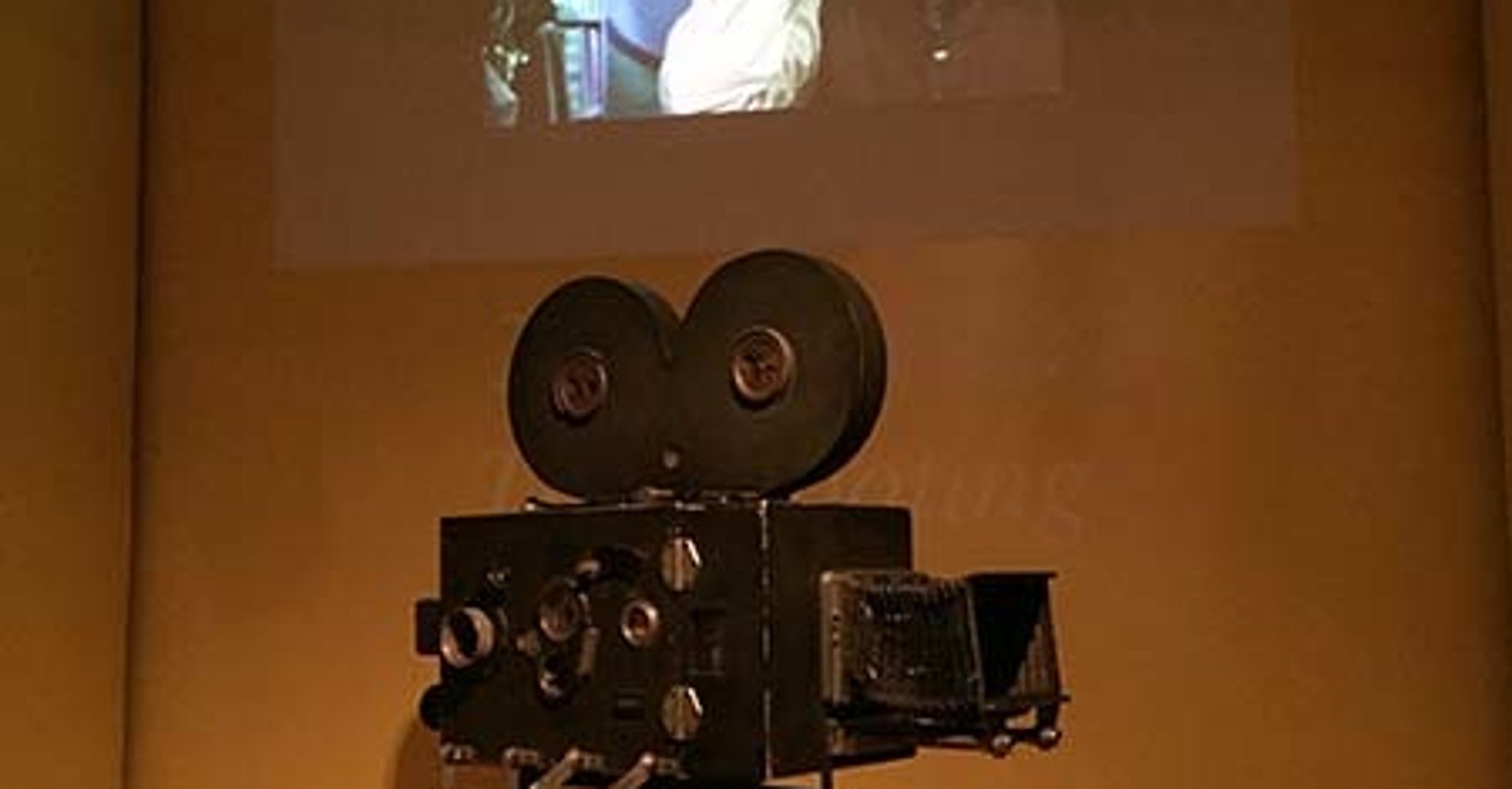 cinema
Turin Cinema Museum Projects Industry's Rich History
August 17,2017 18:26
It's not just stereotypical references to "La Dolce Vita," heartthrob Marcello Mastroianni, bombshells Sophia Loren and Gina Lollobrigida, and director Sergio Leone's spaghetti westerns, but a thoughtful representation of Italian and international cinema.


Movie buffs know Hollywood, and increasingly Bollywood, but few may realize Turin was a key international center for cinema that visitors can still enjoy at a museum dedicated to "the seventh art."

A 35mm Cinephone film camera from 1935 (Abu-Fadil)
The Italian city noted for the automobile industry was once Europe's Hollywood so I couldn't pass up the opportunity to visit its National Cinema Museum on a recent business trip to explore the movies' rich history from a different perspective.

Movie stars featured at Turin's cinema museum (Abu-Fadil)
The three hours I squeezed out of a busy schedule weren't enough.

Panoramic view of Turin and the Alps from atop the cinema museum (Abu-Fadil)
It's not just stereotypical references to "La Dolce Vita," heartthrob Marcello Mastroianni, bombshells Sophia Loren and Gina Lollobrigida, and director Sergio Leone's spaghetti westerns, but a thoughtful representation of Italian and international cinema.

Editing circa 1940 (Abu-Fadil)
The place covers a wealth of facets, from cinema's archeology, to machines, posters promoting movies, countless reels and sideshows, sets, costumes, and every intricate detail that goes into making films.

German star Marlene Dietrich projected on dome near elevator shaft to top of museum (Abu-Fadil)
To appreciate the building's enormity and location, I took an internal glass elevator up through the cavernous Temple Hall and into the cupola, the dome of the Mole Antonelliana – the building's original name – onto an outward terrace overlooking Turin (Torino in Italian) and the Alps.

The building, a symbol of the city of Turin, is 167 meters (548 feet) high and was designed by Alessandro Antonelli (1798-1888), hence the building's name.

Magic lantern predates cinema camera (Abu-Fadil)
After enjoying the stupendous view, it was a journey from the bottom up.

Exhibitions of shadow plays, optics morphing from the camera obscura, peep shows, stereoscopic viewers, panoramas, dioramas and magic lanterns set the scene for what we take for granted today – digital everything, virtual reality, augmented reality and mixed reality.

Cameraman and director shape a film (Abu-Fadil)
But the promenade down memory lane was delightful.

While I've always been a movie fan, and studied documentary film in college as one of several courses in a communication major, seeing what was exhibited gave it an added dimension.

It was thanks to Maria Adriana Prolo, a history and literature scholar who came across research about Turin's role in Italian film production in the early 20th Century, that the repository was created.

The Mole Antonelliana, home of the cinema museum (Abu-Fadil)
According to a museum guide, Prolo embarked on a mission to establish a cinema museum from 1938 but World War II got in the way so it wasn't until 1958 that her dream came true.

But what really makes up the cinema?

MGM seal at Turin cinema museum (Abu-Fadil)
It takes producers who secure the funds, actors, directors, casting, sound and light experts, camera people, costume designers, special effects specialists, studios in which to film and from which the product is marketed and distributed, film editors, animators, and, of course, audiences.

Costumes in "Lawrence of Arabia" (Abu-Fadil)
I walked through a gallery packed with movie posters, on the walls and hanging from the ceiling, trying to identify films I'd watched since the names (including foreign productions) were in Italian. Back in the day, it was the main promotion vehicle.

The poster gallery (Abu-Fadil)
In a section dedicated to stars, the museum recreated a dressing room complete with mirror framed in makeup bulbs – actually a screen projecting footage of actresses – toiletries, and a bottle of champagne in a bucket. Par for the course.

Marilyn Monroe memorabilia and Playboy photo shoot (Abu-Fadil)
A display case features Marilyn Monroe memorabilia: two nude pictures of the sexpot from her first Playboy magazine photo shoot, a black lace bustier, a pair of shoes with her initials on the soles, earrings and a bracelet.

But it's not just human stars on display at the museum. An exhibit dedicated to animals features dogs, cats, horses and turtles.

Animatronic turtle from "Nim's Island" (Abu-Fadil)
An animatronic turtle was created for the American-Australian film "Nim's Island" because Australia's environmental authorities bar the handling of live turtles for filming purposes.

Every possible film genre is documented and represented at the museum. Love stories, science fiction, musicals, westerns, horror flicks, absurd themes, cartoons, you name it.

Monster from 1914 Italian classic "Cabiria" (Abu-Fadil)
A ramp on several levels skirting the inner temple hall, the huge atrium leading up to the dome, ushers us to several temporary exhibitions.

At the bottom of the hall are rows of "chaises longues" where visitors can stretch out gaze at films on two screens, watch the elevator go up and down and view projections on the dome.

Mole Antonelliana exhibit (Abu-Fadil)
Back on the ground floor's terra firma, visitors can see and touch an exhibit dedicated to the Mole Antonelliana, chronicling the building's history, construction and evolution.

The museum is a must-see for anyone heading to Turin.


cinemark cinema cinemax cinema cafe cinemark movies cinemagic cinemasins cinemark 16 cinemark 12 cinemark 18