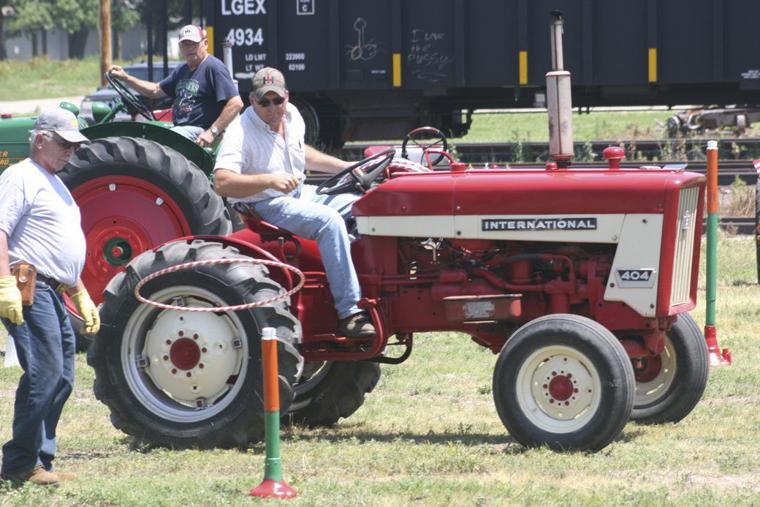 games
Tractor games a hit at Grover Cleveland Alexander Days
July 10,2016 08:09
Mike Damman of Worms drives his international tractor and tosses a hula hoop at a pole during Grover Cleveland Alexander Days tractor games Saturday in St. Paul. In the hula hoop toss, the person operating the tractor has to toss hula hoops around ...and more »


Nothing says Nebraska like hot weather, spending time with family and, of course, tractors.

That describes Saturday at Grover Cleveland Alexander Days in St. Paul. The temperature was about 90 degrees, people were enjoying all the day's events, including the tractor games that included a balance platform on which to weigh your ride, a hula hoop tossing event, and the egg buggy on which people hold an egg with a wooden dowel all the while being pulled around by a tractor and trying not to drop the egg.

Organizer David Zumbrum said the tractor games are really catching on with the crowd at GCA Days.

"They like to come see these classic tractors compete in different events and watch the drivers maneuver these machines around like back in the old days," Zumbrum said.

In the hula hoop toss, the person operating the tractor has to toss hula hoops around poles set up on the course in the empty field, all the while continuing to drive the tractor.

"It's harder than it looks," said competitor Joe Smydra of St. Paul. He was driving a 1946 Oliver HG that has army tank style tracks, instead of tires, adding another degree of difficulty for him while he had to steer his tractor using gear shifts, and throw the hula hoops, all at the same time.

"This event was challenging. I told them I am not responsible if I run something over," joked Smydra, who was new to the event, but said he enjoyed himself. "I don't know if I got any hoops around the poles, but it was fun."

There were about five tractors competing in the day's events.

The idea of throwing hula hoops while driving a tractor was something new to GCA Days, but it wasn't new to some of the organizers.

"We do this exact thing at the Nebraska State Fair, so this is a practice for some guys, and a new thing for others," Zumbrum said.

The crowd seemed to enjoy themselves, laughing and having fun while cheering on their favorite tractor.

The tractors that were in the games were driven about 50 yards from the antique tractor show to the open field where the games were conducted.

Other events going on the same time at GCA Days were the kids games, car show, pinewood derby car races, antique fire truck display, the tractor show, and a meet and greet with former Major League Baseball players with ties to Nebraska at the Museum of Nebraska Major League Baseball.

GCA Days will wrap up Sunday with three-man golf scramble, one-act play and motorcycle poker run. The poker run is the benefit the family of Dave Sullivan, who passed away in March.


st. paul,grover cleveland alexander days,tractor games,baseball,tractor,joe smydra,nebraska,grover cleveland,games,gca days,david zumbrum,#slider,news,local,motor_vehicle,transports