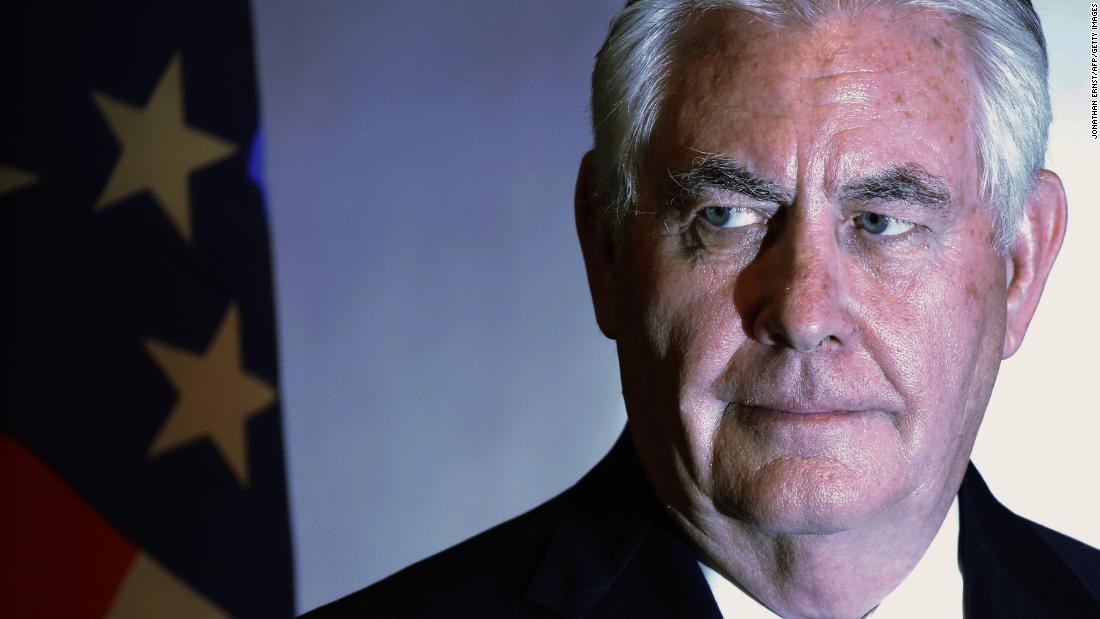 world news
Tillerson's firing tells the world it's the Trump-only show
March 13,2018 21:13
Trump stunned G7 leaders in Sicily last year, declining to affirm support for the agreement and later pulling out. Tillerson appeared to disagree. He disagreed over Trump's desire to tear up the 2015 Obama administration deal with Iran and other world ...
In his first few months as US Secretary of State, Rex Tillerson was an enigma. He barley spoke publicly -- and when he did, in private, he rubbed his fellow diplomats the wrong way.I first saw him in action soon after he took office at Nato HQ in Brussels at the end of March last year. He'd arrived as Donald Trump's bagman. His job was simple: deliver a tough message, telling NATO member states that they needed to pay up. Then he rode out of town as fast as he rode in.He was rough around the edges, smart and bullish. He was almost a caricature of what his international diplomatic counterparts expected of a oil executive from Texas. He was used to making decisions for himself and leading from the front. And that was his downfall.When he got the call from Trump to put a hold on his richly earned retirement from years at the helm of Exxon, his wife told him it was a calling from God to serve his country and he should not turn it down.But according to a State Department official, Tillerson didn't get a call -- or even a text -- to tell him that his time was up. If he'd been listening to his former boss President Trump talk to reporters, he'd have learned he was being let go because he had different way of thinking to Trump.
His replacement, former CIA chief Mike Pompeo, is "on the same wavelength," he would have heard Trump say, adding their relationship "has always been very good and that is what I need as Secretary of State."
It was a bad match from the beginning: two men used to getting their own way, no questions asked.
The gaps first appeared over the Paris climate change accord. Trump stunned G7 leaders in Sicily last year, declining to affirm support for the agreement and later pulling out. Tillerson appeared to disagree.
He disagreed over Trump's desire to tear up the 2015 Obama administration deal with Iran and other world allies to neuter that nation's nuclear ambitions.
They differed over the Saudi-Qatar standoff: Tillerson siding with Qatar; Trump with his new best buddies, who hosted his first stop on his inaugural overseas trip in Riyadh.
The dust-ups that followed became more public.

Who is Mike Pompeo? 01:20

Before Tillerson could even complete an exhausting weekend diplomatic shuttle to Beijing with the aim of bringing Kim Jong Un -- North Korea's reclusive leader -- back from the brink of potential nuclear Armageddon, Trump tweeted: "I told Rex Tillerson, our wonderful Secretary of State, that he is wasting his time trying to negotiate with Little Rocket Man ... Save your energy Rex, we'll do what has to be done!"
A few months later, Trump doubled down on that, telling Fox News in an interview about the empty positions at the State Department: "I'm the only one that matters."
But as Tillerson wore out his welcome at the White House, he endeared himself to diplomats around the world.
Over lunch just two weeks ago, a senior British official told me that they found Tillerson to be hard-working, effective and on top of his diplomatic beat.

Rex Tillerson is out. So, who gets fired next?

Whatever reservations they might have had switching from the widely admired John Kerry to the diplomatic novice had worn off.
Even so, it would have been obvious at a relatively early stage in his diplomatic journey that having Tillerson as an ally was not likely to bring the traditional benefits in terms of alignment of foreign policy in areas of mutual interest.
Both Tillerson and Trump had eviscerated the State Department to the point that some allies complained they no longer knew who to call -- and dozens of allies didn't even have a US ambassador in residence.
And if they could get through to Foggy Bottom on the phone, they'd likely find morale at rock bottom. One former US ambassador told me on returning from his overseas posting that he dropped in to see old colleagues and was stunned to discover the mood on the lowest ebb he'd experienced.
But perhaps the biggest blot on Tillerson's copybook with Trump -- which he has yet to deny -- was the reports that he had called Trump a "moron" at a private dinner.
Perhaps Tillerson did have something of an inkling as to what was coming -- and his counterparts in Africa may too have sensed it this weekend.
He received a call from John Kelly, Trump's chief of staff, on Friday -- the day after Trump decided to go it alone and take a face-to-face meeting with North Korea's Kim. Not asking your top diplomat's advice on such a crucial issue must have been an indication as to Trump's thinking.
The following day, Tillerson was ill -- another diplomat commented he needed his rest. What he got was the rest of his life back along with his delayed retirement.
It will be no surprise for any of the world's seasoned diplomats to know what they'll be getting in his stead: a front man for Trump's global impulses. If not in Pompeo, then in whoever eventually replaces him should he read from anything other than Trump's playbook.
Trump has hung his dirty laundry out for all to see and signed off on it in public. In his own words, this one-man administration can only work with people on his own wavelength.

opinions,Tillerson',s firing tells the world it',s the Trump-only show - CNN