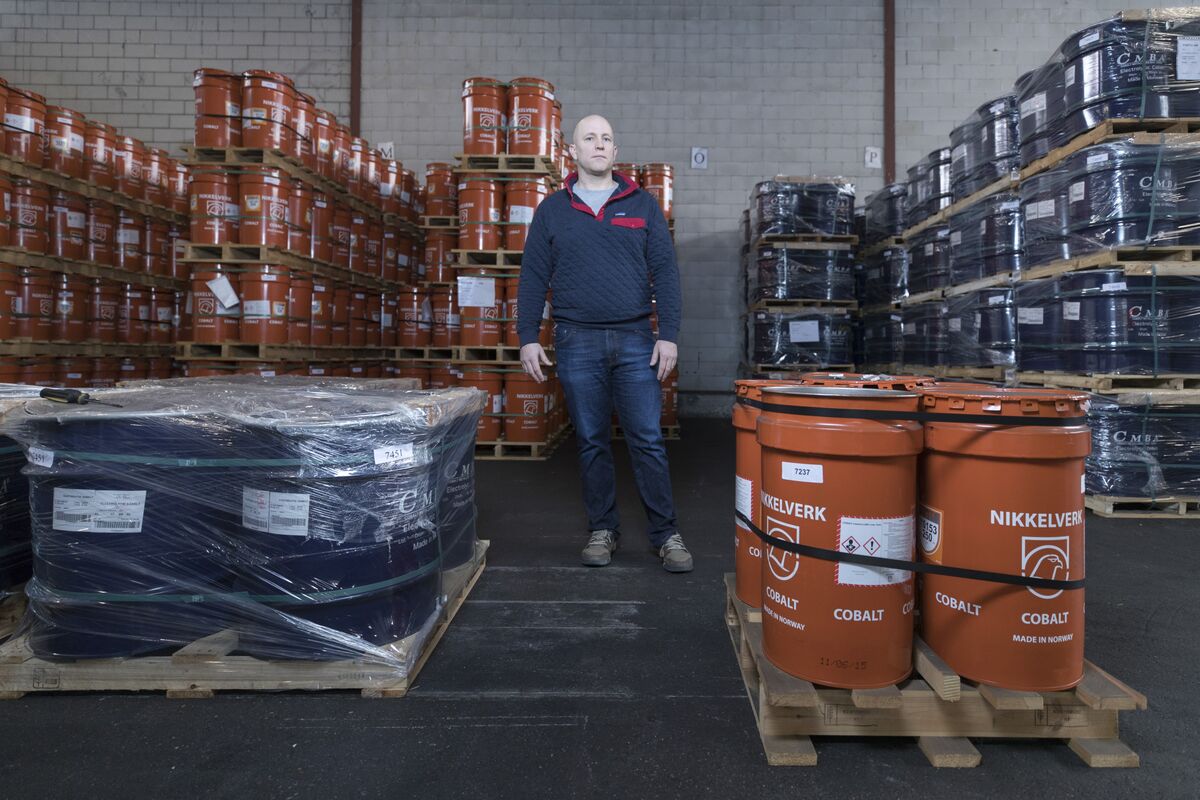 world news
This Commodity Investor Is Hoarding the World's Cobalt Supply
March 13,2018 14:27
Anthony Milewski was among the first investors to realize that if electric-vehicle sales take off the way automakers expect, the world is going to need a lot more cobalt—an essential ingredient in lithium-ion batteries. But the market for cobalt isn't ...

Anthony Milewski was among the first investors to realize that if electric-vehicle sales take off the way automakers expect, the world is going to need a lot more cobalt—an essential ingredient in lithium-ion batteries.
But the market for cobalt isn't very big, and there aren't many easy ways for investors to bet on prices. The metal is a minor byproduct of copper and nickel mining, and only a few places produce meaningful quantities. More than half the world's supply comes from the Democratic Republic of Congo, an impoverished country in central Africa
mired in corruption scandals and political unrest.
So, in 2015, backed by a Russian billionaire, Milewski started buying metal from mining companies and putting it in warehouses. At the time, it was cheap because most industrial commodities were stuck in long slumps. Today, the company Milewski runs,
Cobalt 27 Capital Corp., holds almost 3,000 metric tons, the largest private stockpile on the planet. (Only China has more.) Prices have since surged almost four-fold, making the inventory worth about $250 million.
Milewski
raised C$200 million ($126 million) from investors this month, and he is keen to get more cobalt. However, the metal has gotten harder to find, especially with manufacturers like
Tesla Inc. and
Apple Inc. trying to secure their own supplies by signing long-term deals with miners. Cobalt traded on the London Metal Exchange has gone from $21,750 a ton in February 2016 to a record $84,250 on March 8. 

Anthony Milewski.
Photographer: Jasper Juinen/Bloomberg
"If you tried to go out and buy 3,000 tons of cobalt today in the spot market, you'd need a telescope to see the price," Milewski, 37, says from his office in Zug, Switzerland, where he also is a managing director for
Pala Investments Ltd. The company is controlled by Vladimir Iorich, who made his fortune in Russian coal and steel. "The market's gotten so tight."
Still, Milewski remains bullish, and he's looking for different ways to double-down on cobalt.
Governments from China to California are pushing for more electric vehicles to help reduce climate-altering emissions. By 2040, more than half of global auto sales will be electric vehicles, compared with 1 percent last year, when sales surged above 1 million, according to Bloomberg New Energy Finance. That means more demand for batteries and materials used to make them, including cobalt cathodes that help move electrons more efficiently without overheating. Half of cobalt demand is from battery makers.
While smartphones use about eight grams of refined cobalt, the battery for an electric vehicle requires over 1,000 times that. 

With demand rising, buyers are paying more attention to Congo, the world's top supplier. Amnesty International said in 2016 that many small, unlicensed mines in the country use
child labor. The U.S. and others imposed sanctions on Congo government officials for alleged corruption, and President Joseph Kabila refused to leave office after his term expired in 2016.
Milewski says his cobalt is from non-Congo mines. Rather than add more physical metal to its stockpile, Cobalt 27 is spending cash to secure royalty payments from future mine output. On Feb. 22, the company signed a $70 million royalty deal covering future cobalt and nickel production from the Dumont mine in Canada, which is set to come online in 2020.
Milewski also says he may use the metal he has in warehouses as collateral to finance more royalty streams from mines already in production. Vale SA is tendering its cobalt output from its Voisey's Bay mine in the province of Newfoundland and Labrador, and Sherritt International Corp. said this week it's been fielding offers from investors looking for a share of its production.

The strategy isn't without risk. Similar stockpiling of small-market commodities like uranium and rare earths ended up losers as high prices encouraged big production increases or demand didn't keep pace. Milewski also controls so much unused cobalt, it may be difficult for him to sell any large quantities without hurting prices, or prevent him from getting out of his positions quickly to lock in profits, according to George Heppel, a metals analyst at CRU Group in London.
Cobalt 27, which is based in Toronto, is named for the metal's atomic weight on the periodic table of elements—sandwiched between iron and nickel. The company was acquired by Pala Investments and other backers as part of a C$200 million sale of shares to fund the purchase of inventories amassed by Milewski for a cobalt-focused fund he ran for Pala.
The only entity with a bigger cobalt stockpile is China's State Reserve Bureau, which hoards strategically important metals to protect domestic industries and the military from supply disruptions. The SRB holds about 5,000 tons.

A cut cobalt cathode.
Photographer: Jasper Juinen/Bloomberg
Cobalt 27's inventory of metal makes it one of the biggest players in a market with a limited number of industrial consumers, CRU's Heppel says. The world's cobalt mines produce about 110,000 tons annually, which would be worth $9 billion at current prices but dwarfed by copper output valued at about $140 billion.
Cobalt has risen more than any other industrial metal on the LME since the end of 2015. While demand from battery makers and industrial users has fueled the rally, Toronto-based producer Sherritt International said last month that speculators who stockpile inventory have had an outsize influence in driving up prices.
While Cobalt 27 says it wants to keep expanding its holdings, it would be willing to sell for the right price. Milewski says he's already received a handful of informal offers for the company, and sees a sale to a battery-maker or car manufacturer as a likely outcome within the next few years.
"At some moment, someone's going to come along and make our shareholders an offer they can't refuse," he says.

The Democratic Republic Of Congo,Anthony D Milewski,COBALT 27 CAPITAL CORP,Electric Vehicles,China,BLOOMBERG NEW ENERGY FINANCE,Generic 1st HG Future,London,SHERRITT INTERNATIONAL CORP,Africa,business,businessweek,hyperdrive