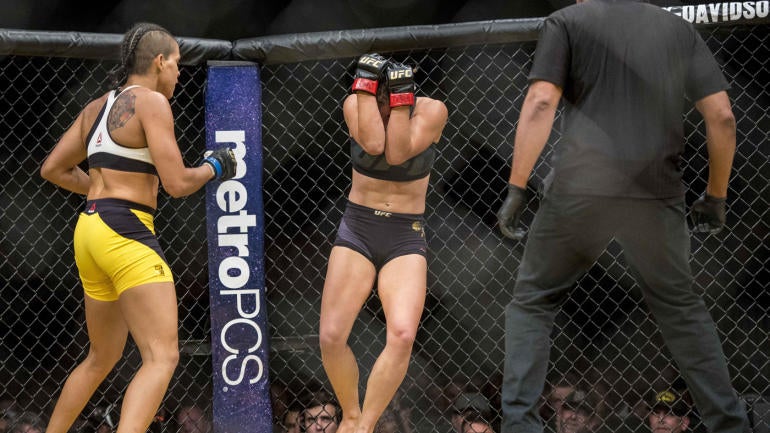 sport
The palpable disappointment of UFC 200 just a blip on the sport's upward swing
July 10,2016 09:09
Saturday night was a moment meant to allow all of us to marvel at a sport that has, in 200 major UFC cards, gone from an afterthought to the sparkling must-have ticket on a Saturday night in Vegas. But hype is a funny thing; it's as capable of infusing ...


LAS VEGAS -- The final disappointment in the letdown that was UFC 200 took 196 seconds. The so-called main event between Miesha Tate and Amanda Nunes, thanks to Jon Jones getting the boot days earlier, was as underwhelming as the card it led. Saturday night simply didn't live up to the hype of being the greatest UFC card of all time. That's what we'd been sold -- and I'd believed -- up until earlier this week.This wasn't how it was supposed to go down. Jon Jones versus Daniel Cormier was supposed to be the engine of excellence for a night meant to showcase the sport's incredible growth, spirit, grit and toughness. The other fights were the building blocks, the foundation. Instead, not even halfway through the first round of the oh-this-is-now-the-main-event fight, Nunes took the women's bantamweight title on submission. It came after she landed 40 mostly-harrowing blows to just three tepid strikes by Tate. As a new champion bellowed and the old one bled, a quiet awkwardness settled over T-Mobile Arena.No sport, particularly UFC, can guarantee greatness at any given event. Fate, the give and take of competition, and injuries can curtail the best-laid plans. Saturday night was a moment meant to allow all of us to marvel at a sport that has, in 200 major UFC cards, gone from an afterthought to the sparkling must-have ticket on a Saturday night in Vegas. But hype is a funny thing; it's as capable of infusing something with relevance as it is taking on a life of its own and turning a big moment into a big letdown.That was Saturday night.Cain Velasquez started out the main card in a heavyweight bout that also didn't get out of the first round. Velasquez dominated Travis Browne, winning with that first-round TKO. A night of "Was that it?" had begun.
Next up was Frankie Edgar and Jose Aldo, which was actually an excellent fight on paper. Edgar was poised, vastly improved since the last time they faced each other, and commanded the Octagon against a great opponent. But Aldo, at least stylistically the Mayweather of MMA, practiced his technically superior but not exactly sexy brand of combat. It worked, giving him a unanimous decision after the three rounds. Already, though, the adrenaline and shocks that truly make this sport so addicting were absent.Even Anderson Silva and Daniel Cormier, through no faults of their own, couldn't infuse the night with that X-factor. Cormier, as he needed to, repeatedly took Silva to the ground. And Silva, showing his age and the fact he'd taken the fight on almost no notice, fought well and tough but without any real chance at a win. Other than a moment's tension at the very end of the fight, he had nothing in him but a fine showing in a unanimous decision and loss.The crowd, still unkind and unfair to Cormier and his style, let the boos rain down throughout the fight. Perhaps it would have been different if he was facing Jones or Conor McGregor-Nate Diaz was still to come and there was still an air of tension and excitement. Instead, the feeling at UFC 200 wasn't, as Dana White said earlier in the week, "the biggest, baddest fight card in UFC history." The biggest rush of the night came when they showed McGregor on the big screen watching it all go down without him. The look on his face said to me, I should be up there. This is lame.Turns out, he was right at his press conference this week. UFC 202 will be the real UFC 200. To be fair, Brock Lesnar dominating Mark Hunt was a thing to see. After five years out of the Octagon, and six years since his last win, he seamlessly switched from WWE to a heavyweight win that was a delight to watch. He was powerful, smart, fierce -- all the things that had made him a star in the first place.But this wasn't supposed to be, say, UFC 195. This wasn't supposed to be some random night with one pretty good fight and some others that were fine. Lesnar returning and winning is great, but it didn't carry the night the way Cormier-Jones or McGregor-Diaz would have. The arena didn't have that electric current that comes with the fights nights you'll never forget.That was underscored when Tate, utterly destroyed and clearly wanting no more pain, tapped out and handed her belt so willingly to Nunes to end the evening.
"I made some mistakes, got a little carless, and it cost me really big," Tate said shortly afterward.Actually, it was Jon Jones who made some mistake, who got carless, and who cost his sport -- and all of us -- in a really big way.UFC seemed to understand this even in the midst of the night, which is probably why they aired during the fight a short video blasting Jones and showcasing the fact he'd been unable to make this night what it was supposed to be because of his positive test for a banned substance.So maybe the real takeaway from UFC 200 should be this: You can't control which cards will be epic and which, like Saturday, will just be mildly interesting to slightly disappointing. You can only be sure that, if you make UFC a staple of your sports diet, sooner rather than later you'll be rewarded with something worth your time.And that, more than anything, is proof UFC has made it. Not that it can guarantee that one night or another will be magic but that, like with all sports, you have to commit and stick around to eventually be there when something truly special unfolds.

sports authority sports clips sports sports chalet sportsmans warehouse sports illustrated sportsmans guide sports authority coupon sporting goods sporting kc