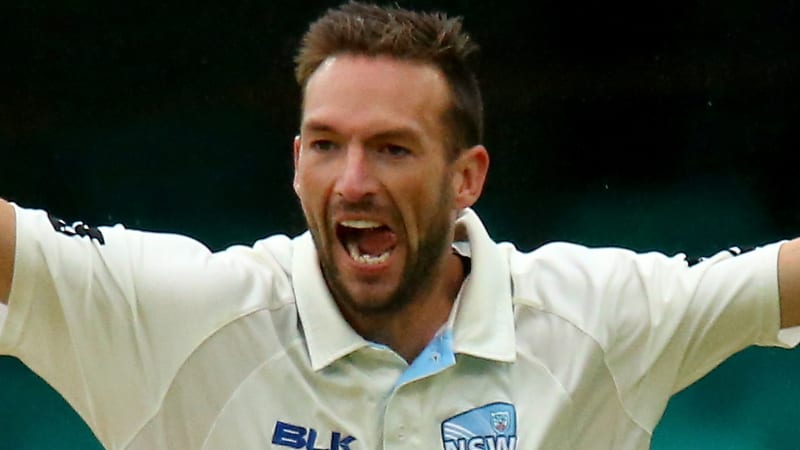 games
Taking home games away from SCG hurts Blues' Shield hopes: Copeland
March 13,2018 15:14
NSW paceman Trent Copeland has cast doubt on the future of Sheffield Shield games in Wollongong after stating his desire to play all Blues home games at the SCG. The comments came just a day before North Dalton Park hosts a Sheffield Shield match for ...and more »


Sport
Cricket

By Cameron Mee
13 March 2018 — 11:30pm

NSW paceman Trent Copeland has cast doubt on the future of Sheffield Shield games in Wollongong after stating his desire to play all Blues home games at the SCG.
The comments came just a day before North Dalton Park hosts a Sheffield Shield match for the second straight year, with the Blues to play Queensland, starting Wednesday.

Trent Copeland.
Photo: AAP
NSW have taken matches away from Sydney in recent years, with games played in Coffs Harbour, Wagga Wagga and Canberra.
While Copeland, a Bathurst junior, acknowledged the benefits of playing matches in regional centres, he believes the side loses a competitive advantage due to its unfamiliarity with regional pitches.
"It is great for each location," Copeland said. "But we're playing regular games away from home, we don't know our conditions as well as most. The WACA, they play five games there, they know the conditions, they build a game plan around it.

Advertisement

"For building the game and growing the game, it's great, but for us trying to win Sheffield Shields, it's certainly not ideal in terms of our preparation and in terms of dominating games of cricket. That's the juggling act for any organisation and Cricket Australia as well, there's both sides to it. But from a player's point of view, I'd love to play at the SCG."
Copeland, however, is refusing to blame the movement of home games for the team's recent struggles.
"It's certainly not an excuse. We back ourselves to be better than any opposition on any given day, but when we turn up and don't know the ground better than our opposition, or what to do at the toss, how the game might transpire in terms of breaking up the wicket, things like that, it certainly makes things more challenging."
The Blues have lost four straight games since the competition resumed following the Big Bash, slipping out of finals contention.
The retirement of Ed Cowan has opened the door for south coast batsman Nic Maddinson to potentially return to the Blues team for the match, to be confirmed just before the toss.

Maddinson has played just one game for the side since the competition resumed.
"Maddo's worked really hard ..." Copeland said. "He had a really good back-end of the BBL and then came out and scored some big runs in grade cricket."
The Bulls have been bolstered by the addition of Joe Burns, who returns from a groin injury. Burns lines up alongside former Test opener Matt Renshaw.
The 21-year-old has been in a rich vein of form since the Big Bash break, hitting three straight centuries.


gamestar games gamestorrents games workshop gameshop gamestop gamesdeal games with gold games online gamespot