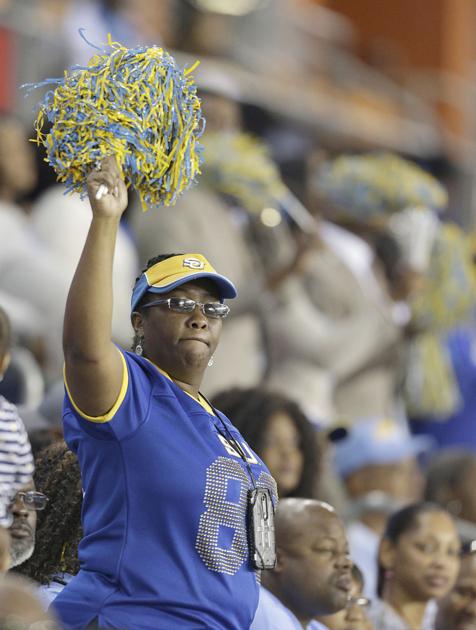 games
Southern's 2018 football schedule to feature just 10 games. 'We were dealt a limited hand'
January 13,2018 09:22
"When you're dealing with seven (SWAC) games, you need to see that so you know the format to get other games scheduled here. That's the problem." At least one other SWAC school currently has only 10 games on its 2018 schedule. Once Banks saw when and ...

For the first time in more than a decade, the Southern football team will play fewer than 11 regular-season games.
The Jaguars' 2018 schedule features 10 games. It is the first time since 2005 Southern will not play a full 11-game schedule, the blame for which Southern athletic director Roman Banks laid with the Southwestern Athletic Conference office.
"We were dealt a limited hand," Banks said.
A SWAC spokesman did not respond to The Advocate's request for comment Friday. 
Southern's schedule is highlighted by nonconference road games against TCU and Louisiana Tech, as well as three neutral-site games and a homecoming game against Alcorn State.
But the main thing that sticks out is the lack of a fourth nonconference game to fill the schedule.
The problem originated with a delay: The seven-game SWAC schedule was not finalized until the conference meeting in December, Banks said. 
"How crazy is that?" Banks said. "It would be different if we were at nine (SWAC games) and we were playing two (nonconference games).
"When you're dealing with seven (SWAC) games, you need to see that so you know the format to get other games scheduled here. That's the problem."
At least one other SWAC school currently has only 10 games on its 2018 schedule.
Once Banks saw when and where Southern would play, it left one realistic weekend open to find a partner.
The first two weeks of the season had been booked years in advance, with trips to Football Bowl Subdivision (FBS) teams TCU and Louisiana Tech. A third nonconference game, the home opener against Langston, followed.
The SWAC schedule then features five games in a six-week span. Banks said it would not have been right to schedule a game during the open date, which would've put Southern on the field for the first nine weeks of the season.
"You have to take that bye. ... You can't play nine games in a row before you get a bye," Banks said. "We just made the best out of it after the conference put this schedule out late."

Commissioner Duer Sharp officially parts ways with the SWAC

Duer Sharp has officially separated from the Southwestern Athletic Conference. 

Banks said Southern was also not open to scheduling a game during the traditional open date before the Bayou Classic, meaning it only had one week — the week of Nov. 3 — to find an opponent.
Banks did not specify how many programs Southern contacted to fill that open date.
"We've been trying our butt off," Banks said of trying to fill the Nov. 3 spot. "Conference time has started. No matter how you slice it, even with the small schools ... they don't have availability at (that) particular time.
"This puts you in a hell of a situation."
Southern's 2018 football schedule shares some of the hallmarks of recent seasons.
For the fourth straight year, SU will travel to face a pair FBS teams, this season's game coming in the opening two weeks against TCU and Louisiana Tech.
The Jaguars will also play a four-game home schedule for the fourth consecutive season — a number Banks said he is hopeful he can add to in coming years.
There are some special aspects to the schedule, beyond only featuring 10 games.
Southern will play just one true SWAC road game, at Prairie View on Oct. 3. It will play three games against SWAC opponents at neutral sites.
One of those games counts as an Alabama A&M home game, when Southern plays the Bulldogs at Ladd-Peebles Stadium in Mobile, Alabama, on Sept. 22.
Banks said he believes Alabama A&M is trying to build this into a Classic.
"They probably think our fans will travel to Mobile," Banks said. "And I think it's a better game for us because it's less travel."
The homecoming game should carry some intrigue as well, when rival Alcorn State visits A.W. Mumford Stadium on Sept. 29. Because of the way the schedule fell, Banks said, Alcorn was virtually Southern's only option as a homecoming opponent.
Jackson State and Alcorn are coming to Baton Rouge this season, after Southern traveled for both of those games in each of the past two seasons.
When the schedule initially came together, Southern was scheduled to face one of those teams on the road again — a matter SU quickly resolved.
Banks said the 2019 SWAC football schedule is not complete but is hopeful the conference will move faster this season.
"Those are problems that, if you're going to grow as a conference, we have to fix in our conference office so we can go back and do our jobs on campus," Banks said.

+2

Southern finds the length it was looking for in 10-man signing class

Southern had a roadmap for how it wanted Wednesday's early signing period to transpire, and by the time the day was over, coach Dawson Odums w…

Southern 2018 football schedule
*home games in bold
Sept. 1: at TCU
Sept. 9: at Louisiana Tech
Sept. 15: vs. Langston
Sept. 22: vs. Alabama A&M, (at Ladd Peebles Stadium, Mobile, Alabama)
Sept. 29: vs Alcorn State (homecoming)
Oct. 13: at Prairie View A&M
October 20: vs Texas Southern, (State Fair Showdown, Dallas)
Oct. 27: vs. Jackson State
Nov. 10: vs. Arkansas Pine Bluff
Nov. 24: vs Grambling, (Bayou Classic, New Orleans) 

Follow Luke Johnson on Twitter, @ByLukeJohnson. 

southern,southern football,swac,swac football,college football