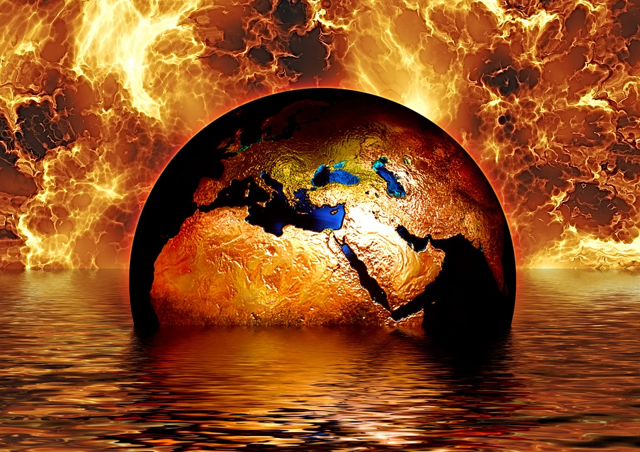 world news
Retirement Strategy: No, The World Is Not Sinking, But You'd Better Look Down
August 19,2017 20:12
The world is in turmoil. It just ain't great! Sure, 70% of companies have beat earnings, but earnings had been lowered in many cases by 20% anyway. The economy is treading water no matter what the White House wants us to believe. Interest rates are ...


The confluence of events both economic and political put the markets at a higher level of risk.
Dividend growth investors MUST check their guts, their risk tolerance level, as well as the stocks invested in.
Panic selling is NOT a strategy that will help.

I do not want to sound like a broken record, but I will sound like one anyway! Now is not the time to buy the dips, in my opinion. Here are my thoughts as to why:
The world is in turmoil. It just ain't great!
Sure, 70% of companies have beat earnings, but earnings had been lowered in many cases by 20% anyway. The economy is treading water no matter what the White House wants us to believe.
Interest rates are tenuous at best, and the way I see it, no matter which way they go, up or down, the markets just might lose.
The bull market is older than ME!
Stock valuations are high - even the dividend aristocrats we love and need for our income stream.
If the markets continue to drop precipitously, as they did Thursday, then fear and panic will probably kick in for many investors and then we will have a self-fulfilling prophecy.
Actions To Consider
The model Team Alpha Retirement Portfolio was built to show how dividend growth income and portfolio management can work to help folks reach a more secure financial future. Every investor has their own mix of stocks, but I like the mix and diversity of our model portfolio
The model portfolio now currently consists of the following stocks: XOM, Johnson & Johnson (NYSE:JNJ), AT&T (NYSE:T), Procter & Gamble (NYSE:PG), Coca-Cola (NYSE:KO), Realty Income (NYSE:O), Main Street Capital (NYSE:MAIN), Microsoft (NASDAQ:MSFT), Con Edison (NYSE:ED), Altria (NYSE:MO), Nuveen Floating Rate Income Fund (NYSE:JFR), Apollo Global Management (NYSE:APO), Apple (NASDAQ:AAPL), Ford (NYSE:F), and Bank of America (NYSE:BAC).
I am not a great prognosticator, but managing money and a portfolio have been one of my (few) strong points. Not everyone can do this and if you cannot, you should NOT be invested in equities, period. The following actions should be considered by all dividend investors no matter what their time horizon might be:
Dividend growth investors seek income for a more secure financial future and retirement. The most important number when looking at our investments for income is the INCOME, not the share price! Can you look at YOUR portfolio like this? If not, you should think about why YOU are invested:

Each stock you own should be reviewed carefully to evaluate whether or not it can continue paying you to hold shares. Dividend aristocrats and dividend kings have between 25-50+ consecutive years of paying and INCREASING their dividends. That being said, are they borrowing money to keep it going, or do they have sufficient cash flow to keep the ball rolling?
Have cash reserves increased or decreased? (By how much and why?)
Is the company earning money? That might sound quite pedestrian, but even when great companies have lousy years, they make money. Perhaps not as much as we (or they) would like, but money is coming in and the bills are being paid, as are the dividends WE love. If the company is actually LOSING money, you should ask yourselves why you are hanging on to the stock. (Growth investors have a completely different take on this.)
Watch each company's debt levels and make sure they can service the debt without borrowing even more money. (Once again, cash flow and cash reserves.)
If a company within your portfolio has suspended or cut its dividend, consider re-allocating the dollars into a more secure dividend paying stock.
If you MUST have the cash, and cannot stomach 20, 30 or even 40% drops in share price and portfolio value, even on paper, consider trimming all positions to reduce your exposure to equities and build your cash reserves.
If you panic and sell into the herds, your income as well as your portfolio value will lose. Please ask yourselves why you are invested and if you STILL feel that way! Nobody can tell you what to do, nor should anyone. You need to evaluate your own situation and decide. That is the reason you have decided to be a self-directed investor, right?
Cut expenses, and spend less than you have coming in, forever.

The Bottom Line

Nobody knows if the recent turbulence will last. Thus far, over the past 7-8 years, the markets have bounced back and gone even higher. If that happens once again, great, no harm no foul. The point is to be prepared for the WORST and hope for the best. Do your homework, and know why you are invested, as well as your tolerance for risk.
Don't ignore the issues, and seek to blame the universe. YOU have the power to control your own financial future.
For now, I am on the sidelines watching and waiting. What about you?
Not To Bore You, But...
Knowledge is power, and many folks shy away from the investing world because that very world makes it more confusing each and every day in an effort to sell you something: stock picks, technical strategies, books, videos, subscriptions with "secret ideas," gadgets, and even snake oil.
My promise to you is that my work here will remain free to all of my followers, with the hope of giving to you some of the things that took years for me to learn myself. That being said, let me reach out to you with my usual ending:
**One final note: The only favor I ask is that you click the "Follow" button so I can grow my Seeking Alpha friendships. That is my personal blessing in doing this, and how I can offer my experiences to as many regular folks as possible who might not otherwise receive it.
Disclaimer: The opinions and the strategies of the author are not intended to ever be a recommendation to buy or sell a security. The strategy the author uses has worked for him, and it is for you to decide if it could benefit your financial future. Please remember to do your own research and know your risk tolerance. The long positions held are based upon what the model portfolio holds, and I personally could have held all of the stocks noted at one time or another.
Disclosure: I am/we are long AAPL, APO, BAC, ED, F, JNJ, KO, JFR, MAIN, MO, O, PG, T, XOM.
I wrote this article myself, and it expresses my own opinions. I am not receiving compensation for it (other than from Seeking Alpha). I have no business relationship with any company whose stock is mentioned in this article.
Additional disclosure: The portfolio is for educational purposes only, and not an actual portfolio. The long positions are based on the model portfolio.

worldstarhiphop world map world market world news world of dance world war 2 world war 1 world of warcraft world war 3 world