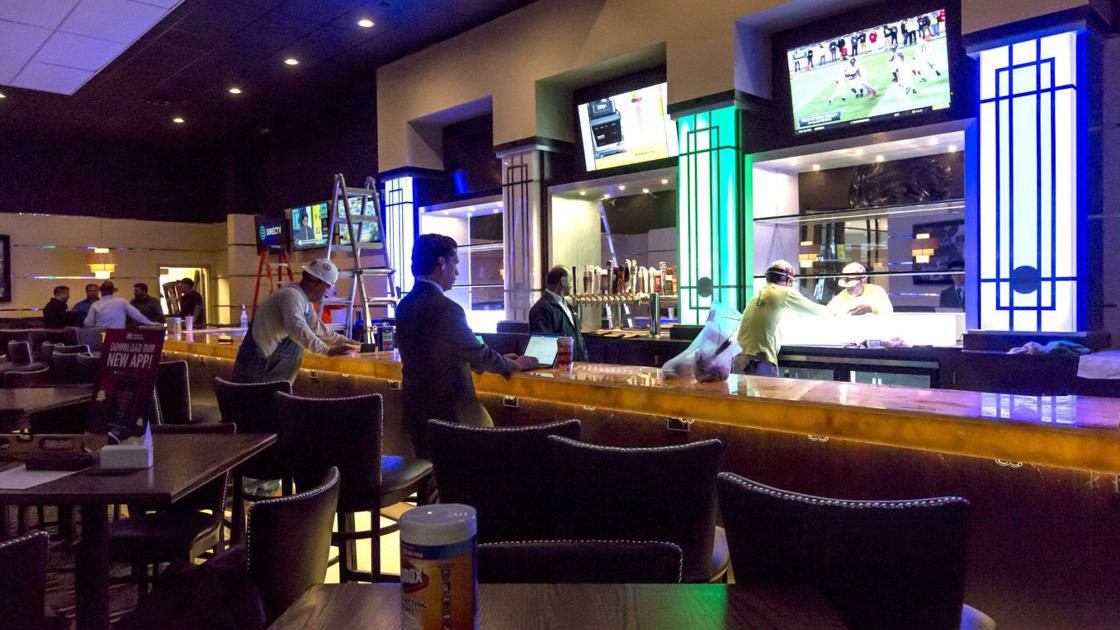 cinema
Out with the booth seats, in with the recliners at Ronnie's Cinema in ...
November 03,2017 08:26
WEDNESDAY, NOV. 1. 2017 - The cocktail bar is being worked on at the newly-renovated Ronnie's Cinema, 5320 S. Lindbergh Blvd. Photo by Jerry Naunheim ...and more »

The months-long renovation of Ronnie's is finally a wrap.
The popular 20-screen movie theater in south St. Louis County has been transformed as part of an overhaul of multiple Wehrenberg Theatres by new owner Marcus Theatres.
As part of the changes, Ronnie's is adding 70 seasonal and full-time employees. The multiplex at 5320 South Lindbergh Boulevard also is getting a tweak to its name with new signage: it's now Ronnie's Cinema instead of Ronnie's Cine.
Most booth seats in Ronnie's lobby that resembled cars at a drive-in movie theater — a nod to its 1948 founding as a drive-in — are gone. But several other "Ronnie's Drive-In" features remain, including a couple of full-length retro cars with seating and a screen that shows sporting events and other entertainment.
Ronnie's has added three new food and beverage options: a Take Five Lounge, a diner-like Reel Sizzle burger and shake shop and Zaffiro's Express, which sells pizza.
Beginning in the spring, Ronnie's began adding DreamLounger reclining seating at its 19 non-IMAX theaters with reserved seating. Ronnie's also added a SuperScreen with heated leather reclining seats. The SuperScreen tickets come at a premium price: $15 per adult for evening shows, compared to $12 for a general admission ticket. A general admission ticket is 75 cents more than a year ago.
Marcus representatives unveiled the changes at Ronnie's Wednesday and said the company plans to add a total of 200 full-time and seasonal jobs at all its local theaters for the upcoming holiday blockbuster movie season, including Chesterfield, Des Peres and O'Fallon cinemas.
Marcus bought Wehrenberg Theatres, the oldest family-owned-and-operated theater chain in the country at the time, late last year. Nine of the 14 former Wehrenberg Theatres, including Ronnie's, are located in the St. Louis area.
"We continue to see positive contributions from the 14 Marcus Wehrenberg locations we acquired in December 2016, and we expect that impact to continue to grow as we add our signature amenities and elevate the moviegoing experience for our guests," Rolando Rodriguez, chairman, president and CEO of Marcus Theatres, said in a statement.
Renovations continue at several other Marcus theaters. The company is installing DreamLoungers, a Take Five Lounge, Zaffiro's Express and three Big Screen Bistro auditoriums with in-theater dining at Des Peres Cinema, with renovations slated to be completed by February.
At Chesterfield Cinema, DreamLounger seats have already been installed in every auditorium and a new UltraScreen DLX screen replaced a "MegaScreen." The new 70-foot-wide, 32-foot-tall screen is among the largest movie theater screens in St. Louis.
Marcus is in the process of adding DreamLoungers, a Take Five Lounge and Reel Sizzle at O'Fallon Cinema, and adding three Big Screen Bistros with in-theater dining at St. Charles Cinema.
The investments come as the movie theater industry faced sluggish traffic over the summer, with underperforming sequels and few blockbusters. Nationwide box office ticket sales totaled $3.8 billion this summer, according to analytics firm comScore, a 14.6 percent decline from 2016 and the lowest box office ticket sales in more than a decade.
"As has been well reported, the weaker-than-anticipated film slate hampered the traditionally strong summer movie season," Marcus Corp. President and CEO Gregory Marcus said in a statement last week when the company announced quarterly earnings. Marcus Theatres is a division of Milwaukee-based Marcus Corp.
Marcus Theatres' revenue in the third quarter increased 9.6 percent over the same period last year, despite the weak summer film slate and numerous Marcus Wehrenberg Theatres screens out of service for renovations, the company said in a regulatory filing.
"While July and August were down for Marcus Theatres, the division ended the quarter with a very good September and we are heading into what we expect will be a strong fourth quarter for our theaters," Marcus' statement continued.

cinema city cinemapink cinema city győr cinema city debrecen cinema city allee cinema city westend cinema city arena cinema city campona cinema city kupon cinematrix