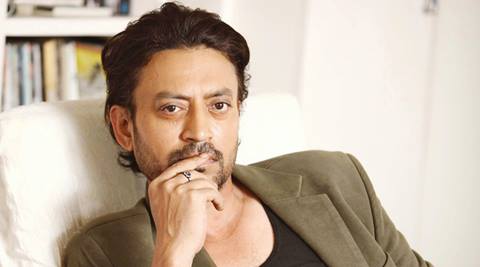 cinema
Our youth are not watching Indian cinema, TV: Irrfan Khan
July 21,2016 14:14
With an inimitable repertoire of films including the likes of Life of Pi, Jurassic World and Slumdog Millionaire under his kitty, every film aficionado and critic worth its salt takes what Irrfan Khan has to say about the world of cinema with a deft ...and more »


By: IANS | New Delhi |

Published:July 21, 2016 2:02 pm

Irrfan Khan expresses his views on a shift of Indian audience's interest to Hollywood movies and series.
With an inimitable repertoire of films including the likes of Life of Pi, Jurassic World and  Slumdog Millionaire under his kitty, every film aficionado and critic worth its salt takes what Irrfan Khan has to say about the world of cinema with a deft seriousness.
When he addresses the root cause of younger Indian audiences gravitating towards western cinema, one simply listens and contemplates. With the massive divide in the content of Indian and western television, it becomes imperative to understand why youngsters in the country are being mesmerised with Hollywood.
According to Irrfan, who has carved his name in Hollywood with his work, youngsters in the country are "not watching Indian cinema or TV". "If the TV is on in the room, they don't even come in, they go back. They are watching Hollywood series, films (and are tuned to) YouTube… They are following people on YouTube," Irrfan told IANS in a telephonic interview here while he was busy promoting Madaari.
His voice grew serious when he said: "I sometimes think what are our films doing? I wonder if we are able to engage them (the youth) at all?" "Until and unless we pull up our socks, we might lose them (the younger audience) to Hollywood," Irrfan added.
After discussing the core issues, there arrived the need to point out at solutions. According to Irrfan, the "approach" towards creating the content and developing an audience needs to be changed.
"I think the approach has to be completely different. Now the shows we have coming from Hollywood are much superior. We have to cultivate a different audience which is not coming to television. The traditional audience, which is watching the series being made now, I don't think we can just rely on them and be complacent," he noted.
After the audience, it was time to address the approach taken by channels too."For a new audience, we need to have a new approach to make them and a new approach for the channels as well. The channelshave to come up with something. If they don't do it, the digital thing will come. If it is not done by us, Amazon and Netflix will come and catch the audiences," Irrfan said with a calming tone, adding that the "audience is lying vulnerable and they can be captured by anybody".
Talking about the attractiveness of on-demand streaming portals like Netflix, Irrfan said: "There is a chance they might start taking your films. Then you won't need the satellite (rights) to be sold to Indian TV. They might take away that as well."
Besides films, Irrfan is no stranger to international TV either. The 49-year-old actor appeared on the American HBO drama In Treatment and is still keen on doing more international shows. "I would be the most fortunate if I get the chance to do a series like Fargo, True Detective, House of Cards or even Night Manager," he said.
The actor, who recently voiced the character Baloo on Disney's The Jungle Book, will next be seen in Hollywood in the much anticipated myster thriller film Inferno, which is directed by Ron Howard. Irrfan said that the film addresses a "contemporary problem", which is the "most dangerous problem on our planet today".
"The argument about that problem is so compulsive that you are mesmerised by that. That's the thrill of the film. You have all the other elements of the previous films: the maze, the way they are trying to solve the puzzle, with the symbols and anagrams," he added.
The film is the sequel to The Da Vinci Code and Angels & Demons, and also features Tom Hanks, who reprises his role as Robert Langdon, alongside Felicity Jones, Omar Sy, Sidse Babett Knudsen and Ben Foster. Inferno is set to release on October 28.


irrfan khan,madari,irrfan khan movies,irrfan khan upcoming movies,irrfan khan hollywood movies,irrfan khan upcoming hollywood movies,irrfan khan latest news,entertainment news.