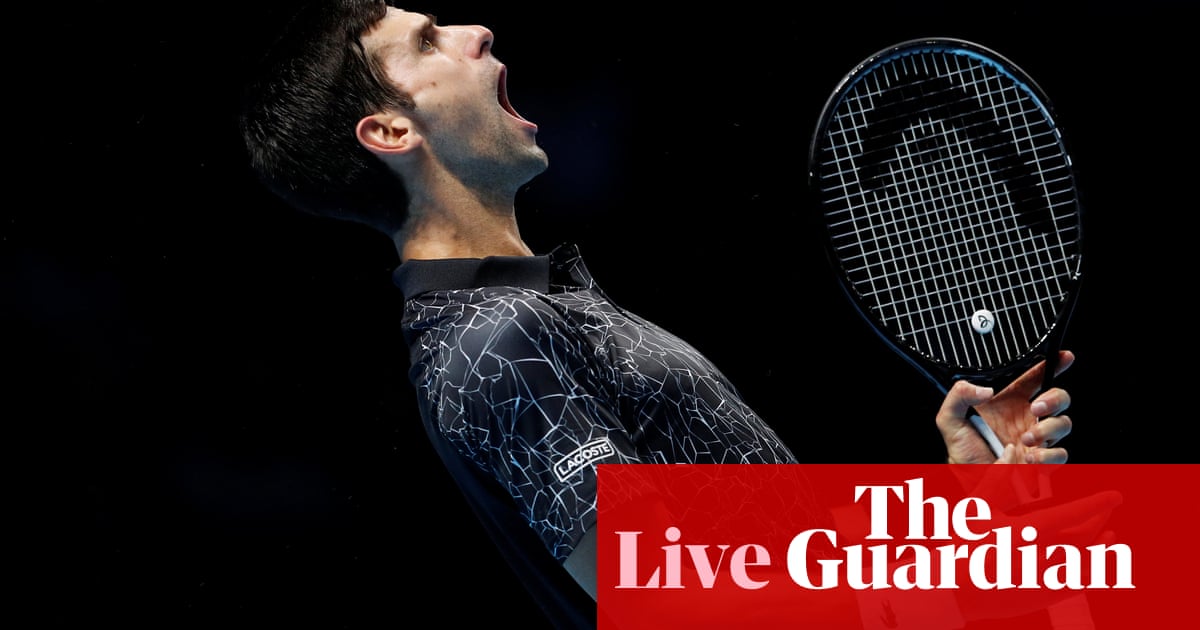 world news
Novak Djokovic beats John Isner at ATP World Tour Finals 2018 – live!
November 13,2018 04:13
The world No1 is playing beautifully, and after a double fault brings up two more break points he takes the first of them, with a fine, dipping, forehand crosscourt return that lands on the line. Turns out you don't necessarily have to take your ...


Djokovic brushes Isner aside, Zverev edges out Cilic

The last time Novak Djokovic played at the O2 Arena in 2016, he suffered a chastening defeat at the hands of home hero Andy Murray. His return to the ATP Finals on Monday offered proof that the Serb is once again top dog.
The 31-year-old, bidding to equal Roger Federer's record of six titles at the ATP's blue-riband event, produced an immaculate display to tame American giant John Isner, who was making his tournament debut, 6-4 6-3.
Djokovic will now set his sights on Alexander Zverev in his second round-robin match, after the 21-year-old beat Croatia's Marin Cilic 7-6 (7-5), 7-6 (7-1) to open his account in the Gustavo Kuerten group.
Djokovic lost only four points on his own serve in the first set and managed to read Isner's towering delivery, pinging back returns to the baseline with monotonous regularity. The Serb missed early chances to break but pounced in the sixth game, belting a forehand return for a 4-2 lead.
Isner saved a set point at 5-3 down and banged down three consecutive aces to stay in the set but Djokovic calmly held to seize the opener. The writing was on the wall for the American when Djokovic broke serve at 3-3 in the second set. Two games later, Djokovic sealed victory with a crosscourt backhand winner.
Zverev took the first set against Cilic in a tie-break after the Croat had chances to take a 4-0 and 5-1 lead. Cilic let the set slip from his grasp, and his German opponent took the breaker with a sublime backhand pass.
Cilic saved a match point at 4-5 down in the second, but double-faulted in the tie-break to slip 4-1 down. Zverev nailed a backhand winner down the line to earn five more match points and sealed victory on the first. Defeat means Cilic has lost 9 of his 10 matches at the season-ending event.

Here's Kevin Mitchell with news of both today's singles matches, and a potential scheduling scandal around Roger Federer:

And with that, I'm gone. It was briefer than expected, but nevertheless beautiful. Bye!

Just to illustrate the point that Isner didn't play poorly: his first serve percentage was 69%, one below Djokovic's and also one below his average for the year. Yet he won 67% of points on his first serve (down from a 2018 average 81%) and just 40% on second serve (down from 57%). Meanwhile on Djokovic's serve Isner won 13% of points against the first serve, and 15% against the second serve (which is normally where he tries to cash in, averaging 41% over the year).

The three players in Djokovic's group who aren't Djokovic have won three matches in this tournament over their careers. The one who is Djokovic has now won 32.

Isner has won 81% of all points on his first serve this year. Tonight it was 64%. Overall points on serve went down from 74% over the year, to 63%. Djokovic's anticipation, and the quality of his returning, was just superb.

Greg Rusedski on Djokovic's performance:

The way he played tonight was as good as it gets. I don't care who you put in front of him, they were coming second.

Djokovic does some talking, starting by lengthily thanking the fans who turned up to watch this exhibition:

The match was great. Obviously I managed to have three breaks of serve, which is sometimes mission impossible. I just managed to be at the right place at the right time. I held my serve very well, I backed it up nicely from the baseline, didn't give him too many opportunities, and just a great match overall.
[Any tips for returning Isner?] Just make sure you're as far from the baseline as possible and pick a side.
I missed playing this tournament last year because of injury and I really kind of enjoyed the time off, but at the same time I missed playing in this arena. I really think this is one of the biggest stages in the world for tennis, and I'm just glad to be back.

That was Djokovic's 50th win of the year, and a performance of quite stunning quality.

Djokovic breaks again to win 6-4, 6-3!

Second set: Isner* 4-6, 3-6 Djokovic There is just no holding back this tide. Isner hits his fastest serve of the match but back it comes, and the American is so surprised by this that he scoops his next shot long. A moment later it's 0-40, and Djokovic has three match points. Isner saves the first couple with fine first serves, but at 30-40 his first effort is this much wide, and presented with a second serve Djokovic takes control, and wins it with a wonderful crosscourt backhand. What a performance!

Djokovic celebrates his win. Photograph: Glyn Kirk/AFP/Getty Images

Second set: Isner 4-6, 3-5 Djokovic* Isner wins a point! This is not a drill! And then another! Both are won with shots low to Djokovic's backhand, though one is a driven forehand from Isner and the other a chipped backhand. Anyway, for a moment this game is finely balanced at 30-30, and anything might be about to happen. However, the thing that was most likely to happen is what happens, and Djokovic holds to 30.

Second set: Isner* 4-6, 3-4 Djokovic Djokovic wins the first point with a ludicrously accurate forehand down the line, but Isner roars back, taking control of the next point, going back to square one when Djokovic's defensive lob comes good, and then taking control of it again. But then consecutive second serves lead to consecutive point wins for Djokovic, and he's facing two break points. The first is well saved in a serve-and-volley style, but then another second serve comes back at him, and Isner nets the forehand! Djokovic breaks again!

Second set: Isner 4-6, 3-3 Djokovic* Isner still hasn't won a point – a point – on the Djokovic serve this set. He's totally uncompetitive against his opponent's serve, almost as if he's made a tactical decision to concentrate on his own and hope for a tie-break.

Second set: Isner* 4-6, 3-2 Djokovic Djokovic hits an unforced error, as a crosscourt forehand is called out. He waves a hand, though, and the perfection of the shot is revealed in slow-motion, the ball clipping the outside of the line. At 30-15 he gets a forehand passing shot completely wrong, the ball looping wide off the edge of the racket. "Noooooooooo!" he screams, as well he might. An Isner ace later, the game is over.

Second set: Isner 4-6, 2-2 Djokovic* With a faint whooshing noise, another Djokovic service game flashes past, without a glimmer of hope for Isner.

Second set: Isner* 4-6, 2-1 Djokovic Isner wins a lovely point here, trading groundstrokes until his opponent finally decides to come to the net, and then nailing a backhand crosscourt passing shot. That and a few service winners bring him another straightforward hold, delayed only by one wild half-volley.

Second set: Isner 4-6, 1-1 Djokovic* Djokovic also holds to love, Isner basically recharging here ahead of his next service game/survival battle.

Second set: Isner* 4-6, 1-0 Djokovic Isner starts the second set precisely as he needs to: nailing his first serves, doing – as he put it pre-match – what he does well, at a very high level. He holds to love.

Djokovic wins the first set 6-4!

First set: Isner 4-6 Djokovic* Isner is an excellent player, and he's playing well tonight, but for all that he is being absolutely played off the park here. This is a masterclass from Djokovic.

First set: Isner* 4-5 Djokovic You can really see how Isner is straining at the extremes of his ability in a bid just to stay in this match. Still, though, Djokovic keeps conjuring moments of maddening brilliance, in particular in this game a phenomenal backhand passing shot to take it to 30-30. A service winner hands Isner game point, but he then misses his first serve and a couple of straightforward forehands to give Djokovic another break point. Three successive aces dig him out of that hole well enough, but he's finding himself in them way too often.

John Isner serves. Photograph: Tony O'Brien/Action Images via Reuters

First set: Isner 3-5 Djokovic* The final point of this game is a curiosity: Djokovic's first serve, an ace, is called in but Isner challenges successfully; the No1 wins the it anyway with a strange backhand drop shot that loops way into the air before landing just the other side of the net, with Isner not bothering to move. Djokovic holds to 15.

First set: Isner* 3-4 Djokovic There is one Djokovic return in this game which defies logic. It's a great serve, skidding low, forcing the Serb wide, but he just lashes it just as low and almost as hard, across court for a clean winner. It's an absolute beauty. There's another fine return an ace later, which lands right at Isner's ankles, but he conjures a winning volley all the same. It goes to deuce, when Isner surprises Djokovic with a whipped, wildly topspun angled forehand, and then hits an ace to take the game.

First set: Isner 2-4 Djokovic* Isner wins his first point on the Djokovic serve, and then he does it again. At 30-0 he's sniffing an immediate revenge break, but it's not to be. Isner is playing pretty well, with his forehand as ever a potent weapon, and he pushes Djokovic pretty hard before losing the fourth point, and wins the sixth to take the game to deuce. That, though, is as close as he comes.

First set: Isner* 2-3 Djokovic Meanwhile on the Isner serve Djokovic continues to win most of the points in which he gets the ball back into play, and despite four aces so far that means most of them (Isner has only won 50% of points on his first serve so far, and has won three of 10 in which he hasn't produced an ace). The world No1 is playing beautifully, and after a double fault brings up two more break points he takes the first of them, with a fine, dipping, forehand crosscourt return that lands on the line. Turns out you don't necessarily have to take your chances against Isner.

First set: Isner 2-2 Djokovic* Isner is yet to win a point on the Djokovic serve. He comes close to getting what turned out to be the final one of this game, but after a long rally he hits a backhand down the line, with Djokovic nowhere near, but it lands six inches wide.

First set: Isner* 2-1 Djokovic At 30-0 Isner hits an excellent drop half-volley; Djokovic does fantastically to chase it down and chip it over the net, but the American can then lift it into an empty court for an easy winner. Somehow though he nets it, and an easy service game gets a whole lot harder. Djokovic wins the next point on a second serve, and the one after that as well. Another break point, but Isner saves this one with a brilliant forehand, blasted right into the corner. Djokovic gets it back, but only just, and Isner puts away the smash. Against Isner you need to take your chances, and that's the only one he gets. Still, two break points already on the Isner serve.

First set: Isner 1-1 Djokovic* Djokovic sails through his opening service game, winning it to love, the highlight being a fantastic kick second serve, which rears up into Isner, totally befuddles him, and can't be returned.

First set: Isner* 1-0 Djokovic A fine return, which wins the opening point for Djokovic, is followed by two service winners and a double fault. At 30-30 Djokovic gets the ball back into play again and Isner nets a forehand. It's a break point, and Djokovic should really have taken it – instead, with his opponent at the net and poorly positioned, he sends a backhand into the top of the net. Against Isner you need to take your chances, and that's the only one he gets.

Celebritywatch: Cristiano Ronaldo is in the house!

Ronaldo and family in the house! Photograph: Tony O'Brien/Action Images via Reuters

Isner wins the toss and chooses to serve. Action imminent.

And out come the players!

Djokovic enters the arena. Photograph: Adam Davy/PA

And so does Novak Djokovic:

Obviously very pleased with the way I played int he second half of the season and hopefully I'll be able to play my best tennis tonight and in this tournament. He's probably the best server, if not the best then one of the best. He used it as a great weapon, backs it up with a big forehand.

John Isner has a quick chat:

This is incredibly exciting for me. I'm going to go out there and try to have fun. First and foremost I have to play extremely well. I need to do what I do well, and at a very high level. If I can do that, I feel that I can give myself a chance.

At this tournament the umpires are introduced by name, while the advertising hoardings ask the crowd to "please welcome your ATP chair umpire". This is a bit strange. Anyway, it has just happened. Now for the players!

And Sock and Bryan, the No5 seeds, have won in straight sets against the No3 seeds and last year's runners-up!

The doubles match that precedes this one is teetering towards a potential conclusion: Mike Bryan and Jack Sock are a set up against Lukasz Kubot and Marcelo Melo, and the second set has gone to a tie-break.

Hello world!
It is five years since John Isner last beat Novak Djokovic, in which time the Serb has reeled off five successive victories against him, the last three without dropping a set (though they haven't played since 2015). Only the last of their 10 career meetings has not featured at least one tie break, and both are surfing into this competition on a wave of wonderful serving.
Djokovic has won 90.9% of his service games since the start of Wimbledon in June, propelling his march to the top of the year-end rankings, a ludicrously impressive statistic which is yet another thing that the 6ft 10in Isner looks down on: he has won 94% of his service games this year, making 2018 his greatest ever year for serving. It is also, in probably related news, the first time he has qualified for the end-of-year ATP Tour Finals. "I don't have much to lose," he said of this match, "so I'll play loose and free."
So we'll hope to see plenty of loose and free tennis, and ideally no more than one tie break, as the tournament favourite starts his campaign tonight. Welcome. And now, send me funny emails.


ATP World Tour Finals,Novak Djokovic,Tennis,Sport