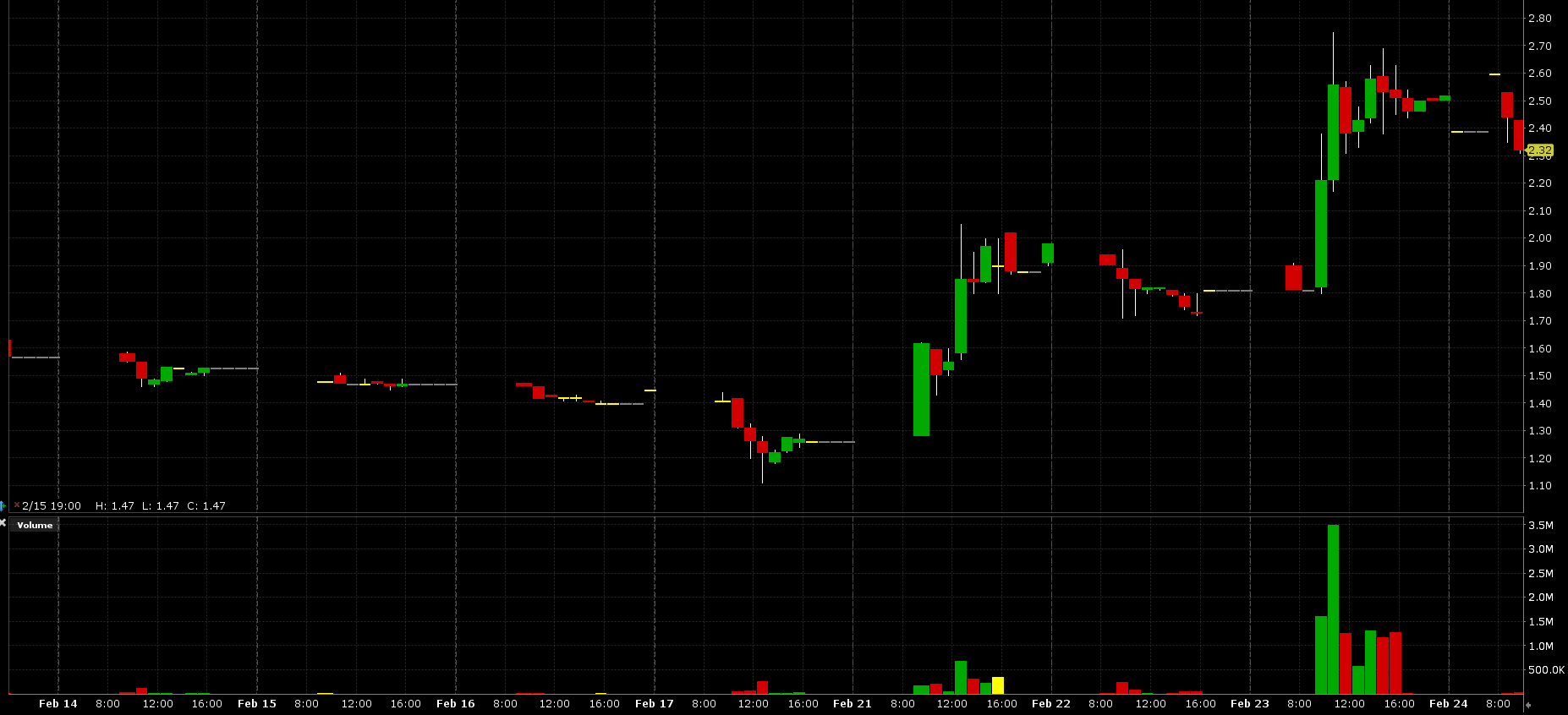 lifestyle
Nova Lifestyle: A Sell The News Opportunity
February 26,2017 14:11
On February 23, Nova Lifestyle (NASDAQ:NVFY), a furniture retailer and now quite remarkably the purveyor of a 'Blockchain technology-based site', announced that over 1,000 customers had signed up to its new platform in February alone. On the surface ...and more »
On February 23rd, Nova Lifestyle (NASDAQ:NVFY), a furniture retailer and now quite remarkably the purveyor of a 'Blockchain technology-based site', announced that over 1,000 customers had signed up to its new platform in February alone. On the surface, this PR much like what emanates in the micro-cap world may appear to be the usual fluff PR of a smaller company touting a modest achievement. We can understand such PRs. In this case however, the PR makes no sense, nothing written in the PR is verifiable and the company's puzzling rise from a $1.26 on February 17th to close at $2.52 on February 23rd appears highly unwarranted. Shares appear hard to borrow on many platforms, but this appears to be a strong short and I have acted accordingly. Here's why: PR states: "Record Paying Sign-Ups" Reality: It's not possible to sign up on site or study courses I have checked the entirety of the site including the (rather limited) site map. Typically, a training provider will have a section for staff, for students, a training schedule and of course, somewhere to sign up. This is simply not visible on the site. Of course, it is possible that these sign-ups have occurred elsewhere off-line. Most transactions naturally still exist in the real world and not the digital. However, if this were the case, its next statement makes no sense. PR states Nova-mart is an: "online transactional platform" Reality: Transactions cannot occur online The company PR explicitly touts the 'blockchain' functionality of Nova-mart mentioning it on 5 separate occasions. With Crypto-currency rising in popularity this initially appears to place Nova Lifestyle at the forefront of this revolution in transaction processing. It is therefore puzzling that it is not possible to engage in any crypto-currency transactions on the site. Furthermore, which crypto-currency is utilized is not discussed. It is unknown whether it is bitcoin, litecoin, ripple or even Dogecoin. This omission is particularly glaring. Again, absence of evidence is not evidence of absence, so let's move on and discuss the actual training program. PR states that it: "offers professional training courses" Reality: Company claims to have links with Harvard, Yale and the "Israel Science and Technology Department" - All unverifiable Leaving aside that Israel is a country and not a university department for a moment, this claim of any reputable university links appears dubious in the extreme. Desmond Pang for instance, a Nova Lifestyle instructor states in their bio they have a PhD from the "Global University of Lifelong Learning". I have no problem with someone receiving their PhD, normally a 3-to-6-year process from a university in Papua New Guinea if that is where their life takes them. However, it is worth noting that in the university's own words, it is not actually accredited or an academic institution. Also, I should add here as an aside, just like with Nova Lifestyle's website, I can't sign up or spot a section for students for this university. This is perhaps a theme from which readers can draw their own conclusions. Again, I have no problem with instructors trying to make an honest living. However, I'd like to see some evidence of some of the facts stated on the website which brings me to my final point. PR states that it has over: "1,000 paying customers" Reality: Only 12,818 unique visits have been recorded on the site in total On the face of it, 12,818 unique visits resulting in 1,000 conversions into sales appears to be a fantastic achievement. For many people who work in e-commerce, these are figures anyone would be happy with. However, with a deeper look, these figures do not appear to tally. A typical student may visit a website multiple times before they consider signing up. Many will choose not to. They will then continue to visit the website several times to consult course schedules, or utilize online training materials. I don't think it would be a stretch to suggest that an online student would visit such a site 20-30 times per month. I know for example I must make 40-50 visits of Seeking Alpha alone per month and I don't think I'm unusual in that regard for a Seeking Alpha reader. So, for Nova Lifestyle to claim 1,000 paying customers with a site tally of just 12,818 appears dubious. Conclusion: I do not doubt the sincerity of Nova Lifestyle's PR. There should be a reasonable explanation for my doubts. Personally, however, this is a company I would sell on the news or avoid the stock until such ambiguities can be resolved. Perhaps a 100% rise in stock price is indeed warranted. Till then, I am staying away from owning any shares.
Disclosure: I am/we are short NVFY.
I wrote this article myself, and it expresses my own opinions. I am not receiving compensation for it (other than from Seeking Alpha). I have no business relationship with any company whose stock is mentioned in this article.
Editor's Note: This article covers one or more stocks trading at less than $1 per share and/or with less than a $100 million market cap. Please be aware of the risks associated with these stocks.
lifestyle lifestyle lyrics lifestyle definition lifestyle blogs lifestyle synonym lifestyle lift lifestyle photography lifestyle condoms lifestylez lifestyle magazine