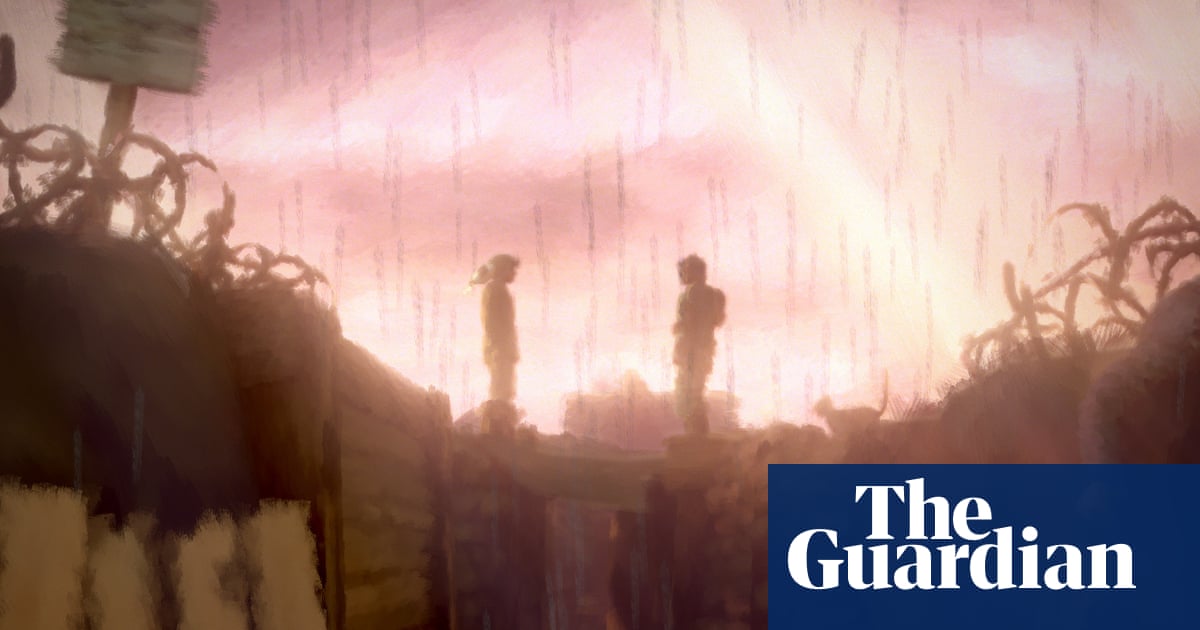 games
Not just Wallace and Gromit: Aardman unleashes astonishing war game
September 18,2018 07:14
The two had come to the event, which explores video games as a platform for humanitarian, educational and social impact, because they were both looking for new projects with meaning and heart. They got talking, recognised a common interest, and from ...

In 2014, Yoan Fanise, the creator of the beautiful and moving first world war game Valiant Hearts, found himself sitting next to Jake Manion, then a digital creative director at Aardman Animations, during the Games for Change summit in Paris.
The two had come to the event, which explores video games as a platform for humanitarian, educational and social impact, because they were both looking for new projects with meaning and heart. They got talking, recognised a common interest, and from there started putting together a vague plan for a new kind of first world war game to mark the centenary of the conflict.
Four years later, the result is 11-11 Memories Retold, a visually astonishing narrative adventure. The game has been developed by Fanise and his team at DigixArt in Montpellier in conjunction with Aardman, the celebrated animation studio behind Wallace and Gromit and Chicken Run. Written by Stephen Long and Iain Sharkey, the story follows two young men wrenched into the conflict: Harry is an idealistic photographer seduced into service by a major who promises him adventure; Karl is a worker in a German Zeppelin factory who enlists to find his son, gone missing on the western front.
Most war games tell their stories through recreating battles, but this one is resolutely not a shooter. It's a human drama taking place with the war as a devastating backdrop. The player switches control between the two characters as their stories converge during a battle in 1917, and the actions you take directly affect the outcomes of their tales.
"It's about the moral decisions these two strong lead characters have to make as they navigate their way through the trenches," says Aardman co-founder David Sproxton. "When we're plotting out a feature film, we go through stages of outline drafts, cards stuck to walls showing character arcs, their emotional ups and downs, how they will be conflicted. That's what we brought to this game: skills and experiences to drive the narrative. It's a big project for us."
When Fanise first visited Aardman in Bristol, the team showed him everything they had worked on recently, including Flight of the Stories, a promotional film for the Imperial War Museum, which used a painted animation style to depict the journey of war stories from France to London. It immediately felt right for the game project. Every scene is rendered to look like an impressionist artwork, complete with visual brushstrokes that seem to wash across the screen as you move – like inhabiting a Monet as it is being painted.
Aardman brought in its head of post-production and compositing, Bram Ttwheam, who had never worked on a game. "My naivety about video games was considered an asset. They felt that because I'm not steeped in that culture I might come up with something different, something left-field," he explains.
Ttwheam was initially contemplating a stark modernist style influenced by futurism and cubism for the project, but found the minimalist look was similar to that of many other independent games. Instead, he drew from Turner's ability to convey place and emotion, Monet's use of colour and texture brushwork and, most prominently, the Russian animator Aleksandr Petrov, who uses a fluid-on-glass technique.
To begin with, Ttwheam wasn't sure it would be possible to achieve something similar to Petrov's graceful look in a game. "I've worked on numerous projects with a handmade feel so I was aware that it's really intensive in terms of computer processing – I was quite sceptical about how we'd achieve it with real-time rendering."
In the demo, there's a battle scene that brilliantly illustrates the value of this aesthetic approach. While Harry participates in a surge across no man's land, we see the sloshing, seething mud around his feet, explosions of red and orange lighting up the sky and the blank faces of other soldiers. It is an evocative mix of beauty and horror. "The game is all about emotion," says Ttwheam, "so the impressionistic feel really serves that well. You're at liberty to play with colours and mood and depict things quite subjectively. It reflects the narrative."
During the battle sequence, Kurt has to fetch water and ammunition for the machine guns, while Harry has to navigate the hell of no man's land, ducking to avoid snipers. There are moments where you have to act quickly – for example, to save another soldier's life – and the decisions you make will have ramifications for the story. In an interesting Aardman-like twist, the player is also given control of a cat and a bird as they too live in and explore the war-torn environment. It's an interesting way of seeing the effect of the war beyond its impact on the troops.
Although Aardman has worked on games before, it has mostly concentrated on smaller smartphone apps. This is its first big video game project, and it's been a challenging learning process. "The candid reality is, a couple of months ago we were still wondering whether we were going to get there," says creative director of digital, Dan Efergan. "In the early prototypes, we could see really beautiful things in 5% of it, but the rest was a bit of a mess. We were hoping the computer could do a lot of the work automatically, but beneath each image, there is a lot of information about shape, size and lighting that requires a human touch. It only really came together in the last five weeks."

The studio says it is committed to working on fresh creative projects that span movies and games and that move beyond lovable comedy. "There's always an underlying theme in our films," says Sproxton. "If you look at our earlier stuff, some of the vox pops films, things like On Probation, Going Equipped and War Story, they are dealing with people who are negotiating their way out of trouble. Chicken Run is basically a prisoner-of-war movie. It's dealing with the concept of freedom and what that means.
"With this game, can we get people to think about what conflict really is? When you're stuck in the middle of it, how do you live?"
• 11-11 Memories Retold is released in November on PC, PS4 and Xbox One.

Games,Culture,Aardman