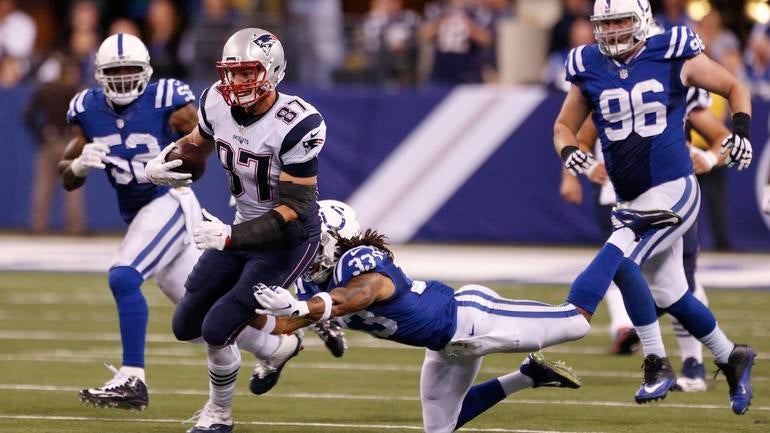 games
NFL Schedule 2018: Nine of the best revenge games and playoff rematches
April 20,2018 17:22
The 2018 NFL schedule is here! Sure, we already knew which teams were going to play each other this season, and where those games would be played; but now we know exactly when they'll take place. That means we can circle dates on our calendars and look ...

The 2018 NFL schedule is here! 
Sure, we already knew which teams were going to play each other this season, and where those games would be played; but now we know exactly when they'll take place. That means we can circle dates on our calendars and look forward to some of the best rematches and revenge games of the 2018 season. Which notable players (or coaches) are taking on their former teams, and when? Which playoff losses have a chance to be avenged? 
Below, we'll walk through some of the most notable matchups that fit those criteria. (Yes, obviously there are more matchups we could have looked into. But these are pretty good ones!)
Week 5: Colts at Patriots (TNF)
The Josh McDaniels Bowl! Frank Reich and the Colts get to take on the guy that almost became the head coach of Indianapolis, only to reverse course after a fateful meeting with Bill Belichick. Much of the staff McDaniels assembled wound up staying with Indy, so those guys will either be out for revenge or thankful to the guy that got them jobs but then decided not to coach alongside them. Not sure. That's a weird call. But it's not like the Colts and Patriots didn't already have bad blood before this situation went down, given the years of Brady-Manning playoff matchups and that whole Deflategate thing. This should be interesting. 
Week 5: Vikings at Eagles
In a rematch of the NFC title game, the Vikings will be out for revenge. Of course, both starting quarterbacks for this game are likely to be different players than the guys that were under center in January. Case Keenum is now with the Broncos, and the Eagles presumably hope Carson Wentz will be back healthy and Nick Foles will be on the sideline holding a clip-board. Still, there is a lot of firepower here, especially with each team having made a high-profile addition to the best unit on their respective teams (it's the defensive line for both): the Vikes brought in Sheldon Richardson and the Eagles got Michael Bennett. This game is not going to be fun for Wentz or Kirk Cousins, who now plays for Minnesota but is obviously familiar with the Philly defense from his time in Washington. 
Week 6: Rams at Broncos
The Broncos did not feel Aqib Talib was going to be worth $11 million against their salary cap this season, so they traded him to the Rams. L.A. put together several trades for star-caliber players, and Talib is just one of several Rams that will be playing against his former team in 2018.  It will definitely be interesting to see him match up with either Demaryius Thomas or Emmanuel Sanders. We seem likely to see Case Keenum under center for the Broncos for this one, but even though Talib and Keenum weren't teammates with the Broncos, we should not expect Talib to take it easy on him.
Week 8: Saints vs. Vikings (SNF)
While the Vikes will be looking to avenge a tough loss to the defending Super Bowl champion Eagles, you know the Saints are looking forward to getting another shot at Minnesota. It's tough to think of a definitively more heart-breaking way to lose than on a desperation heave on the final play of the game, and that's what happened to New Orleans. Keenum found Stefon Diggs down the right sideline, and Marcus Williams -- who was generally fantastic for the Saints during his rookie year -- over-played the pass and let Diggs stroll on into the end zone. There are a lot of intriguing matchups in this one (especially with Dalvin Cook presumably healthy), and it should be pretty fun. 
Week 10: Patriots at Titans
Dion Lewis gets to play against his old team! Surely that is what the stories will be about for the entire week leading up to this game. No, but seriously, folks: this is the first time Malcolm Butler will play against the New England Patriots since Bill Belichick benched him for the entire Super Bowl loss to the Eagles. Butler still cashed in big-time in free agency (five years, $61 million) and has largely denied any hard feelings toward Belichick, but something tells me he'll have revenge on the mind for this one. 
Week 11: Buccaneers vs. Giants
Other than Eli Manning, no player has been more synonymous with the recent New York Giants teams than Jason Pierre-Paul. The Giants paid JPP big money just a year ago, but after a down season they elected to trade him to the Bucs. All the Giants got in return was a third-round pick and a swap of fourth-round selections. Now, Pierre-Paul will have a chance to make them regret the decision. The Giants upgraded their offensive line this offseason by signing Nate Solder (and may draft another lineman next week), but they still don't exactly have an elite group up front. Don't be surprised if JPP winds up sending Eli Manning to the ground. 
Week 11: Steelers vs. Jaguars (SNF)
The Steelers lost to the Jaguars not once, but twice last season -- both times in Pittsburgh. The Jags are returning almost everybody from their NFL-best defense and the Steelers will still have their explosive offense, assuming Ben Roethlisberger is healthy at the time this game takes place. Can the Steelers finally manage to solve Calais Campbell, Jalen Ramsey, A.J. Bouye, Malik Jackson, Barry Church, Tashaun Gipson, Telvin Smith, Myles Jack and company? We'll find out. 
Week 11: Chiefs at Rams (MNF in Mexico)
The Rams' other cornerback trade gives us another rematch. Marcus Peters was an outright star for Kansas City right from the jump, making the Chiefs look smart for snatching him up late in the first round when he fell in the draft due to alleged character concerns. Peters has been a Pro Bowler during all three of his NFL seasons, leads the league in interceptions during that time, and has allowed the lowest passer rating in the league since his NFL debut. Still, the Chiefs decided to cut bait. Now, Peters will have a chance for revenge. And he won't be going up against famously interception-averse quarterback Alex Smith, but first-year starter Patrick Mahomes. Buckle up. 
Week 13: 49ers at Seahawks (SNF)
Speaking of famous cornerbacks that made their teams look incredibly smart for taking them late in the draft: Richard Sherman gets to play his old team twice in 2018. Sherman and the Seahawks became synonymous over the years, as the Legion of Boom's most outspoken member seemingly personified the team's hard-hitting, bump-and-grind defensive ethos. Sherman's new team plays just a few hours south, and in this game Sherman will get to show out in red and gold in front of his old 12th Man fans. If he can stick it to the Seahawks by picking off Russell Wilson, that's sure to make people in the crowd feel very, very weird.  

gamestar games games workshop gamestorrents gamesz gamespot games with gold gamestop gamesdeal games online