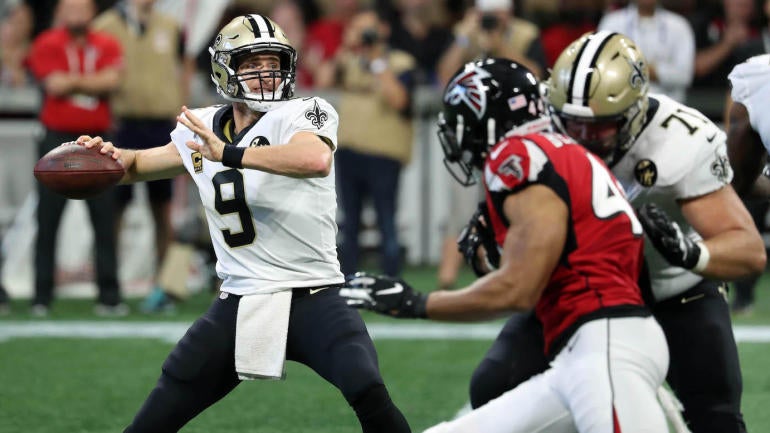 games
NFL games today, Week 3 scores, highlights, updates, schedule: Patrick Mahomes sets new NFL record with 13th TD ...
September 23,2018 21:17
NFL games today, Week 3 scores, highlights, updates, schedule: Patrick Mahomes sets new NFL record with 13th TD pass. All of the best highlights from Week 3 are right here. Pete Blackburn mugshot; by Pete Blackburn · @PeteBlackburn; 1h ago • 2 min ...

NFL Week 3 is here. To keep tabs on some of the choicest highlights and other big news throughout Sunday, keep it locked here for updates. 
SCHEDULE
Thursday
Sunday 
Buffalo Bills 27, Minnesota Vikings 6 (Recap)
Carolina Panthers 31, Cincinnati Bengals 21 (Recap)
Baltimore Ravens 27, Denver Broncos 14 (Recap)
Washington Redskins 31, Green Bay Packers 17 (Recap)
Philadelphia Eagles 20, Indianapolis Colts 16 (Recap)
New Orleans Saints 43, Atlanta Falcons 37 OT (Recap)
New York Giants 27, Houston Texans 22 (Recap)
Miami Dolphins 28, Oakland Raiders 20 (Recap)
Kansas City Chiefs 38, San Francisco 49ers 27 (Recap)
Tennessee Titans 9, Jacksonville Jaguars 6 (Recap)
L.A. Chargers at L.A. Rams, 4:05 p.m. (CBS)
Chicago Bears at Arizona Cardinals, 4:25 p.m. (FOX)
Dallas Cowboys at Seattle Seahawks, 4:25 p.m. (FOX)
New England Patriots at Detroit Lions, 8:20 p.m. (NBC)
Monday
Walk-off!
The Saints and Falcons had themselves a shootout in Atlanta, one that needed overtime to find a winner. The winner came when Drew Brees hopped the pile and got himself a walk-off touchdown.
Fins get tricky!
Miami mounted a comeback victory on the Raiders and they went ahead on this awesome trick play that found the end zone.
Then, they padded that lead with this big play.
Poor Clay Matthews
The Packers' linebacker has been hit with another unfortunate "roughing the passer" call that is worth an eye roll. Have a look for yourself.
Matthews was whistled for landing on the quarterback with all or most of his weight, but it's hard to imagine what he could have done differently there. As you'd expect, Packers coach Mike McCarthy was not thrilled.
Three for Calvin
It's been quite a nice day for rookie Falcons receiver Calvin Ridley. The former Alabama standout has all three of Atlanta's touchdowns so far, making him the first rookie WR to have a three-touchdown game since Odell Beckham Jr. 
Mahomes enters historic territory
Patrick Mahomes is still carving up defenses and impressing in his first year as a starter. He made this brilliant play on the run to pick up a touchdown pass against the 49ers on Sunday.
Then Mahomes entered the history books by setting a new record for touchdown passes through three weeks of a season. His 13th TD pass in Week 3 tops names like Peyton Manning (12), Tom Brady (11), Dan Marino (10), Jim Kelly (10) and Brett Favre (10). Not bad. 
Josh Allen? The Bills?!
Josh Allen and the Bills are taking it to the Vikings -- yes, those Vikings -- in the first half, just as everyone expected. Allen has made some plays both through the air and on the ground, including two rushing touchdowns and a complete hurdle of Anthony Barr.
Hello, Carson Wentz!
Carson Wentz is back behind center for the Eagles after tearing his ACL last season. He didn't waste much time picking up his first touchdown pass, finding tight end Dallas Goedert in the end zone.
Jordy's back
It wasn't the best first couple of weeks for the Raiders' Jordy Nelson, but the former Packers wideout is proving that he can still ball in Week 3. The receiver has nearly 150 receiving yards and a touchdown in the first quarter of Oakland's contest against the Dolphins.

Please check the opt-in box to acknowledge that you would like to subscribe.

Sorry!
There was an error processing your subscription.


gamestar games gamescom 2018 gamescom gamestop gameshop games with gold games workshop gamespot games online