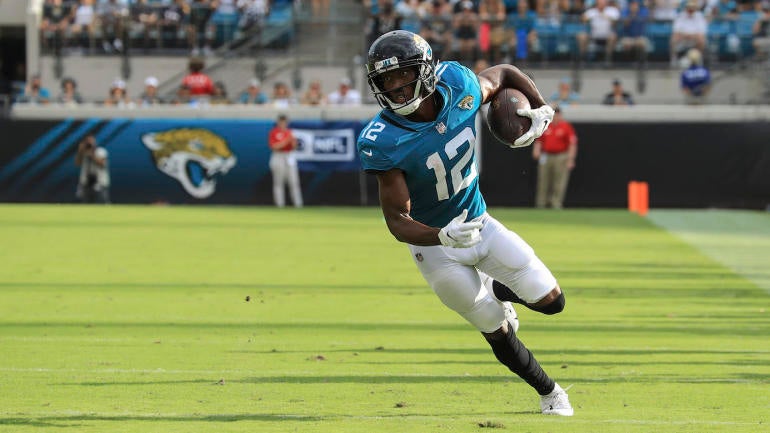 games
NFL games today, Week 2 scores, highlights, updates, schedule: Dede Westbrook delivers dagger to Patriots
September 17,2018 11:15
NFL games today, Week 2 scores, highlights, updates, schedule: Dede Westbrook delivers dagger to Patriots. All of the best highlights from Week 2 are right here. Pete Blackburn mugshot; by Pete Blackburn · @PeteBlackburn; 10h ago • 2 min read ...

NFL Week 2 is here. To keep tabs on some of the choicest highlights and other big news throughout Sunday, keep it locked here for updates. 
SCHEDULE
Thursday
Sunday 
Atlanta Falcons 31, Carolina Panthers 24 (Recap)
Indianapolis Colts 21, Washington Redskins 9 (Recap)
Tennessee Titans 20, Houston Texans 17 (Recap)
Tampa Bay Buccaneers 27, Philadelphia Eagles 21 (Recap)
Kansas City Chiefs 42, Pittsburgh Steelers 37 (Recap)
Miami Dolphins 20, New York Jets 12 (Recap)
Los Angeles Chargers 31, Buffalo Bills 20 (Recap)
Minnesota Vikings 29, Green Bay Packers 29 (Recap)
New Orleans Saints 21, Cleveland Browns 18 (Recap)
San Francisco 49ers 30, Detroit Lions 27 (Recap)
Los Angeles Rams 34, Arizona Cardinals 0 (Recap)
Jacksonville Jaguars 31, New England Patriots 20 (Recap)
Denver Broncos 20, Oakland Raiders 19 (Recap)
New York Giants vs Dallas Cowboys, 8:20 pm
Monday
McManus for the win
It's been a rough day for kickers, but Brandon McManus got his job done with a game-winning kick against the Raiders. 
Dede downs the Pats
The Jaguars are stepping on the Patriots' throat, and Dede Westbrook may have delivered the dagger for Jacksonville. Shortly after the Pats had a first-down conversion overturned via review, they punted and the Jags struck quickly with this 61-yard touchdown connection. 
Breida goes bye-bye
The 49ers are handling the Lions and Matt Brieda helped double the lead by ripping off this 67-yard touchdown.
Cole world
Keelan Cole made one of the best catches you'll see this season against the Patriots on Sunday. He only needed one hand to make it happen, and this is clear shades of OBJ.
How?!
The Vikings got themselves a game-tying strike on a Cousins-to-Thielen connection. Good luck wrapping your mind around how this pass even got through. Minnesota went on to convert the two-point try to tie it up.
Tuh-rod for the tuh!
The Cleveland Browns are giving the Saints a scare in New Orleans. Tyrod Taylor showed some fortitude with this game-tying bomb to Antonio Callaway on fourth down. But, in typical Browns fashion, the kicker missed the extra point that would have given Cleveland a lead.
Patrick Mahomes is going off
Chiefs quarterback Patrick Mahomes wants you to know he's for real. The first-year starter is going off against the Steelers, throwing FIVE touchdown passes through three quarters against the Steelers. FIVE!
Fitzmagic remains in Week 2
Ryan Fitzpatrick had one hell of a season debut last week, and he doesn't appear to be slowing down early in Week 2. On the Buccaneers' first play from scrimmage, Fitzpatrick connected with DeSean Jackson for a 75-yard touchdown. 
Fitz went on to throw two more touchdowns in the first half, including another 75-yard strike to OJ Howard.
Uh, see ya
Damontae Kazee was ejected for this helmet-to-helmet hit on a sliding Cam Newton. Luckily, Newton was able to stay in the game.
Tricky, tricky Titans
Maybe someone should have covered that guy?
Geronimoooooooooo!
The Packers got on the board with a special teams touchdown after Geronimo Allison blocked a punt that was caught by Joshua Jackson in the end zone. You know you're in for a good day when a special teams play ends in a Lambeau Leap.

Please check the opt-in box to acknowledge that you would like to subscribe.

Sorry!
There was an error processing your subscription.


gamestar games gamescom 2018 gamescom games workshop games with gold gamestop gamestorrent gameshop games online