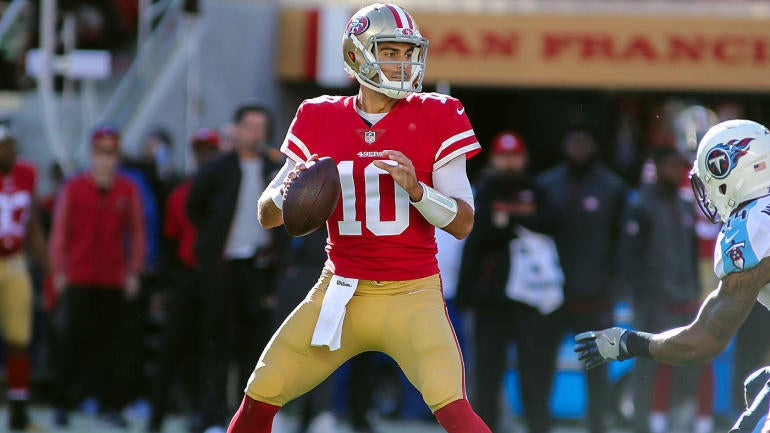 games
NFL games today, Week 15 scores, updates, schedule: Garoppolo, 49ers edge Titans
December 18,2017 01:12
NFL Week 15 is underway. To keep tabs on some of the choicest highlights and other big news throughout Sunday, keep it locked here for updates. You can also check out the current playoff picture here. Schedule. Sunday Vikings 34, Bengals 7 (Recap ...

NFL Week 15 is underway. To keep tabs on some of the choicest highlights and other big news throughout Sunday, keep it locked here for updates. You can also check out the current playoff picture here.
Schedule
SundayVikings 34, Bengals 7 (Recap)Saints 31, Jets 19 (Recap)Bills 24, Dolphins 16 (Recap)Ravens 27, Browns 10 (Recap)Panthers 31, Packers 24 (Recap)Eagles 34, Giants 29 (Recap)Jaguars 45, Texans 7 (Recap)Redskins 20, Cardinals 15 (Recap)Rams 42, Seahawks 7 (Recap)Patriots 27, Steelers 24 (Recap)49ers 25, Titans 23 (Recap)Cowboys at Raiders, 8:30 p.m. ET on NBC (GameTracker)
Found gold
The Jimmy Garoppolo-led 49ers are at it again. San Fran took down a Titans team desperate for a win on Sunday, and they did so on the strength of a game-winning field goal from Robbie Gould as time expired.
Wild finish in Pittsburgh
After the Patriots scored a go-ahead touchdown (and converted a two-point conversion) with under a minute left to go in Pittsburgh, the Steelers found a pulse thanks to a huge catch and run by JuJu Smith-Schuster.
The Steelers looked to reclaim the lead with a touchdown to Jesse James, but the ball moved when James went to the ground and it was ruled an incomplete pass instead. After the touchdown was wiped off the board, this happened...
Ouch. 
A dozen years
That's how long it had been since Tom Brady was intercepted by the Steelers, but Pittsburgh linebacker Vince Williams snatched an ill-advised third-down throw from Brady on Sunday. It helped set up a Steelers touchdown to increase their lead against New England.
One hand, six points
Martavis Bryant had a couple of great catches in the first half against the Patriots, including a one-hander that gave the Steelers a lead heading into the half.
It hasn't been the best day for Stephon Gilmore.
Rams running over the Seahawks
The matchup between the Rams and Seahawks looked to be an intriguing one on paper, but it hasn't exactly gone the way Seattle was hoping. Todd Gurley ran for three touchdowns in the first half and Los Angeles took a 34-0 lead into the locker room at halftime.
Annnnnnd make it four touchdowns for Gurley.
Punch and counterpunch
The Patriots and Steelers have the game of the week on paper, and it got off to a hot start in Pittsburgh. The Pats struck first, thanks in large part to this beautiful pitch and catch from Tom Brady to Brandin Cooks.
But the Steelers responded quickly with a great drive of their own, one that was capped off by an Eli Rogers touchdown reception.
Ingram seals the W
That sound you hear is this run doing some DAMAGE in fantasy football playoffs across the country.
What a catch
Nelson Agholor came down with one of the best grabs of the weekend and it gave the Eagles six points. The wide receiver showed off his hops and hands by reaching over a defender to catch the TD from Nick Foles.
Not so fast ...
Aaron Rodgers' day took a turn for the worse. The Packers QB threw three interceptions in a game for the first time since 2009. Maybe it's rust or maybe it's the collarbone injury, but Rodgers missed some throws that he usually makes and Green Bay lost to the Panthers, 31-24, in his return.
Welcome back, A-A-Ron
Aaron Rodgers was back under center for the Packers as they looked to make a late-season push for the playoffs. The quarterback's broken collarbone is reportedly not fully healed yet, but he started the game alright regardless. Rodgers tossed a touchdown to close out the first quarter against Carolina.
Rodgers later found Randall Cobb for a second touchdown. Just check out the cut by Cobb that allowed him to split two defenders and get into the end zone ... just ruthless.
Eagles bounce back
After a shaky start, Philadelphia hit back against the Giants. The Eagles had a big momentum swing when Eli Manning was picked off by Ronald Darby, who had a pretty impressive return to establish good field position and set up a touchdown for the offense. 
Shady reaches 10K
LeSean McCoy had a big ol' Sunday in Buffalo. Not only did he reach 10,000 career rushing yards, but he also had a couple of touchdowns in the first half, one rushing and one receiving. 
Shady's run to 10K has been quite impressive, as he's proven to be one of the most efficient running backs in league history.
See ya!
The Eagles got off to a rough start as they tried to salvage this season in the wake of Carson Wentz's injury. Philadelphia was having a tough time with the Giants, who got a big touchdown from Sterling Shepard in the first half.
Slick pick 
Eric Kendricks and the impressive Minnesota defense were matched up against Andy Dalton and the Bengals, and that bout was heavily tilted in the Vikings' favor. Kendricks managed to pick off Dalton in the first quarter and return it for a touchdown to give the Vikes a 14-0 lead early.
Magic Mark 
Mark Ingram turned a first quarter dump-off into a 54-yard reception with some powerful and elusive running against the Jets. The Saints running back later pounded the rock into the end zone for his 10th rushing touchdown of the year.


gamestar games gameshop gamestorrents games workshop gamestop games with gold games of thrones gamespot gamesz