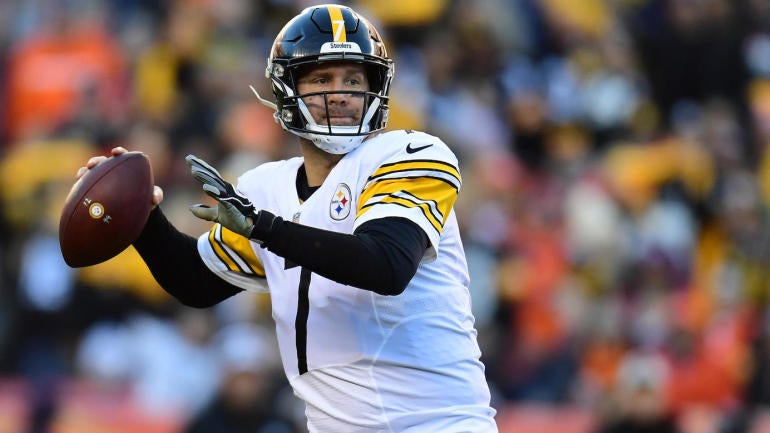 games
NFL games today, Week 12 scores, highlights, updates, schedule ...
November 26,2018 02:21
NFL Week 12 is here. To keep tabs on some of the choicest highlights and other big news throughout Sunday, keep it locked here for updates.and more »

NFL Week 12 is here. To keep tabs on some of the choicest highlights and other big news throughout Sunday, keep it locked here for updates. 
Schedule, scores
Thursday
Sunday 
Browns 35, Bengals 20 (Recap)
Seahawks 30, Panthers 27 (Recap)
Buccaneers 27, 49ers 9 (Recap)
Ravens 34, Raiders 17 (Recap)
Eagles 25, Giants 22  (Recap)
Patriots 27, Jets 13 (Recap)
Bills 24, Jaguars 21 (Recap)
Chargers 45, Cardinals 10  (Recap)
Colts 27, Dolphins 24 (Recap)
Broncos 24, Steelers 17 (Recap)
Packers at Vikings, 8:20 p.m. ET (GameTracker)
Monday
Oh no, Big Ben!
The Steelers looked like they were about to tie the game late against Denver, but a goal-line interception from Big Ben ended their hopes of a comeback real quick. I'm really not sure why this throw was made considering it could have been intercepted by multiple Broncos defenders. In any case, Denver comes up with another big win.
JuJu goes for 97
Ben Roethlisberger and JuJu Smith-Schuster connected for a monstrous 97-yard, go-ahead touchdown in the third quarter. JuJu made sure it stung a little extra for Denver when he stiff-armed a would-be tackler en route to the end zone. 
This is kind of becoming JuJu's thing.
That's how to close out a half
So much Mossing going on today! I don't hate it.
Fake field goal!
The Steelers got tricky on Sunday and kicker Chris Boswell caught the Denver defense off-guard with this touchdown pass to big man Alejandro Villanueva. Congratulations to any Boswell fantasy owners who now get a TD pass from their kicker slot!
Andrew Luck catches one
For the second straight game, Colts quarterback Andrew Luck got a pass thrown his way. This time he made the snag but immediately paid for it, as he was walloped by a Miami defender. Still held on and picked up that first down, though I'm not sure the Colts want to keep putting his body on the line like that.
Mike Williams also doubles up
Chargers wide receiver Mike Williams picked up two touchdown receptions in the first half, the second of which came on this great catch. Look at the concentration to not only make the catch but also get the feet inbounds. 
Melvin Gordon doubles up
The Chargers are hosting the Cardinals in Los Angeles on Sunday and Melvin Gordon isn't showing much hospitality. The running back has two touchdowns in the first half, both coming on the ground.
Ebron gets to work early
Eric Ebron was blanked last weekend but he got back in the end zone on Sunday against the Dolphins, making a nice first-quarter TD grab.
Russ gets gutsy 
The Seahawks made a gutsy decision to throw the long ball on 4th-and-3 and it paid off. Russell Wilson dropped a dime to David Moore, who managed to make the game-tying TD grab.
Wilson continued his magic and had another big connection -- this time with Tyler Lockett -- to set up Seattle's game-winning field goal.
Incredible catch
This catch from Jared Cook is pretty damn impressive ... a one-handed snag while falling backwards into the corner of the end zone? Not bad at all. 
Defying gravity
Chris Carson tried to hurdle a defender, got front-flipped and still managed to land on his feet. That is some cat-like magic.
What a pick
We don't often show a lot of love for defenses here on this highlights hub, but this tandem interception effort by the Raiders at the end of the first half was something special.
Nick Chubb burns a defender for TD
It's one thing to get burned by a receiver, but to get burned by a running back? Yikes, everything seems to be coming up Browns today. Nick Chubb with an absolutely ridiculous catch to get into the end zone.
Lamar Jackson shows off the arm
We know the Ravens rookie QB can run, but he's doing damage with the arm on Sunday as well. 
Demarious Randall with an A+ troll
Browns DB Demarious Randall picked off Andy Dalton and proceeded to run to the sideline and give the ball to former Cleveland head coach Hue Jackson, now with the Bengals. That's one of the greatest troll jobs you'll ever see. Rough week for Hue.
Run, Cyrus, run!
The Ravens are getting some special teams help against Oakland. This 70-yard punt return TD from Cyrus Jones pushed Baltimore ahead of the Raiders in the second quarter.
What the heck is this?!
David Njoku may have scored the most preposterous TD of the season against Cincy on Sunday. The Browns tight end attempted to leap into the end zone from about five yards out, jumped straight into a defender and yet still somehow crowd-surfed his way to pay dirt. You can make the case that the play should have been blown dead because of momentum stopping, but it counts all the same.
Josh Allen with the rocket arm
The Jaguars are having some trouble with the Bills (yes, the Bills) thanks to throws like this from Josh Allen. The Buffalo QB unleashed a missile that connected with Robert Foster for a 75-yard touchdown. 
Baker ripping it up against Cincy
Baker Mayfield is essentially dancing on Hue Jackson's grave as he shreds the Bengals' defense in the early going. The Browns jumped out to a two-score lead in the first quarter thanks to this connection between Baker and Antonio Callaway.
Gronk back
Rob Gronkowski has missed three of the Patriots' last four games, and the team's offense has missed him quite a bit. Gronk also said the end zone missed him, but that didn't last too long on Sunday. The Patriots tight end reeled in a nice touchdown catch in the first quarter to help New England pull even with the Jets.

gamestar games gamestorrents gamestop games workshop games with gold gamespot gameshop gamesz games online