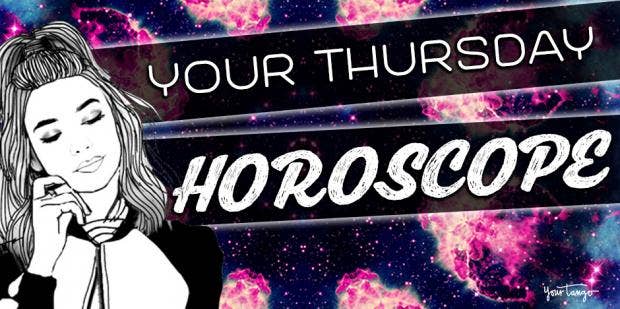 astrology
New Moon Horoscope And Astrology Forecast For January 18, 2018 ...
January 19,2018 03:25
Daily astrology horoscopes for Thursday, January 18th, 2017 are here with a forecast for all zodiac signs. Today the new moon is in Aquarius for the second day. The Sun enters Aquarius, tomorrow. Check out what astrology has in store for your ...

A New Moon promises big changes for all zodiac signs, but what does change really mean?
Your daily horoscope is here for all zodiac signs, astrology lovers! Aquarius season has launched.
The New Moon is in Aquarius. Venus is now in Aquarius, too. The Sun begins void of course and enters Aquarius to join the New Moon tomorrow night before the day closes.

RELATED: How Capricorn Season Will Affect Your Love Life In The Next Few Weeks
The 11th House is also called Hopes and Dreams, Career and Character, and some say that this the place where friendship, networking, and even humanitarian efforts. 
And although Mercury, Saturn, and Pluto are still in Capricorn, and it appears we have our energies divided, things are actually more balanced than before. 
A New Moon in Capricorn just before the Moon entered Aquarius means that there's energy from the Sea Goat in our world. So what does it mean when you're no longer in charge, but still with residual influence?
First, it's important to remember that Capricorn and Aquarius are the only two zodiac signs ruled by Saturn — so they may be one house apart from each other, and different zodiac signs, but their approach is not all that different.
We gain a lesson about how to delegate tasks with people who agree with our goals and mindsets by looking at these two zodiac signs and their shared ruling planet. 
RELATED: It's Capricorn Season! How 2018 Will Affect These Seagoats — And What They Can Do To Change
When you work hard on a project or even a relationship, it's difficult to hand the torch of control over to someone else. The loss of primary leadership can feel like a failure (if you choose to view it that way). It can also feel as though your role is no longer relevant because you're no longer first in command. 
For example, when a parent drops their child off to school for the first time ever, the parent is still influential, but for a few hours, another adult assumes leadership and care over the parent's child.
In work, when a leader has to take a day off, in their absence, someone else has to answer tough questions and make sure things run smoothly.
The hardest part of exchanging hands is the knowledge the someone may change a dynamic. A decision could be made that will reverse the order of things.
Perhaps there's concern that too many layers of distance between the right to make choices and the will to invoke change will be lost, too. A new leader may respond to a situation with a different approach.
Then, there's that sense of fear that their approach is too innovative, lacking in emotional attachment, and for that reason, not worthy of praise. But the truth is change can and is a good thing. It reveals where we need to improve. It opens up conversation in a new way.
Capricorn may wonder if Aquarius's new innovations are too trendy, too modern, but they are useful and they sure do save time. It's a change, but in this situation change is good.
Astrology takeaway:
Change is a necessarily part of how our universe works and it should be something all of us look forward to in our own lives. Finding the right person to be there to pick the ball up when you have to make a pass is one way of handling the fear of change. 

Activities that are good for today's energy forecast include researching science, binging on Discovery Channel, taking a trip to a science museum or studying astronomy and astrology. 

Where your zodiac sign's house is positioned on the astrology zodiac wheel, and where the planets are positioned at that time, your energy and reaction to that placement may be different than someone else.

Zodiac signs who get a lucky boost of energy are Aries, Cancer, Libra, and Sagittarius — Aquarius has a double power day!
Check out your zodiac sign below to see today's daily horoscope for Thursday, January 18, 2017.
ARIES (March 21 - April 19)
Tarot: The Chariot
Aries, you don't have to always be in control. This can be a tough lesson for you to master; however, trust that as your inner voice guides you correctly, someone else's does as well. 
RELATED: 12 Memes That Perfectly Sum Up What It's Like To Be An Aries Woman
TAURUS (April 20 - May 20)
Tarot: Temperance
Taurus, it seems simple enough, but honor yourself. Take care of your body and it will care for you. Don't skimp on the things that you need to be well from the inside out. Make you a priority.
RELATED: The TRUTH About Being A Taurus — The Most Stubborn Sign Of The Zodiac

GEMINI (May 21 - June 20)

Tarot: The Magician
Gemini, you shine brightest when you're happy. Happiness and forgiveness go hand in hand. Don't let the way things are in the world change your heart. Let resentment go to the side and focus on practicing love. 
RELATED: 8 Reasons Gemini Women Are The BEST Women To Love
CANCER (June 21 - July 22)
Tarot: The Hanged Man
Cancer, life can sometimes seem like a series of test and sometimes this can feel exhausting! Resolve that no matter what you face, the end result for you is more self love, more confidence, and more joy.
RELATED: 5 Brutal Truths About Loving A Cancer (As Written By A Cancer)
LEO (July 23 - August 22)
Tarot: The Hierophant
Leo, set your mind to something and stick with it. Keep a can do attitude about the tasks you face and remember that what you set your mind to do can happen. 
RELATED: The Ultimate Leo Compatibility Guide: Understanding This Zodiac Sign's Love And Relationships
VIRGO (August 23 - September 22)
Tarot: The Emperor
Virgo, you are the master of your own fate even when it seems like things don't go as planned. Learning how to change and adapt will be your super power today.
RELATED: 7 Brutal Truths About Loving A Virgo (As Written By A Virgo)
LIBRA (September 23 - October 22)
Tarot: Temperance
Libra, when you see things as part of the ebb and flow in life, you have the opportunity to enjoy it more. Let things flow the way they were meant to be and change what you can.
RELATED: 11 Brutal Truths About Loving a Libra (As Written By One)
SCORPIO (October 23 - November 21)
Tarot: The Devil
Scorpio, you can accomplish more than you imagined today but it will require a little more planning and forethought than usual. Distractions may come but remember that you hold the cards. 
RELATED: The Ultimate Scorpio Compatibility Guide: Understanding Love Relationships According To The Zodiac

SAGITTARIUS (November 22 - December 21)

Tarot: The Fool
Sagittarius, change is good. You can consider the things that you see happening around you a golden opportunity to learn something new about yourself and about others. Wisdom is a powerful thing in the right hands. 
RELATED: 8 Reasons Sagittarius Women Are The BEST Women To Love
CAPRICORN (December 22 - January 19)
Tarot: The High Priestess
Capricorn, dream big and take ownership of what you conceive. Your dreams are a part of your inner desires and purpose. You may have to tell yourself that throughout the day so you stay focused on your goals. 
RELATED: 7 Brutal Truths About Loving a Capricorn (As Written By One)
AQUARIUS (January 20 - February 18)
Tarot: The Lovers
Aquarius, creativity and new ideas may come from various experiences today. Don't assume you'll remember them. Write each one down even if it doesn't make sense right now. Your imagination may be open to ideas you're not ready to understand just yet. 
RELATED: 7 Brutal Truths About Loving An Aquarius (As Written By One)
PISCES (February 19 - March 20)
Tarot: Wheel of Fortune
Pisces, you may feel that there's a score to even up; the best revenge is to be happy and live your life fully. The path of the past is behind you. Walk forward believing things always improve. 
RELATED: 7 Brutal Truths About Loving A Pisces (As Written By A Pisces

Want to check out your monthly horoscope for January? You're in luck because it's HERE!
When Aria isn't exploring the meaning of life with help from the universe, she can be found stargazing or in search of the next great cup of tea. She would love for readers to follow her social media!


astrology,horoscope,zodiac,zodiac sign,Tarot,Buzz,Self