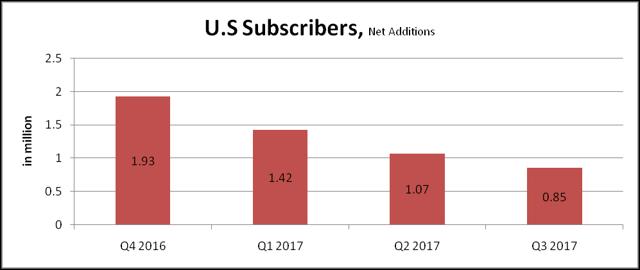 entertainment
Netflix Touts Exclusive Content - Entertainment Hub Or A Content Creator?
October 18,2017 21:09
The growth has been slowing down on a year-over-year basis despite low international penetration. Further, the comments of the CEO about exclusive content indicate that Netflix will turn into a network, sooner or later. It will not be an entertainment ...

Netflix (NFLX) posted stellar subscriber growth during the third quarter of 2017. The company added 5.3 million subscribers globally, fueled by an addition of 4.45 million international subscribers. Thanks to the international subscriber growth, the stock was up ~2% in the after-hours trading on Monday.
Revenue for the quarter was $2.99 billion, up 30.6% on a year-over-year basis. Analysts were modeling for revenue of $2.97 billion. The company posted an EPS of $0.29, missing the consensus by $0.03.
Netflix is dedicating its efforts toward content as the company plans to spend around $8 billion on content next year.
"Our future lies in exclusive original content," said the CEO of Netflix in the latest letter to shareholders.
Moreover, the company plans to release 80 films during the next year, says Chief Content Officer Ted Sarandos.
All seems good given the subscriber growth. Well, we beg to differ given several concerns.
Subscriber growth is coming from the international segment, which will put pressure on margin going forward. The growth has been slowing down on a year-over-year basis despite low international penetration. Further, the comments of the CEO about exclusive content indicate that Netflix will turn into a network, sooner or later. It will not be an entertainment hub as envisioned originally. Let's dive in.
Subscriber Growth – What to Look Out For?
Netflix added 4.45 million international subscribers to surpass its total domestic subscribers during the third quarter of 2017. The company added only 850,000 subscribers in the U.S as subscriber growth continues to slow in the U.S for the third consecutive quarter.

Source: NFLX Shareholders' Letter Q3, 2017
Increasing U.S penetration is causing the growth to decline in the U.S. 38% of the U.S internet users already subscribe to Netflix's streaming service.

* Based on total NFLX subscribers and internet users in the U.S and the world
On the international front, growth remained intact during the first nine months of 2017. However, the increase in the number of subscribers was still less compared to the fourth quarter of 2016. The company is guiding for ~5.1 million net additions during the fourth quarter, a decrease of 1.3% on a year-over-year basis.

Source: NFLX Shareholders' letter, Q3 2017
International subscriber growth bodes well for Netflix. But the year-over-year decline in growth rate is alarming as international penetration is nowhere near the U.S level.
International penetration stands at 1.6% based on the number of global internet users. Therefore, the early slowdown in Netflix's international growth should be approached with skepticism.
Not All Subscriber Growth is Equal
U.S. subscribers are expected to generate a contribution margin of 34.4% during the fourth quarter of 2017 as compared to a mere 7% contribution margin from international subscribers. Nonetheless, international revenue increased 56% during the first nine months of 2017, while cost of revenue grew at 42%. However, the company is spending much more on international expansion compared to its spending in the U.S.

Source: NFLX Shareholders' letter, Q3 2017
You can see that the number of domestic and international subscribers is almost the same as of Q3 2017, yet the contribution margin difference is wide.
To review, with slowing growth in the U.S market and increasing international subscribers, contribution margin and the bottom line of Netflix will remain under pressure.
Margin is expected to remain under pressure going forward as the company continues to compete on exclusive content. The CEO acknowledged in the shareholders' letter that original content is the way to go for Netflix.

"While we have multi-year deals in place preventing any sudden reduction in content licensing, the long-term trends are clear. Our future largely lies in exclusive original content that drives both excitement around Netflix and enormous viewing satisfaction for our global membership and its wide variety of taste."

Netflix is transforming into a content creator, not an entertainment hub.
There is a change in Netflix's stance. The company was once touted as the future hub for all entertainment content. The stock was priced accordingly. Now, the company believes that it's going to compete on exclusive content basis. This gives way for an entertainment world with several streaming players, not a single dominating player.
Disney (DIS) is expected to pull out its content from Netflix. AMC Networks (AMCX) is in the midst of launching a new streaming service. Time Warner's (TWX) HBO already offers its content through its streaming service.
All in all, Netflix will turn into a content creator with a streaming distribution channel, rather than a streaming hub with a two-sided market. Therefore, caution should be exercised in valuing Netflix as a hub for entertainment. It should rather be valued as a network with quality content and growing subscriber base. The only difference is the absence of advertising revenue, which is a big part of any network's revenue base.
Being a content creator isn't easy.
It requires a given company to churn out top quality content consistently. Netflix has to continue spending heavily in order to attract subscribers. In other words, content costs might never go down in future as the company has to create new content regularly to satisfy its current user base. Moreover, companies like Amazon (AMZN), Time Warner and Apple (AAPL) have enough dollar fire-power to match Netflix on content-spend.
It all boils down to the fact that consistent quality-content means low margins.
Note that average operating margin for content creating media companies stood at around 22% during the year ended 2016. Netflix's plans, to achieve a high contribution margin globally, are rather over ambitious.

Source: SEC Filings, Time Warner and CBS Networks
Cost of revenue is high as content costs are high. Not to mention, HBO only spent $2 billion on content to achieve a 33% operating margin. This is well below Netflix's $8 billion guidance for the next year. The point is that margins will remain under pressure in order to create quality content.
High budget doesn't necessarily mean quality content.
Content budget isn't the only thing that matters. It's not the only critical success factor.
Experience in creating content also boosts competitive advantage. HBO spent around $2 billion on content during last year and still managed to produce master classes like Game of Thrones, Silicon Valley, West World and John Oliver's Last Week Tonight.
Netflix has quality content, but it doesn't match what HBO has to offer. HBO's CEO has the following to say about Netflix's recent content-spend plans.

"It is very hard to create outstanding content, and we think we have a good record of doing that very very well. We're not trying to create the most, we're trying to create excellence across our categories -- and we have more than the resources necessary to do that."

Overall, aggressive content creation strategy is a good thing for Netflix in a sense that the company won't have to rely on other content creators. Quality or quantity won't be hit when other content creators leave in favor of their own streaming services.
However, one thing is clear that Netflix is becoming a content network with in-house streaming distribution. It should not be treated as a hub for entertainment.
The benefits of a two sided market will disappear for Netflix as the streaming market becomes fragmented.
Bottom Line
Subscriber growth is a positive development for Netflix. However, there are several concerns including low international contribution margin and slowing year-over-year growth.
Aggressive content strategy is the right strategy as the company has no other choice. Large content creators will leave in favor of their own streaming services. The need for high quality content will keep content costs high and margins low.
Netflix should be viewed as a top quality content creator rather than a streaming hub. It should be valued as a content creator with an added advantage of a growing subscriber base. Regarding the stock, the market is valuing the company as a hub of entertainment. So, place your bets accordingly.
Disclosure: I/we have no positions in any stocks mentioned, and no plans to initiate any positions within the next 72 hours.I wrote this article myself, and it expresses my own opinions. I am not receiving compensation for it (other than from Seeking Alpha). I have no business relationship with any company whose stock is mentioned in this article.Additional disclosure: This publication is for informational purpose only and reflects the opinion of Focus Equity's analysts. This opinion doesn't constitute a professional investment advice. Our senior technology analyst compiled this research piece. Focus Equity is a team of analysts that strives to provide investment ideas to the U.S. equity investors.
entertainment entertainment news entertainment tonight entertainment weekly entertainment center entertainment earth entertainment near me entertainment book entertainment careers entertainment partners