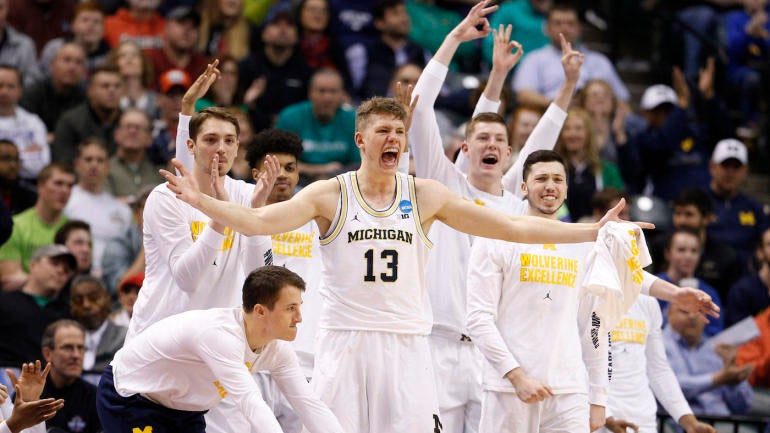 sport
NCAA Tournament 2017: Ranking all the Saturday, Sunday second-round games
March 18,2017 12:10
If you want to lament the lack of buzzer-beaters and big upsets, I mean, I get it, but the byproduct of a very chalky first round means that Saturday and Sunday are giving us one really good game after another. Consider this your ultimate guide to the ...

Download the CBS Sports App today and get instant tournament news and alerts, plus get the latest picks and upsets from SportsLine! If you want to lament the lack of buzzer-beaters and big upsets, I mean, I get it, but the byproduct of a very chalky first round means that Saturday and Sunday are giving us one really good game after another. Consider this your ultimate guide to the NCAA Tournament's weekend slate. I've listed off the games below in terms of broad appeal, plus how I expect the matchups to go. I've separated them by days, and the games ranked seventh and eighth for each day? Pretty good tilts, nonetheless. This should be a glorious weekend. Here's
a TV guide to tip times, channels, announcing teams
, all of it. And yes, I assure you, upsets are coming. SATURDAY8. No. 3
Florida State Seminoles
vs. No. 11
Xavier Musketeers
(West). This one has the least amount of appeal heading into Saturday, due in part to FSU not being a March staple and Xavier being short-handed. The Seminoles got a nice push from
Florida Gulf Coast Eagles
, while Xavier looked particularly good vs.
Maryland Terrapins
. I think the size issue here will wind up being something too difficult for X to overcome. FSU has big-time athletes, length and strength all over the floor. The Musketeers will miss not having
Edmond Sumner
available. 7. No. 4
Florida Gators
vs. No. 5
Virginia Cavaliers
(East). Not a lot of national appeal here to the casual sports fan because there aren't any mainstream stars, and this game doesn't involve a team people are picking to make it to the Final Four. But it should be a close one. Yes, this could be decided in the 50s. These are two of the top four defensive teams in college basketball. So a grind-it-out game doesn't get the marquee treatment going in. But the fact this game is seventh speaks to how strong Saturday is overall. 6. No. 4
Butler Bulldogs
vs. No. 12
Middle Tennessee Blue Raiders
(South). Middle's appeal alone gets this to the 6 spot, but it's like Butler is going up against the new Butler! Middle beat
Michigan State Spartans
last year, then got rocked by
Syracuse Orange
two days later. I'm sure the players on this year's team who experienced that last season will have that fresh in their minds. Butler has proven capable of beating and losing to just about anyone. Middle is 5-1 the past two seasons against teams in traditional big six conferences. Can't wait for this one.
5. No. 4
Purdue Boilermakers
vs. No. 5
Iowa State Cyclones
(Midwest). You've got the most reliable point guard in college basketball in
Monte Morris
and maybe the Player of the Year in college hoops in
Caleb Swanigan
. The most underrated game of the weekend. Purdue is the best team in the Big Ten; the league could really use a Sweet 16 appearance from the Boilers. Meantime, ISU has looked as good in the past three weeks as almost anyone in college basketball. I expect this to be close from tip until the final three minutes. Caleb Swanigan and Purdue get an interesting tussle with dynamic Iowa State.
USATSI
4. No. 1
Villanova Wildcats
vs. No. 8
Wisconsin Badgers
(East). There's a faction of people out there who think Wisconsin is a tricky matchup for the reigning national champions. There are Badgers players, like
Nigel Hayes
and
Bronson Koenig
, who've been to two Final Fours.
Ethan Happ
was a key player in last year's team that made the Sweet 16. Villanova's appeal speaks for itself. If nothing else, this game will have people interested because it's two programs who've become March staples in the past half-decade.3. No. 1
Gonzaga Bulldogs
vs. No. 8
Northwestern Wildcats
(West). Northwestern trying to pull off the upset against a Gonzaga team that still has an army of doubters behind it. Yet Northwestern, because it has so many prominent national media figures in glee over this run, is getting some blowback too. So who will you be rooting against? What I know: Getting Northwestern on a Saturday NCAA Tournament game is something I did not think would happen this year, even when i knew NU was making the field. You toss in Gonzaga as a 1-seed opponent, and it's must-see. All the TV shots of Doug Collins and Julia Louis-Dreyfus, please. 2. No. 4
West Virginia Mountaineers
vs. No. 5
Notre Dame Fighting Irish
(West). Ranks second because it is a complete contrast in styles, two great coaches, and should be a war. Notre Dame has an unreal ability to play close NCAA Tournament games. Go check the records. Like, the seven of the past 10 games the Irish have played in the tournament have been decided by five or fewer points. If it's close, ND shoots free throws better than any other team. It also turns the ball over less than any other team, yet WVU is the best in college hoops at turning you over. Awesome, awesome matchup. 1. No. 2
Arizona Wildcats
vs. No. 7 Saint Mary's (West). Good upset potential, a Saint Mary's team that has just four losses all season, three of them coming to Gonzaga. Arizona has looked fabulous since the start of the Pac-12 tournament. This is a lot of people's not-so-dark-horse national title pick. But the Gaels will not go quietly. I am most excited about this one. Could be a classic. Sean Miller's younger team has to go up against a veteran Saint Mary's squad that does not foul and wants to take its time. I am so here for
Jock Landale
vs.
Lauri Markkanen
. The most enticing game of any on a very good Saturday. SUNDAY 8. No. 1
North Carolina Tar Heels
vs. No. 8
Arkansas Razorbacks
(South). Just don't think Arkansas is going to be able to keep pace with UNC. The Tar Heels blitzed
Texas Southern Tigers
when no one was looking, while the Hogs got by in part because of a controversial flagrant 1 call that sealed the game for them against
Seton Hall Pirates
. I like UNC big in this spot, with a heavy Tar Heel-blue contingent down in Greenville. For Arkansas, winning a tourney game after landing an 8 seed is a successful season. Expectations hit. 7. No. 3
Baylor Bears
vs. No. 11
Southern California Trojans
(East). USC beat
Providence Friars
in the First Four, then won it late vs. SMU. Now the Trojans and their talent go up against a Baylor squad that is led by
Johnathan Motley
, a potential first-round pick in 2017. While I liked
SMU Mustangs
to beat Baylor, I can't say the same for the Trojans here. I think Baylor's defense is going to give USC too many issues. This game has some appeal to it because people like to watch Baylor to see if it loses close gams late, but the truth is Baylor has been one of the best teams against good competition this season. 6. No. 2
Duke Blue Devils
vs. No. 7
South Carolina Gamecocks
(East). A Duke game rated this low speaks to the opponent and just how good the games/matchups listed ahead of it are. Duke will probably be outflanked by the fan base in the gym, as the 7 seed gets to play this game all of 100 miles from its campus. Few will shed tears for Duke over that, though. Still, Duke is so much more talented than South Carolina. I have a hard time seeing this game being close in the closing minutes. That said, if USC can repeat what it did against
Marquette Golden Eagles
, then that changes everything. Also, people will be tuning in to hate-watch
Grayson Allen
, among other things, but that's not reason to put this game higher on the list.
Does South Carolina have the style to slow down Duke?
USATSI
5. No. 3
UCLA Bruins
vs. No. 6
Cincinnati Bearcats
(South). We have a few contrast-in-style games going down this weekend, and this is one of them. I was talking with a Cincinnati assistant on Friday night who got to see UCLA's speed and style up close. Here's why this game should be interesting. 1) UCLA did not impress in its win over
Kent State Golden Flashes
. 2) Cincinnati isn't just all defense. While the Bearcats are still defense-first, this group can actually score. So with UCLA's issues without the ball, it's conceivable that the anonymous Bearcats could pull off the upset.
Troy Caupain
MUST play well to give UC a shot. Plus, this is a great uniform game. Both teams' threads are awesome. 4. No 3
Oregon Ducks
vs. No. 11
Rhode Island Rams
(Midwest). I've got Rhode Island winning this game. Oregon had no issues with
Iona Gaels
, but Rhode Island is much more talented. The Rams looked like a top-20 team, the team that was ranked in preseason polls, in their win over
Creighton Bluejays
. EC Matthews vs.
Dillon Brooks
: Heck yeah.
Hassan Martin
vs.
Jordan Bell
: thank you, bracket lords.
Kuran Iverson
will probably need to have another big game. Lamar Odom will be on hand, as the Rams' win on Friday was the first time URI got a win in the NCAAs since 1998, when Odom was on the team. Remember, the Ducks don't have
Chris Boucher
. This is a meeting between the two best shot-blocking teams in college basketball, but Oregon is down their best swatter. 3. No. 2
Louisville Cardinals
vs. No. 7
Michigan Wolverines
(Midwest). Incredible Michigan story, but more to the point, that offense going against Louisville's defense. What a tremendous way to start off Sunday. The Wolverines' amazing offense scored 1.58 points per possession in the second half of their win over
Oklahoma State Cowboys
on Friday. An incredible game. UM had 16 3-pointers and got by against a like-minded team. Now, the opposite. Louisville is among the best in defense in college basketball. This game is a rematch of the 2013 national championship; Louisville won that game. Michigan's
Derrick Walton Jr.
is going to have another tough test, but he fared well against OSU's
Jawun Evans
. It's sort of feeling like this UM team is destined for the Sweet 16, right? 2. No. 1
Kansas Jayhawks
vs. No. 9 Michigan State (Midwest). Well, this is going to be awesome. You could make the argument that no team looked better in its first-round game than KU, but of course the opponent factors into that. Now Bill Self has to deal with a Tom Izzo team that turned Miami into putty.
Josh Jackson
vs.
Miles Bridges
is a lottery pick face-off that could be one highlight after another. Tom Izzo is 21-4 in second round and/or elite Eight gams, meaning he's terrific on two-day turnarounds. Bill Self is merely OK, going 19-17. Izzo has more wins as a lower seed than any coach in history. Self is up for the Hall of Fame, while Izzo just got in last year. Two top-10 programs. I know you'll find the time to watch. 1. No. 2
Kentucky Wildcats
vs. No. 10
Wichita State Shockers
(South). The most anticipated game of any between Saturday and Sunday, without question. The under-seeded Shockers won ugly over
Dayton Flyers
-- and it was impressive. Few teams look like they play harder than this one. Gregg Marshall's guys rank as the No. 5 team in all of college basketball at KenPom.com. Who's No. 4? Kentucky. This is the rematch of the 2014 second-round game, only the roles are reversed. UK is the higher seed, while Wichita State can play spoiler. And UK can't be happy it was placed in this quadrant with such a good team so early. The Wildcats weren't overly impressive against Northern Kentucky, either. A lot of people will jump on the Wichita State number, I believe. The key for the Shockers will be keeping
Landry Shamet
out of foul trouble and having Shaq Morris body up on Bam Adebayo. Should be a great game. Should be a great weekend.
gamestop games gamestop near me games for girls gamespot games online games to play games for kids games workshop games with gold