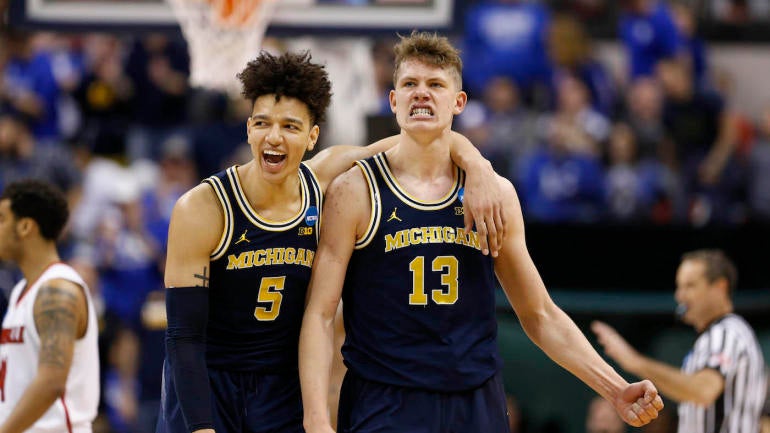 sport
NCAA Tournament 2017: Ranking all eight games in the Sweet 16
March 21,2017 06:17
After the first weekend of the NCAA Tournament gave us a fairly chalky map to the regional semifinals, let's take time to note that the No. 1 overall seed ( Villanova Wildcats ), the title favorite (No. 2 Duke Blue Devils ) and another 2-seed ...


Download the CBS Sports App today and get instant tournament news and alerts, plus get the latest picks and upsets from SportsLine! A delicious octet of Sweet 16 games awaits. After the first weekend of the NCAA Tournament gave us a fairly chalky map to the regional semifinals, let's take time to note that the No. 1 overall seed (
Villanova Wildcats
), the title favorite (No. 2
Duke Blue Devils
) and another 2-seed,
Louisville Cardinals
, all were taken out. We weren't void of some surprises and stunners. The tournament always delivers in that way. Plus, for the 30th time in the past 32 years (i.e. the modern tournament era) a double-digit seed has reached the Sweet 16. Thanks for keeping things interesting,
Xavier Musketeers
. The No. 11 Musketeers are the only team left seeded worse than seventh. Now, let's get to ranking the games we've got coming on Thursday and Friday night. For tip times and TV info,
we've got all of that and a lot more stored here
.8. No. 3
Baylor Bears
vs. No. 7
South Carolina Gamecocks
(East). Baylor is back in the Sweet 16 for the fourth time in program history, all of those appearances having come since 2010. South Carolina's upset of Duke is the biggest stunner of the tournament so far. But these two teams don't bring a lot of widespread appeal. South Carolina is not known for its basketball prowess. This is the first time in school history the Gamecocks have won back-to-back tournament games. Baylor is very good and will be giving 3.5 points in this one. 7. No. 4
Florida Gators
vs. No. 8
Wisconsin Badgers
(East). Wisconsin and Florida fans will take up 90 percent of Madison Square Garden on Friday night. Because Duke and Villanova didn't make it to Manhattan, the East gets a downgrade. Just no denying it. But from a coaching standpoint, this is going to be an interesting game. Greg Gard vs. Mike White, two different styles, though the game will certainly be decided in the low 60s. You'll notice with the East that none of the four coaches have been to a Final Four. In six days, someone's about to get a big resume upgrade. The Gators are favored by 1.5.
6. No. 2
Arizona Wildcats
vs. No. 11 Xavier (West). Sean Miller, for the second time in three seasons, is coaching against his former program in the Sweet 16. The Wildcats are giving 7.5 points to the Musketeers. Xavier just walloped No. 3
Florida State Seminoles
91-66, a complete dismembering of a team filled with big-time athletes and future NBA players. Arizona, in some ways, is similar. I'm pretty intrigued by this one. Miller is trying to get to his third Elite Eight in four years. Chris Mack, for all we know, is coaching with a chance to be considered for the
Indiana Hoosiers
job. The Musketeers are now 30th in KenPom, the lowest team left in the field. 5. No. 1
Kansas Jayhawks
vs. No. 4
Purdue Boilermakers
(Midwest). The Jayhawks, now the betting favorite, are giving 4.5 points to the Boilers. This game has the two most valuable and accomplished players in college basketball this season: Kansas' Frank Mason and Purdue's
Caleb Swanigan
. The home-court feel for the Jayhawks in Kansas City, Missouri, will be a tough thing for Purdue to overcome, not to mention
Josh Jackson
and Devonte' Graham's contributions. Purdue put up 80 points in each of its first-weekend games. I imagine Jackson will guard Swanigan. That's going to be great. Key here is Purdue's guards. They're good, but not at KU's level. PJ Thompson,
Dakota Mathias
and
Carsen Edwards
will need to play at their best to get Purdue to the Elite Eight.4. No. 3
Oregon Ducks
vs. No. 7
Michigan Wolverines
(Midwest). How about the higher-seeded team being the underdog here? The Ducks are getting 1.5 points against a Michigan team that
is the best story in sports so far this year
. Oregon flirted with danger against upset-minded
Rhode Island Rams
. This is going to be a fun game. Michigan's offense is multifaceted and operating as smoothly as any team in the tournament,
UCLA Bruins
included. Oregon has a 1-2 attack from
Dillon Brooks
and
Tyler Dorsey
that is good enough and cocky enough to vault the Ducks into the Final Four.
Derrick Walton Jr.
is trying to pull off his best
Kemba Walker
impression. Can't wait for this one. 3. No. 1
North Carolina Tar Heels
vs. No. 4
Butler Bulldogs
(South). Interesting game! Butler has never been seeded so high. The Bulldogs look to be outclassed here, but come on, you know Butler has a chance. Especially after seeing the way UNC barely got by
Arkansas Razorbacks
in Greenville. The Tar Heels are favored by 7.5, which seems a bit much. This has easy appeal to a casual audience because of the brand, UNC going against the little guy who's no longer the little guy. Chris Holtmann was a coach of the year candidate, while the Tar Heels won the ACC's regular-season title. And now, amazingly, UNC is the only ACC team left in the field. Can the Tar Heels carry the flag for the league all the way to Phoenix?2. No. 1
Gonzaga Bulldogs
vs. No. 4
West Virginia Mountaineers
(West). WHAT. A. GAME. Millions will tune in to see if Gonzaga can make the third Elite Eight in program history. The Bulldogs are a 3.5-point favorite, which tells you how much Las Vegas respects the Bulldogs after the way they got pushed by
Northwestern Wildcats
. West Virginia, which ranks sixth in KenPom, is the title contender no one is taking seriously yet. Taking down Gonzaga would change that. I love the matchup of Gonzaga's size against West Virginia's aggressiveness. This stands to be a mighty fine game. Can't wait to see what Mark Few does and what lineup he throws out there. 1. No. 2
Kentucky Wildcats
vs. No. 3 UCLA (South). Nineteen national titles between these two programs. A bucket of future NBA players. Two of the biggest programs in the history of the sport. Amazing talent, fun basketball and a rematch of one of the 10 best games from the regular season. UCLA is only a half-point favorite. John Calipari coaching back in Memphis, inside FedEx Forum. I don't need to tell you much more, do I? This is one of the most anticipated Sweet 16 games in the past decade. Worthy of the national title stage but by no means a disservice to either of these teams to pit them against each other this early. They both earned their seeds, were placed properly. Does Kentucky get its revenge or does
Lonzo Ball
put on a classic performance to get UCLA one step away from the Final Four?

gamestop games gamestop near me gamespot games for girls games online games to play games for kids games workshop games with gold