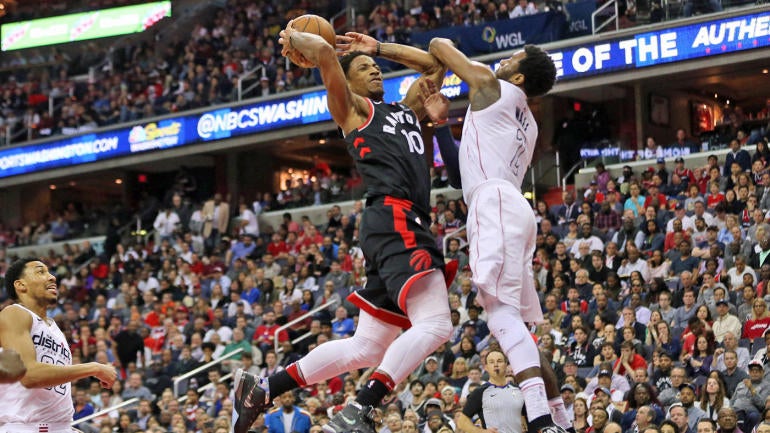 games
NBA Playoffs 2018: Why Raptors fans shouldn't be panicking about Game 5 against Wizards
April 24,2018 20:14
Are the Raptors' playoff demons coming back to haunt them? It was a concern entering the postseason, even despite coming off a franchise-best season while also equipped with a revamped cast surrounding stars Kyle Lowry and DeMar DeRozan. However, that ...

Are the Raptors' playoff demons coming back to haunt them? It was a concern entering the postseason, even despite coming off a franchise-best season while also equipped with a revamped cast surrounding stars Kyle Lowry and DeMar DeRozan. However, that fear seemed to be put to rest after the first two games of their first-round series against the Wizards. 
Everything appeared to be just fine for this franchise. Toronto handily defeated the Wizards in Games 1 and 2 with little problem. DeRozan and Lowry were the stars their team needed them to be. The role players stepped up. The defense was incredible and Washington was on the verge of an implosion. 
The Raptors would go on to lose Game 3, but even when they did, there was still confidence this team had everything handled. It was going to be different. The Raptors entered Game 4 with a 96 percent chance of advancing to the second round, according to SportsLine data scientist Stephen Oh. For most of Game 4, they lived up to that percentage.
Then the final two minutes happened. 
Bradley Beal fouled out of the game and Washington somehow turned that into an advantage. The Wizards outscored the Raptors 9-2 and tied up the series. DeRozan, who scored 35 points in Game 4, struggled to make his presence felt down the final stretch and shouldered the blame for the loss.
"I blame myself for a lot of mistakes, for a lot of forced shots late in the game," DeRozan said after watching tape of the game a day later, per the Toronto Sun. "Mental mistakes, turnovers, late-game execution, stabbing in the backcourt in transition late in the game. A lot of things."
Toronto's horrible loss dropped its chances of advancing to 76 percent, per SportsLine. There's a sense of anxiousness that this team could embarrass themselves once again. What did they go away from on the road that worked so well for them at home? We break down some of the correctable issues Toronto needs to address going forward.
Clutch time issues
The final four minutes for the Raptors in Game 4 were disastrous. DeRozan shot 1 for 5 from the field and only scored four points. That one make was the only field goal Toronto converted during clutch time. DeRozan had five of the Raptors' eight attempts in the closing minutes of the fourth.
This all sounds familiar doesn't it? One player trying to do everything while everybody else watches. This DeRozan-style tunnel vision doesn't come out much anymore, but it came roaring back in Game 4. The Raptors are a team that has gotten better under pressure, but those bad old habits are always waiting beneath them.
Defensively, it was somehow worse. The Wizards only settled for two types of shots: Near the rim and free throws. John Wall scored eight of the Wizards' final 14 points. He was unstoppable and essentially lived at the rim. The Wizards' success merely enhanced Toronto's struggles.
It was uncharacteristic to see the Raptors play this way. They've moved past these struggles. They finished the season with a top-3 offense in the league behind a style that is predicated on ball movement.
The reason Toronto reverted back to a style that hasn't worked in the postseason has to do with Games 3 and 4 as a whole. The Wizards made defensive changes, the Toronto bench became less comfortable, and slowly DeRozan started shooting more than he should. It was something that had been building over the course of the D.C. road trip.
Old habits do die hard
A huge part of the success this season came from the Bench Mob. Toronto's ability to go 10 deep and hang with almost any NBA team is a benefit that few others have. However, in Games 3 and 4, the second unit found itself hesitating. Too often, bench players would wait for DeRozan and Lowry to do something. They'd even pass up open looks. 
Some of this reluctance comes from missing Fred VanVleet, who is a worthy candidate for Sixth Man of the Year. He's been out with a shoulder injury and provides a calming presence when he's on the floor. Without him, there's been a general chaos from the role players. They haven't been able to create on offense and it has amounted to more pressure put on Toronto's star duo.
DeRozan and Lowry combined for 34 attempts in Game 4. The rest of the Raptors combined for 35 attempts. What happened in Game 3 was a little bit different because Toronto got blown out, but the same thought process stands true. By the end of the third quarter, the Wizards led 101-82. Lowry and DeRozan had combined to shoot 29 times to this point. The rest of the Raptors shot 32 times.
Some credit should go to Washington because it's an interesting strategy on its part. The Wizards have stopped blitzing DeRozan and are willing to let him score as much as he wants. What they don't want is for the role players to beat them like they did in the first two games.
In Game 1, 51 of 77 shots from Toronto came from players not named DeRozan or Lowry. In Game 2, 54 of 87 shots came from non-DeRozan and Lowry players. The evidence is clear. They need the role and bench players shooting the ball and shooting it often. They can't let the Washington's conservative style of play force them away from shots they know they can hit. More via the Toronto Sun:

"Shoot it, man. Every one of my teammates, I don't care if they miss 20 shots in a row, if you get a shot, shoot it. That's the confidence we've had in one another all year," DeRozan said.  

Fix the defense
Toronto has had other issues in this series, such as collapsing defensively for an entire quarter. The Raptors allowed 40 points in the third quarter of Game 4 and 39 in the second quarter of Game 3. Honestly, had the Raptors not given up these giant outbursts, the discussion around them would have been about how they swept Washington in the first round. That's how detrimental those quarter-long collapses have been.
So what caused them? In Game 3, the solution is easy to see if you look at the shot chart for the quarter:

NBA.com/statsThe Raptors were a complete saloon door on defense in Game 3. The Wizards, and John Wall in particular, were able to get to the rim with little resistance. It's no wonder Washington didn't have issues blowing the game open.
The reason why Toronto's defense gave up as many points as they did in Game 4, however, is more complicated. It forced Washington to spread out far more and attempt more mid-range jumpers. There was some improvement from game to game in terms of what kind of shots were allowed. However, they traded some of those shots at the rim for a more dangerous look.

NBA.com/statsThe issue here seems to come from 3-point range. The Wizards had a single miss from deep the entire quarter and that builds up over time. Add in the nine attempts near the rim and Washington was able to play very efficient basketball for that quarter. This is also when Washington's comeback began.
It's impossible to expect perfect defense at all times, but these monstrous scoring quarters decimate a team that finished the season as the fifth-ranked defense in the NBA.
Don't panic
Despite all of these problems. There is no reason to panic right now. It's easy to say that these are the same ol' Raptors, and some of the evidence would say it is. However, the key difference is that previous Raptors teams played this way on purpose. They intentionally forced the ball into Lowry and DeRozan's hands. They let defenses blitz them and the role players really played small roles.
The two wins are evidence that when the Raptors have control of the game, they play a style that works. The ball moves and the role players score. The Wizards deserve credit for forcing Toronto back into something uncomfortable. However, there is still plenty of time for adjustments to be made that could put the series back in Toronto's favor.
The Ghost of Raptors Past might be here, but Toronto shouldn't have to worry about it this time. This Raptors team has won games with a different identity and the players know the only way to keep winning games is by not reverting back to old habits. They won't fall into those old bad habits. Not again. 

gamestar games gamestorrents games workshop gamespot gamesz games with gold gamestop games online games with gold may 2018