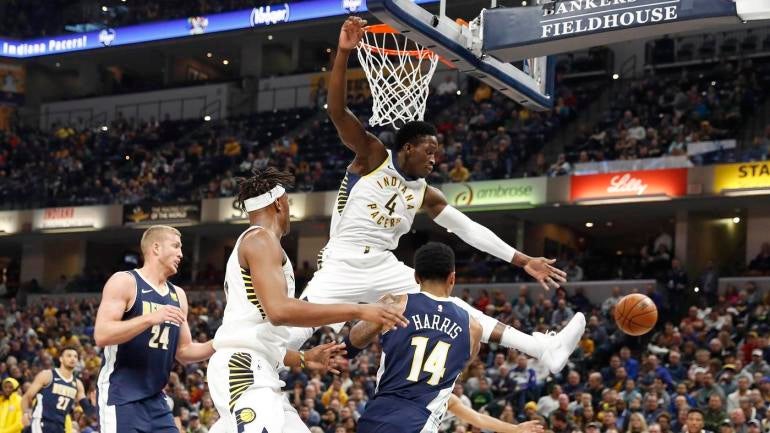 games
NBA games Sunday, scores, highlights, news: Oladipo scores career-high 47 points
December 11,2017 04:16
After a very busy Saturday night, the NBA schedule slows down a bit, with only six games Sunday. Let's get into it. NBA scores for Sunday, Dec. 10. All times Eastern. Toronto Raptors 102, Sacramento Kings 87 (box score); Boston Celtics 91, Detroit ...and more »

After a very busy Saturday night, the NBA schedule slows down a bit, with only six games Sunday. 
Let's get into it.
NBA scores for Sunday, Dec. 10
All times Eastern
Toronto Raptors 102, Sacramento Kings 87 (box score)
Boston Celtics 91, Detroit Pistons 81 (box score)
Denver Nuggets 116, Indiana Pacers 126 (box score)
Philadelphia 76ers 124, New Orleans Pelicans 131 (box score)
Dallas Mavericks 92, Minnesota Timberwolves 97 (box score)
Atlanta Hawks 107, New York Knicks 111 (box score)
Victor Oladipo scores career high in huge win
The Pacers came back from double digits to force overtime and knock off the Nuggets. They did that behind Victor Oladipo and his career high 47 points. Oladipo was unstoppable and his 32 second-half points led the Pacers back into the game. Once the Pacers got to overtime, it was smooth sailing.
Victor Oladipo is tired of talking about Paul George
Victor Oladipo doesn't want to be compared to Paul George anymore. He's happy in Indiana and wants to move on from the trade.
Jrue Holiday drops 34 in Pelicans win
The Pelicans took care of the 76ers, and Jrue Holiday's 34 points was a big reason.
Ben Simmons pours in 27 points and 10 assists
Ben Simmons and the 76ers might have lost, but he filled up the stat sheet with 27 points, 10 assists, and five rebounds. His Rookie of The Year campaign rolls on.
Rajon Rondo dishes out 18 
Rajon Rondo was feeling it. He ran the Pelicans offense to perfection on the way to 18 assists.
Celtics defeat Pistons with defense
The Celtics' matchup against the Pistons was not quite how everybody was expecting it to go. In a season where scoring is off the charts, it's rare to see teams struggle to score, but that's what happened. Boston's and Detroit's defenses were incredible all game and kept key players like Kyrie Irving and Andre Drummond under wraps. In the end, Boston came out on top behind Al Horford's 18 points.
Semi Ojelye brings out the Euro step
This Euro step brought the Celtics who were on the bench off their feet.
Oh my, O.G. 
Early in the first quarter, the Kings lost the Raptors' O.G. Anunoby on the baseline, and the rookie made them pay. Taking the pass from DeMar DeRozan, Anunoby rose up for a twisting reverse slam.
Oladipo throws down monster slam
Victor Oladipo is having a great year, but he's always been an awesome in-game dunker. Add this one to the highlight reel.
Dennis Schröder gets benched
Dennis Schröder was benched for the final eight minutes of Atlanta's close loss to the Knicks at MSG. He had this to say afterward:

"You've got to ask Coach and then let me know," Schroder said. "I'm supposed to be out there but it didn't happen. So, that's it."

And-ones:
The Sixers and Robert Covington received good news on Sunday. Covington fell into the crowd on Saturday night against the Cavs, and stayed down for an extended period. Thankfully, the CT Scan and X-ray were negative on Covington's back, and he just has a painful bruise. 
A knee issue kept Marcus Morris out for the Celtics on Sunday against the Pistons. He will also sit out their game Monday against the Bulls.
The Kings were without both George Hill (personal reasons) at Willie Cauley-Stein (back) for their game against the Raptors. 
Jameer Nelson sat out Sixers-Pelicans with an ankle injury.

gamestar games gameshop gamescom games workshop games of thrones gamestop games with gold gamespot gamesz