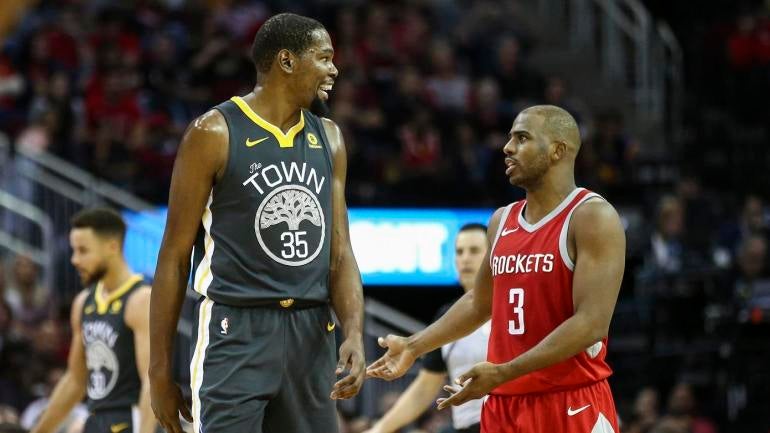 games
NBA games Saturday, scores, highlights, updates: Rockets get huge win over Warriors
January 21,2018 04:16
Talk about a full day of hoops. Starting with the afternoon Thunder-Cavaliers game, there is nonstop NBA action Saturday. We've got nine games on the docket, including a big Warriors-Rockets showdown. It should be all sorts of fun. Let's get into it ...and more »

Talk about a full day of hoops. Starting with the afternoon Thunder-Cavaliers game, there is nonstop NBA action Saturday. We've got nine games on the docket, including a big Warriors-Rockets showdown. It should be all sorts of fun.
Let's get into it.
NBA scores for Saturday, Jan. 20
All times Eastern
Oklahoma City Thunder 148, Cleveland Cavaliers 124 (box score)
Chicago Bulls 113, Atlanta Hawks 97 (box score)
Miami Heat 106, Charlotte Hornets 105 (box score)
Memphis Grizzlies 104, New Orleans Pelicans 111 (box score)
Milwaukee Bucks 94, Philadelphia 76ers 116 (box score)
Golden State Warriors 108, Houston Rockets 116 (box score)
Toronto Raptors 109, Minnesota Timberwolves 115 (box score)
Clippers 113, Utah Jazz 125 (box score)
Dallas Mavericks at Portland Trail Blazers, 10 p.m. (GameTracker)
Rockets defeat Warriors in a potential conference finals preview
The Warriors and Rockets have been far and away the two best teams in the NBA this season when healthy. They showed that Saturday night in one of the most entertaining games of the year. Houston and Golden State went down to the wire, but it was Houston that came out on top. The Rockets are 17-0 in games where Chris Paul, Clint Capela, and James Harden all play. 
Cavs give up 148 points
The Cavs entered Sunday's contest with their usual brand of bad defense and paid dearly for it. They gave up a season high 148 points in the blowout loss.
LeBron fails to reach 30K for career
In the history of the NBA, only six players have ever scored 30,000 points in their career. After the Cavaliers' blowout loss to the Thunder it will continue to be six. James finished the game with 18 points, seven shy of the 30,000 milestone. He'll have a chance to break that mark on Tuesday against the Spurs.
Russell Westbrook goes 20-20
Russell Westbrook had an incredible 20-point, 20-assist performance in the Thunder's blowout victory over the Cavs. He also tacked on nine rebounds.
LeBron, Wade teamed up for old-school alley-oop
LeBron James and Dwyane Wade have thrown each other plenty of alley-oops throughout their career, but the partnership went on hiatus for a few seasons when LeBron went back to the Cavs. But, of course, Wade is now also in Cleveland, which allows them to do to things like this:
Andrew Wiggins throws down huge slam
Andrew Wiggins got up there on this monstrous dunk against the Raptors.
James Johnson scores five points in seven seconds
James Johnson pulled off a Reggie Miller moment in the closing moments of Heat-Hornets. Five points in seven seconds rolls right off the tongue right?
Kemba Walker finds Dwight Howard for the slam
Kemba Walker used a nice bounce pass to give Dwight Howard an easy slam dunk.
Derrick Jones Jr. skies for a putback dunk
Derrick Jones Jr. went up high to throw down this putback dunk.
And-ones:
Giannis Antetokounmpo will miss the Bucks' next two games due to right knee soreness. That means he is out for Saturday's contest against the Sixers. 
Kyrie Irving went through practice on Saturday and "looked good," according to Brad Stevens. Irving missed the Celtics' game against Philadelphia on Thursday night. 
Jimmy Butler is out for the Wolves game against the Raptors due to a sore right knee.
The Hornets are reportedly interested in engaging the Knicks on Kemba Walker trade talks. 
Lonzo Ball will miss another game Sunday due to a knee injury.
Goran Dragic might miss Saturday's game due to a bruised knee.

gamestar games gameshop games workshop gamestorrents gamestop games with gold gamespot gamesdeal games online