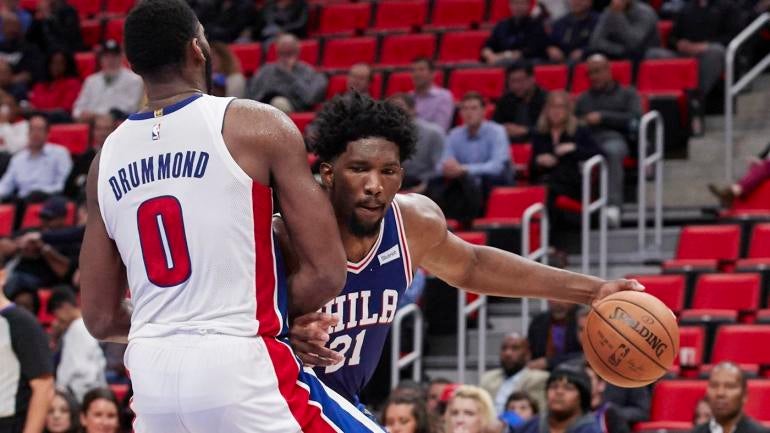 games
NBA games Saturday, scores, highlights: Feuding Embiid, Drummond set for rematch
December 03,2017 01:23
Barely 12 hours after Friday night's games finished up, we're jumping right back into the swing of things on Saturday afternoon. An eight-game slate gets underway early with a number of afternoon matchups. Let's get into it. NBA Scores for Saturday ...and more »

Barely 12 hours after Friday night's games finished up, we jumped right back into the swing of things on Saturday afternoon. An eight-game slate got started early with a number of afternoon matchups. 
Let's get into it. 
NBA Scores for Saturday, Dec. 2
All times Eastern
Phoenix Suns 111, Boston Celtics 116  (box score)
Clippers 82, Dallas Mavericks 108 (box score)
Atlanta Hawks 114, Brooklyn Nets 102 (box score)
Detroit Pistons 103, Philadelphia 76ers 108 (box score)
Memphis Grizzlies 111 Cleveland Cavaliers 116 (box score)
Sacramento Kings at Milwaukee Bucks, 8:30 p.m. (GameTracker)
Los Angeles Lakers at Denver Nuggets 9 p.m. (GameTracker)
New Orleans Pelicans at Portland Trail Blazers, 10 p.m. (GameTracker)
LeBron James scores 13 in a row; Cavs roll an 11
The Cavs have won 11 in a row and LeBron James made sure of that. The Grizzlies have been seeking a way out of their losing streak, but in a tie game at 109 they could not close it out due to a LeBron takeover. He scored the team's final 13 points and Memphis had no answers for that. When James decides he's going to win a game, then it's over. 
Embiid and Drummond set to square off again
Joel Embiid and Andre Drummond have a small feud going right now. Embiid said earlier in the season that Drummond doesn't play any defense. Before a Saturday matchup between the 76ers and Pistons, Embiid decided to take another shot at Drummond and say he can't shoot, either. Drummond, currently shooting a career-high 63.9 percent from the stripe, will have his chance to respond on the court.
Drummond responds to Embiid
Andre Drummond had his own words for Embiid, saying he can talk to him when he plays a full season.
Embiid points Drummond to the exit
Joel Embiid forces Andre Drummond to foul out and then points him toward the exit.
Booker scores 38 in return to Boston
When the Phoenix Suns visited Boston last season, it was a historic occasion, as their sharpshooting young guard, Devin Booker, poured in 70 points. In doing so, Booker became only the sixth player in NBA history to score 70 points in a game, joining an elite list that includes Wilt Chamberlain, Kobe Bryant, David Thompson, Elgin Baylor and David Robinson.
He followed up that performance in the rematch by scoring 38 points in a losing effort for the Suns.
Joel Embiid throws it down
Joel Embiid found the lane for a huge dunk against the Pistons.
Dwyane Wade slices through the defense
Dwyane Wade had no issues slicing through the defense for this layup.
Horford threads the needle to Brown
Al Horford dropped a dime of a bounce pass to find Jaylen Brown on a breakaway dunk.
The Suns don't care about Smart shooting
Marcus Smart is a poor 3-point shooter. The Suns knew that, but it's still strange to see an entire defense ignore an open shooter.
Dennis Smith Jr. goes under the basket
Dennis Smith Jr. and the Mavericks blew out the Clippers. Smith also had this sick under-the-basket layup.
Nerlens Noel gets a bite to eat
Nerlens Noel isn't playing much with the Mavericks right now. So he got a bite to eat at halftime.
Quick hits:
Nuggets to retire Fat Lever's jersey. Lever was a star for the club in the 1980s. 
Anthony Davis is OUT vs. the Blazers after injuring his pelvis Friday night. No update is expected until Sunday.
Nikola Jokic is injured, but expected to travel with the Nuggets on their road trip. But he's not expected to play right away.

gamestar games gameshop games workshop gamescom games of thrones gamestop games with gold gamespot gamesz