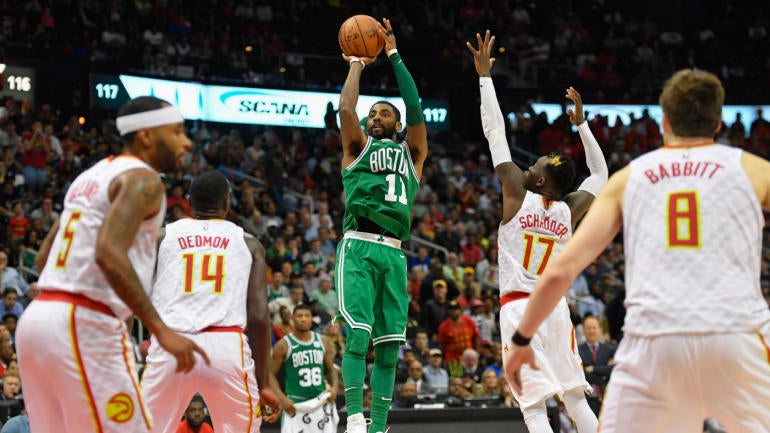 games
NBA games Saturday, scores, highlights: Celtics look for 15th straight win
November 19,2017 04:15
After a stunning comeback victory over the Warriors on Thursday night, the Celtics will be looking to extend their 14-game winning streak as they take on the Atlanta Hawks. The Celtics have already picked up a road win over the Hawks during this streak.

After an exciting night of action across the Association on Friday, we moved right along into Saturday's seven-game slate. Once again, there were a number of intriguing games and storylines to keep track of. 
Let's get into it. 
All times Eastern
Hornets 102, Clippers 87 (Box Score)
Jazz 125, Magic 85 (Box Score)
Warriors 124, Sixers 116 (Box Score)
Celtics 110, Hawks 99 (Box Score)
Rockets 105, Grizzlies 83 (Box Score)
Mavericks 111, Bucks 79 (Box Score)
Trail Blazers 102, Kings 90 (Box Score)
Celtics get 15th straight win
After a stunning comeback victory over the Warriors on Thursday night, the Celtics were looking for their 15th straight win on Saturday night in Atlanta. And despite a strong effort by the Hawks, the Celtics got the win they were looking for. Kyrie Irving led the way with 30 points, Jaylen Brown added a career-high 27, and the Celtics won, 110-99. This is now the fifth-longest winning streak in Celtics history.
Sixers put on a show early, but Warriors storm back to win
The Philadelphia 76ers got off to a brilliant start against the visiting Golden State Warriors, leading 74-52 after the first half. That big lead was thanks in part to some impressive plays from Joel Embiid and Ben Simmons, who were putting on a show early. Thanks to a record-setting third quarter, however, the Warriors came storming back for a 124-116 victory. Steph Curry led the way for the Warriors with 35 points, five rebounds, and five assists. 
Jayson Tatum throws down two big dunks
The Celtics' rookie is having a strong start to his first season, and late in the third quarter he showed off his skills by going coast to coast twice for two big slams. Tatum finished the game with 14 points and seven rebounds. 
Rodney Hood drops 31 in Jazz' destruction of Magic
The Jazz embarrassed the Magic on Saturday night, winning 125-85. A big reason for their 40-point win? Rodney Hood. The swingman dropped a season-high 31 points.
Gasol kicks a shoe, gets T'd up
Marc Gasol was hit with an unusual technical foul in the first quarter. After Clint Capela lost his shoe, Gasol kicked it off the floor, and was immediately given a T.
Mavericks catch fire from downtown in big win over Bucks
The Mavericks put in perhaps the most surprising performance of the night, ending the Bucks' four-game winning streak with a dominant 111-79 victory. The Mavs tied a franchise record with 19 3-pointers. Wes Matthews led the way, knocking down six triples on his way to 22 points.
Quick hits
Okafor's dad wears "Free Jah" shirt during Sixers' loss to Warriors. The Sixers big man has become an outcast in Philly, and his dad let the world know he's not happy.
Durant gives unique reason for Warriors' motivation to beat the Sixers. According to KD, they didn't want to have to deal with Joel Embiid's trash talk if the Sixers won.
Orlando Pro Summer League canceled. The Magic will not be hosting their summer league next summer. 
Cavs to be without Iman Shumpert for five to seven days because of a knee injury. Also without Isaiah Thomas and Derrick Rose, Cleveland's backcourt has become extremely thin. 
Danilo Gallinari is still out for Clippers. This will be the sixth straight game Gallo has missed due to a glue strain. 
Buddy Hield sprained his ankle in Friday night's win over the Trail Blazers, and will not play as the Kings once again take on the Blazers on Saturday night. 
John Wall is questionable to play against the Raptors on Sunday. The Wizards' guard struggled in Friday night's loss to the Heat, and said afterward that he had fluid buildup in his knee. 

gamestar games gamescom games workshop gameshop games of thrones games with gold gamestop gamesz gamespot