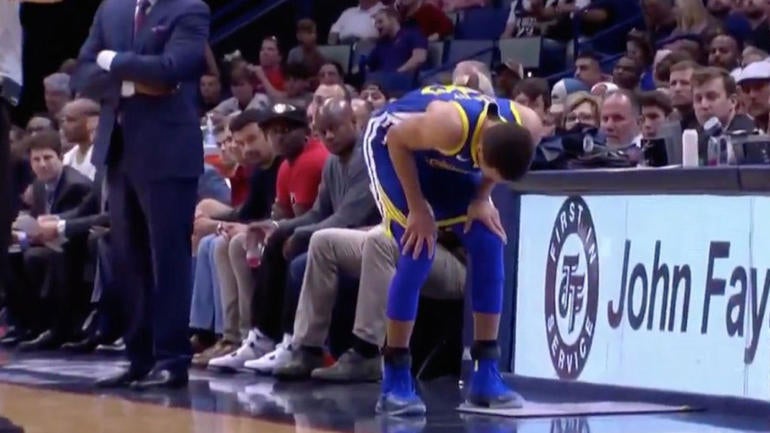 games
NBA games Monday, scores, highlights, updates: Curry injury sours Warriors' win
December 05,2017 10:28
It was a busy Monday night in the NBA, with 11 games filling the schedule. We've got all of the scores, highlights and updates from a big night. Here we go. NBA scores for Monday, Dec. 4. Indiana Pacers 115, New York Knicks 97 (box score); Charlotte ...and more »

It was a busy Monday night in the NBA, with 11 games filling the schedule. We've got all of the scores, highlights and updates from a big night.
Here we go.
NBA scores for Monday, Dec. 4
Indiana Pacers 115, New York Knicks 97 (box score)
Charlotte Hornets 104, Orlando Magic 94 (box score)
Phoenix Suns 115, Philadelphia 76ers 101 (box score)
Boston Celtics 111, Milwaukee Bucks 100 (box score), NBATV
Brooklyn Nets 110, Atlanta Hawks 90 (box score)
Memphis Grizzlies 95, Minnesota Timberwolves 92 (box score)
Golden State Warriors 125, New Orleans Pelicans 115 (box score)
Cleveland Cavaliers 113, Chicago Bulls 91 (box score)
San Antonio Spurs 96, Detroit Pistons 93 (box score)
Dallas Mavericks 122, Denver Nuggets 105 (box score)
Utah Jazz 116, Washington Wizards 69 (box score)
Kyrie scores 32, leads Celtics to win
Giannis Antetokounmpo scored 40 points, but it wasn't enough to beat the Celtics. Kyrie Irving led Boston with 32, and Al Horford added 20 in the win. The Celtics improve to 21-4, the best record in the NBA.
Curry leaves game with scary injury
Stephen Curry limped off the court late in the Warriors' win over the Pelicans with an apparent right ankle injury. It's the same ankle that Curry had surgery on in 2011. Reports after the game indicate that X-rays on the ankle were negative, and an MRI is scheduled for Tuesday.
Lance Stephenson does ... something
We're not quite sure how to describe this move by Pacers guard Lance Stephenson. But hey, it worked.
Gordon goes way, way up
You really can't throw a lob too high for Aaron Gordon. Not possible.
Greek Freak on the fast break
When Giannis Antetokounmpo is by himself on the fast break, just sit back and enjoy.
The Process takes Len to school
A guy this big shouldn't be able to make moves like this. Hakeem Olajuwon is somewhere applauding Joel Embiid.
Superman goes coast-to-coast
Dwight Howard isn't known for his dribbling skills, but he showed everyone a different side of himself with this steal and coast-to-coast and-one.
Quick hits
Warriors guard Shaun Livingston was suspended for one game by the NBA for making contact with official Courtney Kirkland in an argument during Sunday's win over the Heat. Kirkland was also removed from the official rotation for one week as punishment for his role in the incident.
The Los Angeles Lakers have reportedly begun to enforce a rule that prevents media from talking with LaVar Ball after games.
The Bulls announced that forward Nikola Mirotic will resume practice on Tuesday and may travel with the team on its upcoming road trip. Mirotic has been sidelined for the entire regular season after suffering facial fractures in an altercation with teammate Bobby Portis.
Knicks guard Tim Hardaway Jr.'s leg injury is still being evaluated, and there is no timetable for his return as of yet.
After a self-imposed exile, Cavs guard Derrick Rose will reportedly return to the team on Tuesday to resume rehab on his injured ankle.
According to Sam Amick of USA Today, Clippers forward Danilo Gallinari could return from a left glute injury on Wednesday, while guard Milos Teodosic is eyeing a mid-December return.
Amid trade rumors, DeAndre Jordan has reportedly hired an agent for the first time in two years.

gamestar games gameshop gamescom games workshop games of thrones games with gold gamestop gamespot gamesz