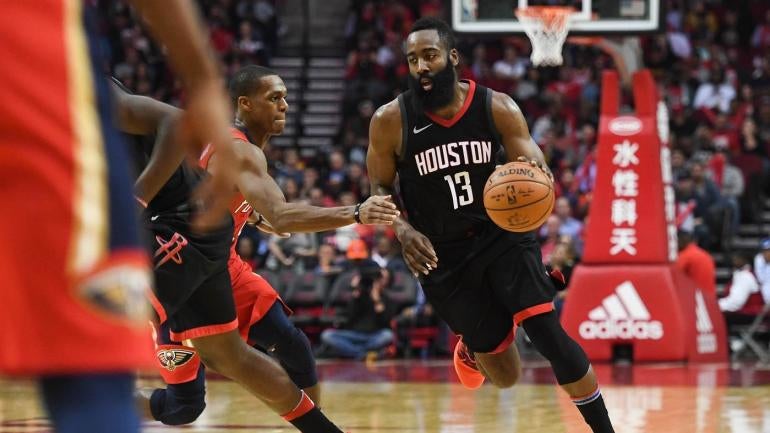 games
NBA games Monday, scores, highlights, news: Rockets win 10th in row behind James Harden
December 12,2017 08:11
It's a late start on this NBA Monday with no games starting until 8 p.m. ET. NBA scores for Monday, Dec. 11. All times Eastern. Boston Celtics 85 Chicago Bulls 108 (box score); New Orleans Pelicans 123, Houston Rockets 130 (box score); Miami Heat 107 ...

It's a late start on this NBA Monday with no games starting until 8 p.m. ET. 
NBA scores for Monday, Dec. 11
All times Eastern
Rockets win 10 in a row
The Rockets extended their winning streak to 10 games. They were down 13 to the Pelicans before a total takeover by James Harden. He had 26 points and 17 assists with some huge 3-pointers late to close out New Orleans. In the third quarter, when New Orleans built its lead, Chris Paul brought Houston back into it. An all-around great performance on Houston's part.
Rockets and Pelicans combine for 154 points in a half
The Rockets and Pelicans had a scoring bonanza early on. Houston led 78-76 at halftime -- a combined 154 points. 
E'Twaun Moore scores career-high 36 points
The Pelicans are without Anthony Davis, so E'Twaun Moore is picking up the slack with his scoring. He had a career-high 36 points.
David West isn't too old to throw it down
David West is in the later years of his career, but that doesn't mean he's too old to throw down dunks. The bench reaction might be the best part of this.
Celtics suffer stunning blowout loss
Nobody is perfect, especially when they're missing arguably their best player, but the Celtics having a blowout loss to the Bulls was the shocker of the night.
Milos Teodosic welcomes himself back
Milos Teodosic has been sitting out with injury for the majority of the season. He welcomed himself back in a big way.
Jordan Bell says no
Jordan Bell is out here blocking shots like a full-time veteran. He's merely a rookie.
Clint Capela scores career-high 28 points
All Clint Capela had to do all night was roll to the basket and catch it for a dunk.
Russell Westbrook fights through traffic for the highlight dunk
Russell Westbrook wanted this dunk and he got it. Such power.
DeMar DeRozan floats this floater real high
DeMar DeRozan got some air on this particular floater.
Carmelo Anthony passes Vince Carter on the all-time scoring list
Carmelo Anthony has spent much of his career getting buckets. On Monday, he passed Vince Carter on the all-time scoring list. What's perhaps more amazing is that Carter is still playing.
Rajon Rondo drops a triple-double
The Pelicans might have lost, but Rajon Rondo filled up the box score with a triple-double.
Kemba shows his handles
Kemba Walker has some of the best handles in the NBA. He put them on display on this play.
And-ones:
Charlotte's Cody Zeller will be out six weeks following knee surgery.
Anthony Davis rested while nursing a left adductor injury.
Marcus Morris will reportedly remain out while he continues to recover from his knee injury.
Milos Teodosic played for the first time since his injury Monday night.

gamestar games gameshop gamescom games workshop games of thrones games with gold gamestop gamespot gamesz