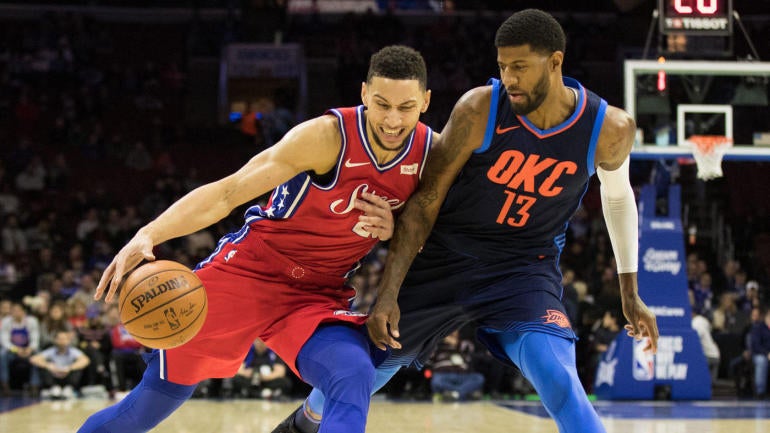 games
NBA games Friday, scores, highlights, updates: Westbrook, Thunder face Embiid, 76ers
December 16,2017 04:18
It's a hefty 11-game slate on this wonderful NBA Friday, so sit back, relax and keep this page bookmarked for the latest scores, highlights and news from the night's games. Happy Friday. NBA scores for Friday, Dec. 15. All times Eastern. Miami Heat 104 ...and more »

It was a hefty 11-game slate on this wonderful NBA Friday and it was one of the most entertaining of the entire season. Take a look at all the scores, highlights and news from the night's games.
Happy Friday.
NBA scores for Friday, Dec. 15
Miami Heat 104, Charlotte Hornets 98 (box score)
Detroit Pistons 104, Indiana Pacers 98 (box score)
Washington Wizards 100, Los Angeles Clippers 91 (box score)
Oklahoma City Thunder 119, Philadelphia 76ers 117, 3OT (box score)
Portland Trail Blazers 95, Orlando Magic 88 (box score)
Toronto Raptors 120, Brooklyn Nets 87 (box score)
Utah Jazz 107, Boston Celtics 95 (box score)
Chicago Bulls 115, Milwaukee Bucks 109 (box score)
Memphis Grizzlies 96, Atlanta Hawks 94 (box score)
Denver Nuggets 117, New Orleans Pelicans 111, OT (box score)
Houston Rockets 124, San Antonio Spurs 109 (box score)
Paul, Harden lead Rockets to yet another win
The Rockets have won 12 straight games, and haven't lost all season when Chris Paul has played. Paul had 28 points, eight assists and seven steals while James Harden added 28 points, seven rebounds and six assists as Houston easily handled the Spurs.
Thunder hang on for triple-overtime win
Well that was fun. In the first multiple-overtime game of the NBA season, the Thunder held on to beat the 76ers thanks to 27 points, 18 rebounds and 15 assists for Russell Westbrook. Oh yeah, and he also did this.
Sabonis serves up a poster
Eric Moreland tried to challenge Domantas Sabonis' dunk attempt. Advantage, Sabonis.
Who needs two hands?
Lou Williams threw the lob and DeAndre Jordan only needed one hand to throw it down. The Clippers sure know how to get creative.
Boogie gets fancy, then nasty
DeMarcus Cousins is almost 7-feet tall -- he's not supposed to move like this.
Look out, spectators
Nobody in the arena is safe when Serge Ibaka is out there blocking shots. Keep your head on a swivel!
And-ones
Jazz center Rudy Gobert left Friday's game against the Celtics after hurting his left knee. The injury is reportedly being diagnosed as a sprained MCL, with an MRI to follow.
Knicks forward Kristaps Porzingis has been listed as day-to-day with a sore left knee after exiting Thursday's game.
On-court microphones captured the secret message that LeBron James whispered to Lonzo Ball after their game Thursday.

gamestar games gameshop games workshop gamestop games with gold gamestorrents games of thrones gamespot gamesz