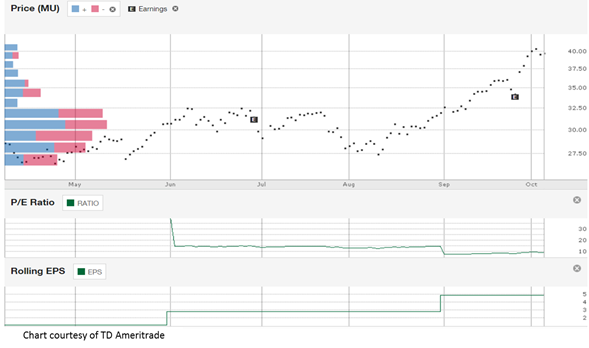 technology
Micron Technology: It Ain't Over Till Optane Sings
October 12,2017 08:13
Micron has solid plans to increase its earnings for next year, groundbreaking proprietary technology with unknown potential, a P/E way below the industry average and reasonable debt. It is a healthy company, heavily undervalued and with little risk.

After beating the Q4 earnings, Micron's (MU) stock price surged. Now is the perfect time to ask, is it still a good time to buy?
I believe so. Micron has solid plans to increase its earnings for next year, groundbreaking proprietary technology with unknown potential, a P/E way below the industry average and reasonable debt. It is a healthy company, heavily undervalued and with little risk.
Valuation
Whether compared to its peers or its earnings growth, Micron has a very low P/E ratio. Although sometimes a low P/E ratio is a sign of a company in distress, this is not the case. The long-term debt to revenue ratio seems acceptable, and even low when compared to its peers. From Q3 to Q4, long-term debt was reduced and this trend is expected to continue.

A low P/E can also be a sign that the company is expected to decrease its earnings, but this is not the case either. The company has solid plans to stabilize its earnings next year (and even increase them). Micron has four Business Units, three of which have solid plans for revenue growth next year.
Compute and Networking Business Unit (CNBU) will ramp up the second generation 1 X 8 GB DDR4 and GDDR5 next quarter (This BU represents 50% of its revenue).
Mobile Business Unit (MBU) just got certification from a "major" Mobile OEM last quarter and has additional certifications with other OEMs underway (This BU represents 15% of its revenue).
Embedded Business Unit (EBU) got its first 3D TLC eMCP and eMMC solutions qualified at a "major" chipset vendor last quarter, and the 64-layer 3D TLC UFS is starting qualification process later this year (This BU represents 15% of its revenue).
Storage Business Unit (SBU) is the only BU that could decrease in revenue. During the past quarter, there was a component quality issue on some TLC 3D NAND products that caused production to be halted. While the issue did not have a notable impact on the Q4 earnings, quality issues tend to hurt brand recognition in the long run (This BU represents 20% of its revenue).

Furthermore, Micron has a long history of consistently beating earnings expectations. The chart below shows that every quarter, for the past four fiscal years, has beaten the market expectations.

For all the reasons above, I believe there is a high probability of MU reaching or exceeding the revenue expectations, with the only foreseeable risk being the SBU manufacturing issue.
While Micron's EPS has been growing, the P/E has been falling through the year. This is not a sustainable trend, and the market will catch on eventually.

Peter Lynch's method for growth valuation uses the ratio between the expected earnings growth and the P/E of the stock to determine its fair value. A stock that has a 1:1 ratio is fairly priced. The higher the number the more underpriced the stock is. Micron's Trailing EPS is $4.86, and the average consensus for next year is $7.7 EPS. This is an increase of 58% YoY and would represent a Lynch Ratio over 6, an absolute bargain. With $7.7 EPS at the current P/E of the stock, the price would rise to $60.
The fact that the price has risen substantially in the past year should not obscure the fact that the stock still has substantial room to grow, and is more undervalued than at any point in the year.
What is the edge of Micron? Optane/3D Xpoint
3D Xpoint is a brand new type of non-volatile memory technology developed by Intel (INTC) and Micron. It is currently sold through Intel Optane. The customer versions of Optane are performing without much surprise and even a bit of disappointment; however, the version used for data centers seems to be outperforming the standard.
The development of a new type of memory technology is rare. The last new memory technology to reach the market was Flash, and that was over 30 years ago. It is difficult to value the technology as there are many unknowns, and the size of its full potential is yet unknown. But the current valuation of the stock does not seem to be considering this asset.
Best case scenario: The technology will be a breakthrough for the industry, and Micron would become the industry leader for this new type of memory.
Worst case: The technology cannot be properly scaled, or its performance to cost cannot be justified. In which case, the technology would supply a niche market, like data centers. I believe there is little to no chance that the technology becomes useless, but even if it does, there is no potential downside for the stock.
The Risks
This month four insiders have reported selling shares; however, the remaining shares owned is still very high, and the amount of shares sold seem to be a reasonable position reduction in response to the price surge.

On the technical side, Optane seems to be a very promising technology; however, it could be years before it can grab a substantial portion of the market. The future of the technology is uncertain, and so are the capital and R&D expenses that will be required to get this technology to fruition.
In conclusion
Micron is highly undervalued, has a great "hidden asset," a high probability delivering its earnings expectations for the next year and has a strong financial position. Any potential downside of the stock (including the $1B offering and the insider sale) is small compared to the potential upside the technology and the valuation has.
Optane technology alone could also be a reason to invest in Intel; however, Intel has a much larger market cap and the percentage of total revenue that could be generated from this technology is smaller; for this reason, I believe Micron is the better investment. If you are considering a position in Intel, AMD (AMD) or Nvidia (NVDA) this could be a factor worth considering.
Disclosure: I am/we are long MU, AMD.
I wrote this article myself, and it expresses my own opinions. I am not receiving compensation for it (other than from Seeking Alpha). I have no business relationship with any company whose stock is mentioned in this article.
Additional disclosure: If there is anything in this article you agree or disagree with or would like me to expand further I would sincerely appreciate leave a comment and I will address it as soon as possible. As I am long on this position I will continue to write about it.

technology technology definition technology news technology synonym technology in the classroom technology credit union technology student association technology articles technology jobs technology quotes