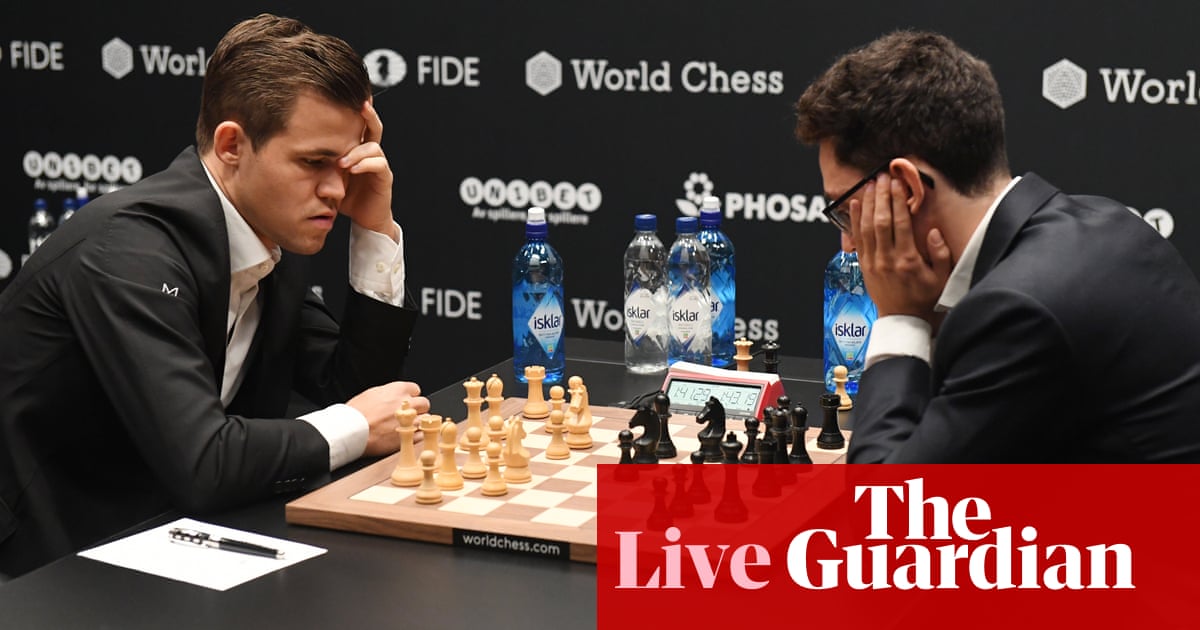 games
Magnus Carlsen and Fabiano Caruana play to bloodless draw in Game 4 – as it happened
November 13,2018 19:10
Today's Game 4 was the shortest and most straightforward game of the match so far at 34 moves in less than three hours. The overall score remains level at two points apiece ahead of Wednesday's rest day. Play will resume on Thursday with Caruana ...


The players
Norway's Magnus Carlsen is defending the world chess championship against Fabiano Caruana of the United States. The best-of-12-games match is taking place at the College in Holborn between 9 and 28 November, with the winner earning a 60% share of the €1m ($1.14m) prize fund if the match ends in regulation (or 55% if it's decided by tie-break games).
Carlsen, 27, has been ranked No 1 for eight straight years and was considered the world's best player even before he defeated Viswanathan Anand for the title in 2013. Caruana, 26, is ranked No 2, having earned his place the table by winning the candidates tournament in March. No American-born player has won or even competed for the world title since Bobby Fischer in 1972. 
It marks the first title match between the world's top two players since 1990, when Garry Kasparov and Anatoly Karpov faced off for a fifth and final time. 

The format
The match will consist of 12 classical games with each player awarded one point for a win and a half-point for a draw. Whoever reaches six and a half points first will be declared the champion.
The time control for each game is 100 minutes for the first 40 moves, 50 minutes for the next 20 moves and then 15 minutes for the rest of the game plus an additional 30 seconds per move starting from move 1. Players cannot agree to a draw before Black's 30th move. 
If the match is tied after 12 games, tie-breaks will be played on the final day in the following order: 
 • Best of four rapid games with 25 minutes for each player with an increment of 10 seconds after each move. 
 • If still tied, they will play up to five mini-matches of two blitz games (five minutes for each player with a three-second increment).
 • If all five mini-matches are drawn, one sudden-death 'Armegeddon' match will be played where White receives five minutes and Black receives four minutes. Both players will receive a three-second increment after the 60th move. In the case of a draw, Black will be declared the winner.

The schedule
Thu 8 Nov – Opening ceremonyFri 9 Nov – Game 1 Sat 10 Nov – Game 2Sun 11 Nov – Rest dayMon 12 Nov – Game 3Tue 13 Nov – Game 4Wed 14 Nov – Rest dayThu 15 Nov – Game 5Fri 16 Nov – Game 6Sat 17 Nov – Rest daySun 18 Nov – Game 7Mon 19 Nov – Game 8Tue 20 Nov – Rest dayWed 21 Nov – Game 9Thu 22 Nov – Game 10Fri 23 Nov – Rest daySat 24 Nov – Game 11Sun 25 Nov – Rest dayMon 26 Nov – Game 12Tue 27 Nov – Rest dayWed 28 Nov – Tie-break games/Awards and closing
The games commence each day at 3pm in London.


World Chess Championship 2018,Chess,Magnus Carlsen,Sport,US sports,Fabiano Caruana