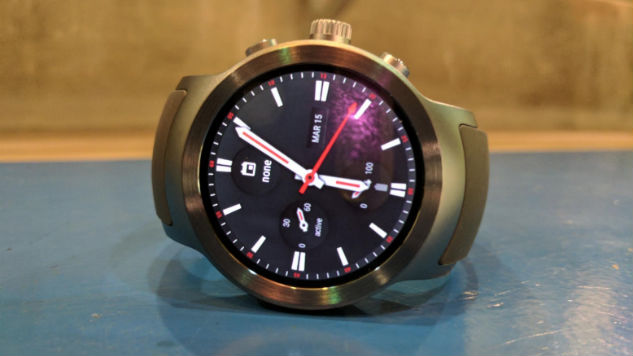 sport
LG Watch Sport Review: A Rugged New Android Smartwatch
March 17,2017 07:25
They are the first manufacturer out of the gate to release a watch natively running Android Wear 2.0, so reviewing a product like the LG Watch Sport is a two-fold affair. On one hand, there's the design of the watch itself, which seems to have been ...

LG has, rather quietly, been building up momentum in the Android world, taking advantage of Samsung's recent woes to steam ahead with not just an impressive line of new phones, but their own special takes on Android-based smartwatches. They are the first manufacturer out of the gate to release a watch natively running Android Wear 2.0, so reviewing a product like the LG Watch Sport is a two-fold affair.
On one hand, there's the design of the watch itself, which seems to have been designed with the philosophy that overtly masculine watches like the Fossil Q Marshall (a damned manly watch) just aren't manly enough. With its beefy gun metal body and thick gray custom band, noticeable side buttons, and noticeable weight, the Sport screams out your potential ability to produce copious amounts of testosterone. The only way it could be more 'Active Male' is if it had spikes or something on it. Maybe a button to spray musk ox urine on you. I don't know.
It also turns more heads than any watch I've worn. While the actual diameter is a bit smaller than my usual benchmark watch, the Motorola Moto 360 2, it's thicker with an odd slightly conical bottom that leads to the heart rate monitor. LG's standard Watch doesn't include the monitor, oddly, but also uses Android Wear 2.0. It's more classically styled, so if the Sport is too over the top, it might be a better choice.
The three buttons on the side all serve different purposes. The smaller top and bottom buttons are customizable. By default, pressing the top button opens Google Fit and the bottom Android Pay. You can attach any installed watch app to them though, through the personalization options. The middle button does multiple things. A quick press brings up your watch's app list. Long press to access the voice-based Google Assistant. It also has a scrolling dial around it to easily scroll the screen. In fact, I found it easier to use the dial to scroll through texts, emails, and app lists than to use the touch screen. Also, the screen is a magnet for fingerprint smudges, so it helps there too.

Finally, if you really want, you can use the watch independent of your phone, through your AT&T or Verizon service. It's a fun feature if you always wished for a Dick Tracy watch phone, but volume is muddled and it's unlikely to be the preferred way to make a call for many people. Still, when you want to leave the phone at home for a workout, it's nice to have most of the same functionality.
The second major aspect of the LG Watch Sport is, of course, Android Wear 2.0. The much lauded upgrade was supposed to revitalize the whole smartwatch industry, but in reality, it seems like more of a minor upgrade and not a wholly successful one. There are a ton of minor changes. Swiping down previously led to a level of options like silent mode, bright mode, and system options each on their own individual panel. Now, they are on a single screen, which makes more sense.
Swiping right or left from the main watch screen lets you switch watch faces, where previously this was done with a long press to the watch face. This seems a bit extraneous and counter intuitive because the only way (on the LG anyway) to get to your apps list now is by pressing the side button. I'm of the mindset that all functions should be easily accessible with a swipe or two.
A major new feature is the onboard access to the Google Play store, enabling you to download new watchfaces, apps, and games directly from the watch. This might be a minor enhancement for some—you can just as easily search the store on your phone's bigger screen after all. Google Play's organization, especially in regards to Android Wear, is sketchy at best though and it's incredibly easy to suddenly be looking at non-watch apps by accident from your phone. On your watch, at least, you can be more assured that anything you find is actually for the watch.

The other major enhancement is the integration of Google Assistant. Honestly, previous watches could do 'OK, Google' requests quite well, so while the full-on Assistant offers more functionality, it's not a sea change to how the watch is used. I found it odd that LG's documentation really hypes the voice commands, preferring you use the Assistant to do nearly anything with the watch over touch or button-based interaction. Google Assistant onboard also means easy connection to your smart home devices, which for those investing in making their homes smarter, is definite advantage.
Voice navigation works very well, as it always has, but I only use it when no one is around, so it feels like a secondary feature. The ability to schedule, set alarms, send messages, ask goofy random questions, and search for things via voice is great though.
One omission to the options that has bugged me with every Android watch I've used is the lack of ability to adjust the intensity and type of notification vibration. There are full customization settings for media, phone call, and notification volume, but as someone who uses a smartwatch to keep everything silent, these are mostly useless to me. A simple option to adjust vibration would be far more useful.
Overall, the new interface is a definite improvement over the old Android Wear. The LG Watch Smart is neck-and-neck with becoming my new go-to daily wear but for one issue—the battery life. A lot of smartwatches have disappointing battery life that barely lasts 24 hours, but I've come to expect at least that much. The Sport can potentially do that, but battery life turned out to be so variable that I was never sure when it would kick out after a day of use.

Some days, it went a full day—say from around 6:30 am to 11 pm or so—with battery life to spare (maybe 15-20 percent left). Other times, it was kicking out by 9 pm. The biggest factor based on my experiences seemed to be using the Google Play store, but it's hard to say if it's merely using the store and occasionally downloading a new face or app or something deeper within Android Wear 2.0. Either way, it's the Sport's biggest issue.
Ruggedly built, with smooth lines and a comfortably weight, the LG Watch Sport is definitely a watch that says something. It has all the features you need for daily wear and working out, but comes up short in battery life. Even with that caveat, the Sport is close to being my favorite Android Wear watch, but definitely isn't the choice for traveling or really long days.

lg watch sport,LG Watch Sport Review: A Rugged New Android Smartwatch,Tech,Reviews,Articles,Paste