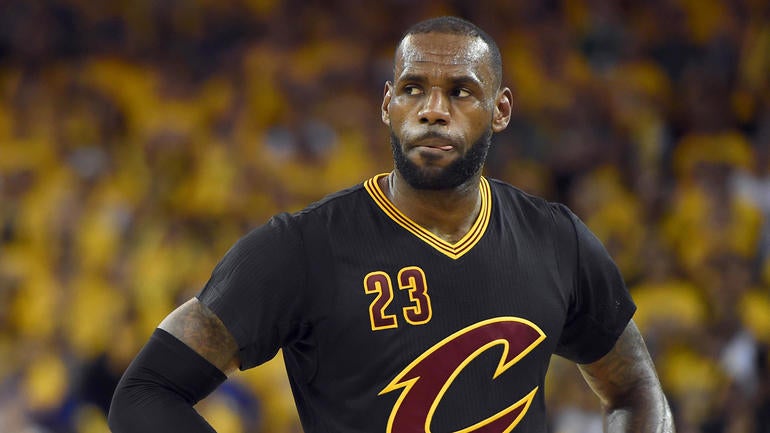 spotlight
LeBron's motivation burning hot as he stares into Warriors' spotlight
July 21,2016 23:18
Durant being a Warriors has been a fact for weeks, and yet the spotlight stays steadily focused there. As well it should. It's about a top-three player joining an absolute juggernaut of a team, and whether it leads to failure or success, it's going to ...and more »


Somewhere, it's all LeBron James hears:Kevin Durant Kevin Durant Kevin Durant Kevin Durant Kevin Durant Kevin Durant Kevin Durant Kevin Durant ...Somewhere, LeBron James is steaming.Kevin Durant Kevin Durant Kevin Durant Kevin Durant Kevin Durant Kevin Durant Kevin Durant Kevin Durant Kevin Durant Kevin Durant Kevin Durant Kevin Durant ...Somewhere, LeBron James has to be thinking, "I just staged the greatest performance and team comeback in NBA Finals history, made Believeland more than a cruel and catchy slogan for heartbreak, and it's still all about the Warriors."Again.Still.
Somewhere, a super team and super threat to every other contender in the NBA is emerging because of Kevin Durant's decision to switch teams. And it's not in Oakland.It's wherever LeBron James is hanging out, and again doing what LeBron does when the league's focus, the pundits' praise and the bright lights of relevance and attention are focused on someone else.He's getting angry.Don't doubt it, and don't let anyone -- close to LeBron James or otherwise -- try and tell you the greatest basketball player on Earth doesn't care when the Warriors get all the ink. When Steph Curry, literally, gets all the votes for the Most Valuable Player award. When, after besting that 73-win Warriors team and taking from Curry not just a championship but the unofficial No. 1 ranking in the league, it's still Golden State gleaning all the glory and talk of certain greatness mere weeks after LeBron willed his team to a championship against them.LeBron James, like all would-be all-time greats, is a competitive, driven, obsessive person. And to watch the Warriors again steal his shine is a sure and certain motivator on a level too few are talking about. Throw in the fact that it's now Kevin Durant -- who LeBron already bested in an NBA Finals -- stealing his thunder and you can almost feel King James smoldering from wherever he is as he tries to figure out what in the holy hell he has to do for everyone to recognize his place on the throne.Somehow LeBron is being treated like an afterthought to K.D. and the Warriors.
USATSI
This isn't to say LeBron would be less of a player without the added motivation, or that his greatness would somehow be diminished without the rivalry and, yes, envy of his adversaries. But human beings are complicated creatures, and LeBron is among the most complicated and nuanced I've had the pleasure to cover. This is a guy for whom the alchemy behind his basketball brilliance includes a large dose of doubters and the fuel it gives him. Think about this: As incredible as the Warriors are, the Cleveland Cavaliers are still the defending champions. They still have LeBron James, who just rewrote what a star can do in an NBA Finals, and what a 3-1 deficit in a Finals does and does not guarantee. After the Durant news, the Cavs still opened in Vegas at 5/2 to win next season's NBA championship, making them favored ahead of everyone but Golden State. They still play in an Eastern Conference that, despite a rising Boston and interesting if not truly formidable Knicks and Bulls teams aside, poses few real threats to another Finals march.And yet it's all Kevin Durant Kevin Durant Kevin Durant Kevin Durant Kevin Durant Kevin Durant Kevin Durant Kevin Durant Warriors Warriors Warriors Warriors ...
Even news of LeBron, the best player on the planet and defending Finals MVP, telling the Cavs he's coming back hardly registered. You missed it? It was this week. You say it's to be expected? Cool. Durant being a Warriors has been a fact for weeks, and yet the spotlight stays steadily focused there.As well it should. It's about a top-three player joining an absolute juggernaut of a team, and whether it leads to failure or success, it's going to be an epic and raucous story to watch unfold. It's high drama mixed with great and amazing basketball, and the super team/super villain nature of it can't be denied.But neither can this: The moment Durant signed with the Warriors, and all the adulation and attention and focus moved yet again to Golden State, the groundwork for a second power was also set.LeBron James feeds off, at least in part, resentment. He learned to hone such things in Miami. And now he's got a season's worth to fire him up, to push him forward, to unleash a whole other level of greatness -- just as he did in June.Watch out for the Warriors, sure.But watch out just as much for a Cleveland Cavaliers team with LeBron James hellbent to prove, again, he's still the focal point of the NBA.

spotlight spotlight movie spotlight cast spotlight room escape spotlight trailer spotlight imdb spotlight 29 spotlight theater spotlight effect spotlight dance