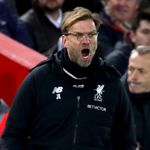 games
Jurgen Klopp says Liverpool heart will win games rather than tactics
February 13,2018 22:50
Liverpool manager Jurgen Klopp says passion is more important than tactics when it comes to winning games. The Reds are in Portugal ahead of their Valentine's Day fixture against Porto on Wednesday in the last-16 of the Champions League, as they aim to ...and more »


Jurgen Klopp's Liverpool take on Porto in the Champions League on Wednesday

Jurgen Klopp's Liverpool take on Porto in the Champions League on Wednesday

Liverpool manager Jurgen Klopp says passion is more important than tactics when it comes to winning games.
The Reds are in Portugal ahead of their Valentine's Day fixture against Porto on Wednesday in the last-16 of the Champions League, as they aim to reach the quarter-final stage for the first time in nine years.
But Klopp insists team selection will not decide the outcome when the two sides meet, claiming the players' desire will be the overriding factor in the result.

Get LFCTV half price for 12 months
Liverpool fans, get closer to the club you love with half price LFCTV. Just £3.50 a month for 12 months.

"The system will never win the game," said Klopp. "It's about the players and their decision making and doing the right thing in the right moment, throwing your heart on the pitch giving everything you have.
"Systems are very important but only to bring players in their best positions."
Klopp is confident the Anfield crowd could help Liverpool overturn a poor first-leg result, but he has urged his players to secure a positive result in Portugal to avoid chasing the result in the return fixture.

Southampton 0-2 Liverpool

Southampton 0-2 Liverpool

When questioned whether the game could be done after the first leg, Klopp asked: "Does that happen a lot in the Champions League? That one game decides it?
"I've not thought about it. But we believe in Anfield. We know it's a place where the crowd can make a difference.
"But to use that in the second game we need to do the job in the first game.
"We are looking to get a result to give us a chance in the second game. But it will be hard, we know that."

Super 6 £1m jackpot
Simply predict six correct scores to win Jeff's £1 million. Enter your selections for free here.


Sky,Sports,Football,Premier League,Premiership,Liverpool,Soccer,Anfield,Carling,FA,Cup,Jose Reina,Itandje,Diego Cavalieri,Daniel Agger,Jamie Carragher,Degen,Martin Skrtel,Steven Gerrard,Mascherano,Lucas,Joe Cole,Ryan Babel,Fernando Torres,Dirk Kuyt,Kristian Nemeth,Sebastian Leto,Rafa Benitez,Jovanovic,Ngog,Pacheco,Aquilani,Rodriguez,Ince,Insua,Kyrgiakos,Dalglish,Carroll,Suarez