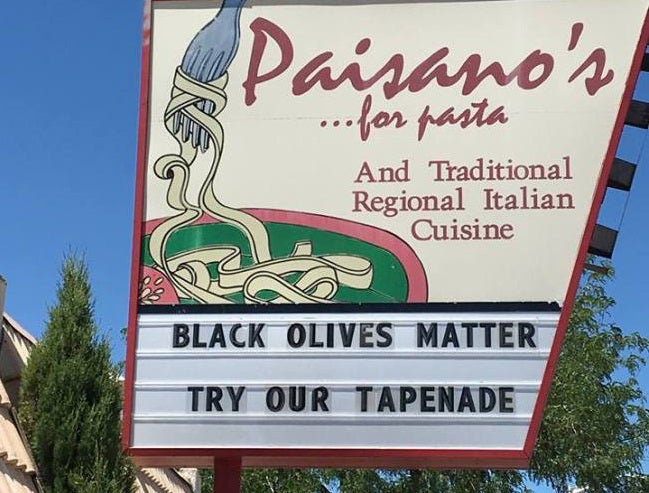 business
Italian restaurant sees surge in business after posting controversial 'Black Olives Matter' sign
July 21,2016 02:21
The owner of an Italian restaurant in New Mexico says he's seen a surge in business after posting a billboard that featured a food-centric pun playing off the Black Lives Matter slogan. Rick Camuglia, owner of Paisano's in Albuquerque, posted what he ...and more »


Is this sign offensive? The owner of an Italian restaurant in New Mexico doesn't think so. (Paisano's Facebook)

The owner of an Italian restaurant in New Mexico says he's seen a surge in business after posting a billboard that featured a food-centric pun playing off the Black Lives Matter slogan.
Rick Camuglia, owner of Paisano's in Albuquerque, posted what he thought would be a well-received joke on the marquee sign in front of his restaurant last week. It read:
"BLACK OLIVES MATTER — TRY OUR TAPENADE."
"We're currently offering a special seared ahi tuna with a black olive tapenade," Camuglia told FoxNews.com. "My chef had prepared the topping and placed it in the fridge. He wrote 'Black Olives Matter' on the container and I thought it was hilarious. So we put it on the marquee."
Eager to promote the seasonal fish dish, Camuglia also posted a picture of the sign to his restaurant's Facebook page.

But the restaurant owner never expected the post to go viral.
"It wasn't a mistake to put up the billboard," says Camuglia, "but it was a mistake to post it on Facebook."
Within hours of Paisano's post, Camuglia says the page was flooded with negative comments and the restaurant was inundated with phone calls.
"People were calling us racist. Saying we were a white supremacist restaurant. Some got really derogatory and just started cursing me out."
On Twitter and other social media platforms, many echoed similar sentiments.Facebook comments included, "How insensitive," "Very poor taste" and "What the hell is wrong with you people?" 
Despite the virtual vitriol, Camuglia says there's been a major upside to the post—big business.
"Our phone has also been ringing off the hook with people making reservations. People are placing carry-out orders in the high hundreds," says the restaurant owner. "And they're asking for black olives on everything. Black olives on the salad, 'I'll have extra black olives on my sausage sandwich'—we've had to order more from our supplier."
Paisano's has been family owned and operated since the 1970s. Unlike many traditional Italian restaurants, the Albuquerque eatery specializes in homemade gluten-free pastas. Now locals, and many others, just want more.
"We've had customers coming over from California, people even calling in from Australia."
Despite the uptick in business, Camuglia says he wasn't personally immune to the criticism. His restaurant is known for posting witty signs to drum up business—a previous post read "Gluten-us Minimus for your Gluteus Maximus"-- but nothing has gone national until now.
The president of the Albuquerque branch of the NAACP weighed in on the matter, providing a statement to KRQE:
"The posted sign at Paisano's Restaurant that included the phrase 'Black Olives Matter' is a nice marketing idea," Harold Bailey wrote. "However, with all of the national uproar, demonstrations and marches, regarding the shooting of African American men and youth by police officers, the Albuquerque NAACP feels that it was in bad taste….
"Hopefully, the owners at Paisano's will be a bit more sensitive in the future. Unjustified killing of innocent Black men is nothing to joke about. Whether it was intentional or not, it sent the wrong message to many."
On Friday, Camuglia took down the sign due to the continuous barrage of Internet harassment but he thanked the Albuquerque community and his customers for boosting his business in a Facebook post.
But he still remains unapologetic.
"Our intention was never to offend or hurt anybody," he says, "But all of this just says a lot about the state of our society when you can't even make a simple statement about a fruit without people attacking you. People may need to recalibrate their politically correct meter."
The sign may be gone but the dish lives on. The Ahi tuna special is still on the menu—Camuglia says it's delicious—and it costs $28.95.
business cards business business casual business insider business letter format business plan business casual for women business plan template business analyst business card template