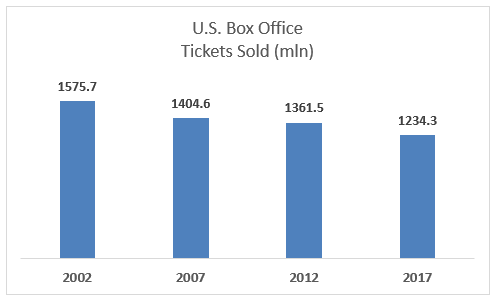 entertainment
iPic Entertainment: Poor Business Model Targeting A Declining Market
June 12,2018 02:07
Recent IPO iPic Entertainment (IPIC) currently fetches an enterprise value-to-revenue ratio of nearly 2x and roughly 0.70x 2018 price-to-revenue estimates. This represents about double the valuation of large-cap peers like AMC Entertainment (AMC), even ...and more »

Recent IPO iPic Entertainment (IPIC) currently fetches an enterprise value-to-revenue ratio of nearly 2x and roughly 0.70x 2018 price-to-revenue estimates. This represents about double the valuation of large-cap peers like AMC Entertainment (AMC), even though iPic is simply a movie theater chain with fancier dining and seating options. As traditional chains move to upgrade their service offerings, iPic will likely struggle to compete with larger companies with larger pockets. Assuming the same offering, consumers will have little reason to choose iPic over any other theater. For these reasons, Wall Street's premium valuation for IPIC shares appears to be unwarranted.
Industry Dynamics
Before even delving into the operations of iPic Entertainment, it is important to understand the dynamics of the market it is trying to serve effectively; movie goers. Simply put, movie attendance is a lot like print newspapers and magazines in that the industry is in permanent and steady decline. According to Box Office Mojo, U.S. box office ticket sales have dropped by 22% over the last 15 years:

Source: Box Office Mojo
The picture gets even worse when you consider that the population has been growing during this period of time, resulting in per-person movie attendance falling even more. Using Census Bureau population data, the decline per capita over the same 15-year period is a stunning 31%:

Source: Census Bureau, Box Office Mojo
iPic is embarking on a bold strategy; to steal market share in a declining market at a higher enough rate to show its investors impressive growth. While consumers are willing to pay extra for a better seat, advance reservations, and in-seat food service, competitors like AMC, Regal, and Cinemark (NYSE:CNK) have no barriers to entry and already have the theaters in which to upgrade the amenities. It will obviously cost less to replace seats and upgrade food offerings in existing locations than it does to build a brand new theater from the ground up.
So far success has been limited. Over the last five years, its market share has grown from 0.1% (1.521 million visitors in 2012) to 0.25% (3.049 million visitors in 2017) (Source: March 2018 investor presentation).
Unit Economics Unimpressive
The bigger problem for iPic, however, is its unimpressive financial returns, coupled with ugly balance sheet. With an average net cash investment of $11.5 million to build a new theater (Source: March 2018 investor presentation), iPic's negative cash flow and high net debt of nearly $150 million will make it hard for the company to fund growth with internally generated cash.
Below is a three-year summary of iPic's income statement, taken directly from the company's SEC filings:

Source: IPO Prospectus, 2017 10-K
As you can see, company EBITDA is negative due to low unit-level margins (sub-10% versus 15-20% for the typical restaurant chain) coupled with high administrative expenses. When you consider the interest expense required to service its high debt load, as well as high build-out costs to construct new locations, iPic becomes a cash-burning machine. Despite growing revenue by roughly 40% over the last two years, its EBITDA loss has actually tripled in size.
For 2018, iPic is projecting 5% revenue growth and capital expenditures of $22.5 million, which based on the Q1 run rate for interest expense ($19 million annually) and 2018 EBITDA guidance of negative $1 million (before >$10 million of stock-based compensation and other one-time items (Source: Q1 earnings release) would result in negative EBITDA of roughly $12 million and cash burn of roughly $30 million:

Source: 2017 10-K for 2017 results, Q1 2018 earnings release for 2018 revenue growth and EBITDA guidance, Peridot Capital Management LLC internal estimates for operating cash flow and four-wall margin
It is unclear how iPic plans on reaching sustainable profitability. Without that, new locations will be funded with debt and/or equity and existing owners will either be diluted or have more creditors ahead of them in the capital structure.
Even if it is able to leverage G&A expenses by 50% as it grows (AMC Entertainment, a large competitor, spends 4% of revenue), a 9% four-wall margin plus 5-6% in G&A costs barely results in positive EBITDA. It is hard to see how this business model could ever attain EBITDA margins north of 5%, and without doing so, there is not much of a path to debt repayment and cash-funded (as opposed to debt-funded) unit growth. Perhaps it is easy to see why the stock has fallen by 50% since the IPO:
Valuation Analysis
To play devil's advocate, let's assume iPic management figures things out and can double the business in 5 years, earning a 5% EBITDA margin, and holding current debt levels constant. That would result in ~$300 million of revenue, ~$15 million of EBITDA, and net debt of ~$150 million. How much would investors pay for that business five years from now?
Using an 8x EV/EBITDA multiple (the current valuation of AMC, as well as the restaurant industry - more than half of iPic's revenue is food and beverage so it really is a hybrid business), iPic's enterprise value in 2023 would be roughly $120 million. With $150 million of net debt, the implied equity value would be negative $30 million compared with today's value of $100 million (~11.2 million outstanding shares).
What Could Change My Mind?
The only catalysts for a reevaluation of the bearish thesis would be a lower stock price (which would price in the actual economics of the business model), or a material increase in the profitability of the typical iPic location, which would help fund lower debt levels and accelerating unit growth. The latter scenario seems unlikely, as the company has been building theaters for a decade without showing profitability. There are no reasons to believe the next 15 locations will perform profoundly better than the first 15 that are now open and operating.
Conclusion
Even after a 50% post-IPO decline, iPic shares appear to be materially overpriced given the company's low profit margins and high debt load. It appears the luxury movie theater business is a brutal one. I could see iPic shares breaking the $5 level over the next year or two, which would put it in line with other movie chains like AMC Entertainment, which trades for roughly 0.37x price/revenue and 1.1x enterprise value/revenue.
Disclosure: I/we have no positions in any stocks mentioned, and no plans to initiate any positions within the next 72 hours.
I wrote this article myself, and it expresses my own opinions. I am not receiving compensation for it (other than from Seeking Alpha). I have no business relationship with any company whose stock is mentioned in this article.

entertainment entertainment weekly entertainment media distribution kft entertainment store entertainment news entertainment facilities entertainment one entertainment tonight entertainment in budapest entertainment industry