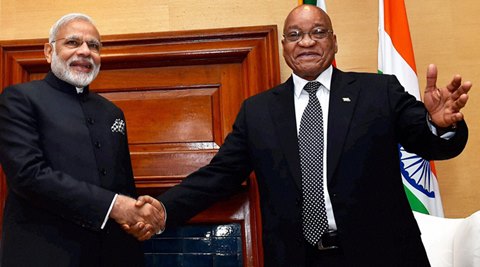 technology
India, South Africa to sign MoU on grassroot innovation; agricultural technology, indigenous knowledge systems
July 09,2016 20:09
India and South Africa will sign a MoU on grassroot innovation in selected areas, including agricultural technology and indigenous knowledge systems, on the sidelines of Prime Minister Narendra Modi's maiden visit to the country. The 20th anniversary ...and more »


By: PTI | Johannesburg |

Published:July 9, 2016 11:46 pm

Prime Minister Narendra Modi shakes hands with South African Deputy President Matamela Cyril Ramaphosa. PTI Photo
India and South Africa will sign a MoU on grassroot innovation in selected areas, including agricultural technology and indigenous knowledge systems, on the sidelines of Prime Minister Narendra Modi's maiden visit to the country.
The 20th anniversary of the bilateral cooperation in science and technology between South Africa and India will be celebrated by the signing of the memorandum of understanding.
The two countries share an interest in the development of grassroots innovations that can provide the affordable and accessible technological solutions needed by both countries, National Innovation Foundation said in a statement.

Share This Article

Related Article
Watch Video: What's making news

The MoU will cover technology demonstration, training, capacity building, sharing of open-source technologies and joint product development, it said.
"Notable advances have been made in sustainable grassroots innovation, though there is still mileage to cover particularly on how our instruments and infrastructure responds to all types of innovation production across the spectrum- age, gender, economic status and location," said Department of Science and Technology spokesman Julian Leshilo.
Director of India's National Innovation Foundation, Dr Vipin Kumar said that similar to South Africa, India has achieved considerable success in technology but the technological needs and ideas of people in rural areas are neglected.
"There is a need to incubate and convert the ideas into products," Kumar said.
A series of special events will be organised throughout the year to celebrate this strategic partnership between India and South Africa, culminating in the Science Forum South Africa to be hosted by the Department in Pretoria in December 2016, the statement said.
In addition to grassroots innovation, South Africa and India collaborate on a range of scientific domains, such as the fight against infectious diseases and the Square Kilometre Array (SKA) global radio telescope project currently being built in a desert area of South Africa.
Top business leaders from India and South Africa on Friday signed eight MoUs leading to increase cooperation in a wide range of areas between the two nation.
The MoUs were also signed on the sidelines of Modi's five-day visit here aimed at further bolstering cooperation on economic, political, social and international areas.
Modi is on four-nation tour. He visited Mozambique on Thursday and is on the second leg of his tour of Africa. He will also visit Tanzania and Kenya.


india,south africa,india south africa ties,south africa india ties,modi in south africa,india south africa mou,latest news,world news