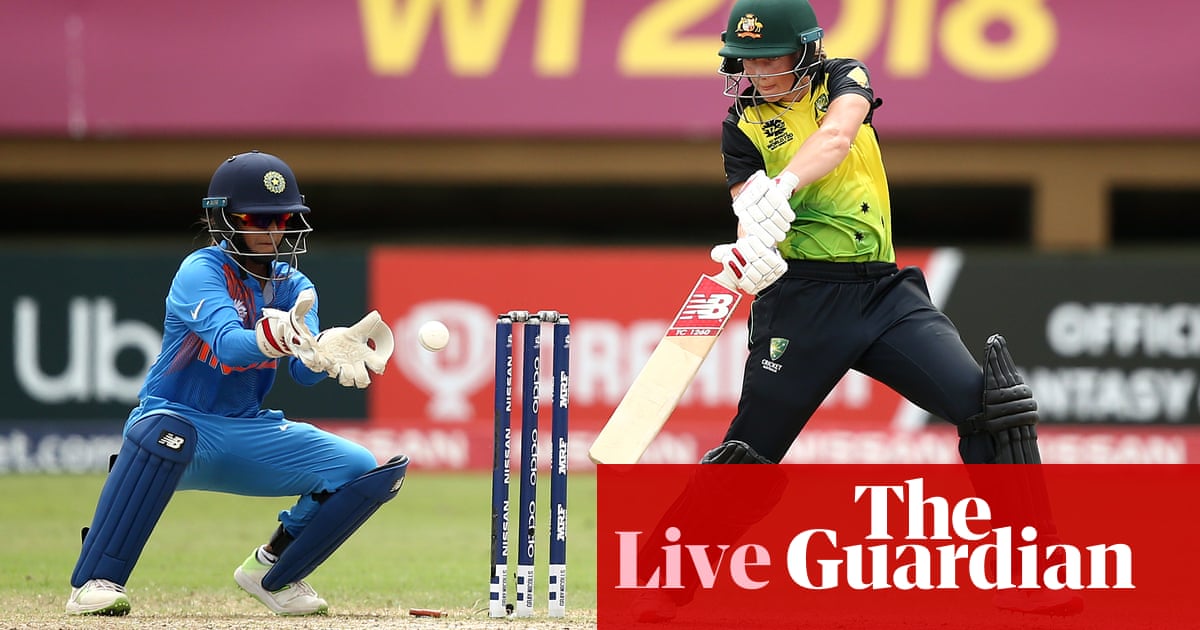 world news
India beat Australia by 48 runs in Women's World Twenty20 – as it happened
November 17,2018 19:17
No one steers our opinion. This is important because it enables us to give a voice to the voiceless, challenge the powerful and hold them to account. Readers' support means we can continue bringing The Guardian's independent journalism to the world.


India win by 48 runs

Australia had a winning streak of 12 matches, but that has come to end. India have thrashed them. Thrashed. What a performance from the women in blue, who have had some very steep ups and downs in the last couple of years: failure at the 2016 World T20 at home, making the World Cup final last year in the 50-over format, losing the Asia Cup final to Bangladesh in a huge upset this year, and now storming into the semis unbeaten from the pool stage in this WT20. They have a big chance to take their first global title if they keep playing like this.
Smriti Mandhana was the star of the show with her stylish and fast 83 from 55 balls. Harmanpreet added the brutality with 43 from 27. Perry was the best bowler with 3 for 16, though Vlaeminck looked useful and underused.
Australia never got going in reply, aside from a brief opening flurry from Beth Mooney. Perry was 39 not out from 28 in the end, but even she only got going once the game was all but dead. Patil took 3 for 15 from almost her full allotment, while Deepti took 2 for 24, Radha 2 for 13, and Poonam 2 for 28.
Big win for India, and it certainly shakes things up for the semi-finals. But there'll be some more Pool A games to come to determine who'll be playing who out of India, Australia, England, and West Indies. Goodnight.

WICKET! Vlaeminck st Bhatia b Patil 0 (2 balls), Australia 119-9

And it's over. With Healy unable to bat, Australia is all out at nine wickets down – so Ravi's question from earlier was relevant in the end. Vlaeminck has a big gallop and a slog, and why not as someone who was listed at No11 on debut with two balls left in the match. Getting out stumped is a tailender's badge of honour.

WICKET! Schutt c Bhatia b Patil 4 (4 balls), Australia 118-8

In the voice of the bloke from The Castle, what is it with tailenders and the leg side? Patil bowls so far outside off that Schutt basically has to walk to point, and then Schutt still tries to slog it over midwicket. The ball just goes straight up and down, and the keeper takes the simple catch.

19th over: Australia 118-7 (Perry 38, Schutt 4) Perry takes the chance for a spot of range-hitting, smoking Deepti over deepti midwicket. After that she's happy to trade singles with Schutt.

18th over: Australia 108-7 (Perry 30, Schutt 2) Batting practice for Megan Schutt is all that this situation can offer. She might as well make use of it. Asking for 59 from two overs is a bit steep.

WICKET! Kimmince c&b Radha Yadav 1 (3 balls), Australia 105-7

What a catch! Another blinder. Radha had that misfield in the outfield earlier, but she's made up for it since. This time gets a high leading edge from Kimmince's slog, and there's no mid-on or mid-off to take it. So Radha sprints back from her bowling mark to about a mid-on, dived backwards and clung on.

WICKET! Molineux c Krishnamurthy b Patil 9 (8 balls)

17th over: Australia 103-6 (Perry 28) This is how they fall when the required run rate blows out past 20. Patil had only conceded four from the over and Molineux couldn't get her away. Swung in desperation. Yet another outfield catch for Krishnamurthy, this one down the ground.

16th over: Australia 99-5 (Perry 27, Molineux 6) The new batter clobbers a leg-side slog that should be a catch but ends up as a boundary instead, off hands. Nine runs from the over is a decent return, but losing Haynes without having fired a shot has all but ended Australia's chances.

WICKET! Haynes st Bhatia b Poonam 8 (12 balls), 90-4

Almost inevitable at some point. Haynes charges looking for a big shot. Poonam has bowled the wrong 'un, which spins away from the left-hander and leaves her stranded.

15th over: Australia 90-4 (Haynes 8, Perry 24) Harmanpreet carries on, but may wish she didn't. Perry slams a pull through midwicket, a drive over the bowler's head, and another pull further in front of square that hits the gap. Three boundaries. "Is that the big over Australia needs?" asks Lisa Sthalekar. Um, they all need to be big overs.

14th over: Australia 76-4 (Haynes 7, Perry 11) Perry finds the outfield gap a couple of times against Poonam wide of long on, allowing them to come back for a second run. They harvest some singles and take seven of the over. But they still need 92 in 36 balls.

13th over: Australia 69-4 (Haynes 6, Perry 5) Harmanpreet wants a bowl herself. Why not? She's the captain, her team's right on top, and she punted runs around the ground for her own entertainment. Bowls over the wicket, teasing the left-handed Haynes with the angle across her. Haynes leaves expecting a wide, but it isn't one.

12th over: Australia 64-4 (Haynes 3, Perry 3) Radha Yadav, the Python. Three singles from the over. This batting pair, they're trying to get going, but they just can't find purchase or time anything.

11th over: Australia 61-4 (Haynes 2, Perry 1) A couple of singles to close out the over, and Poonam has gone for four runs and taken a wicket. People underestimate her all the time, because she's about four-foot-two and bowls at 28 kilometres an hour. But her flight through the air deceives players, and her lack of pace makes her hard to hit long. Very few can consistently time their shots against her leg-breaks. Gardner did it once for six, but the lack of pace brought her undone the second time around.

WICKET! Gardner c Krishnamurthy b Poonam 20 (19 balls), Australia 59-4

Lord Veda does the damage for the third time today. Gardner is Australia's most damaging hitter, and there was some hope if she could get going, but she finds long-off to give Krishnamurthy her third outfield catch.

10th over: Australia 57-3 (Gardner 19, Haynes 0) Only one run from an over that produced the wicket of Lanning. Haynes is next in, and has been Australia's fastest scorer since the 2017 World Cup, but the ask of 111 in 60 balls is probably too high. Australia just haven't looked up for it today.

WICKET! Lanning c Krishnamurthy b Radha 10 (16 balls), Australia 56-2

They've been annoying Lanning by bowling way outside off stump, and she's been impatiently walking across to hit balls that may have been wides had she left them alone. Finally she gets one straighter and hauls to the leg side, but picks out deep midwicket like Villani did. Lanning hasn't been back to her best at any point in this tournament, after not playing much in the past year or so.

9th over: Australia 56-2 (Gardner 18, Lanning 10) Double Yadav attack, with the leg-spinner Poonam at the other end. Gardner skips down and launches six over the off side. Good shot, but they only add two other singles from the over, so it's not the productive one Australia needs.

8th over: Australia 48-2 (Gardner 11, Lanning 9) The squeeze is on. Radha Yadav, the left arm ortho, concedes four singles when Australia need 10 an over.

7th over: Australia 44-2 (Gardner 9, Lanning 7) Deepti Sharma is having a fun day. There's one boundary in the over, when Lanning lashes to deep cover and a misfield from Radha Yadav lets the ball through. But aside from that Deepti is all over her, varying flight and pace, drawing misses and miscues and shots straight to the field. The last ball of the over turns sharply and takes the pad, and India burn their review checking the lbw. The turn was taking that ball well down leg.

6th over: Australia 39-2 (Gardner 9, Lanning 3) I'll tell you what, I could go a long time without needing to hear the tournament theme song again. It's nice and all, but getting the same 10 seconds of it after every boundary and wicket and over is wearing faster than a Caribbean pitch. I'll put my hands in the air if it will be taken as surrender in this musical war, and an armistice can then be signed. Let the guns fall silent.
Gardner finds the field three times in a row, then finally edges Reddy for four, and smacks another boundary from the straight drive. They're the only scores from the over.

5th over: Australia 31-2 (Gardner 1, Lanning 3) A couple of wickets in the over and the Australians have to start again.

WICKET! Mooney b Deepti 19 (17 balls), Australia 27-2

Deepti Sharma is on a hat-trick! The batters crossed while Villani's shot was in the air, so now both openers are gone. And what a way to get the wicket, bowled around her legs. Mooney aimed the sweep and missed.

WICKET! Villani c Krishnamurthy b Deepti 6 (9 balls), Australia 27-1

Short ball, there to pull, but Villani doesn't keep it down and doesn't get anywhere near enough to threaten a six. Instead she picks out the fielder in the deep.

4th over: Australia 27-0 (Mooney 19, Villani 6) Patil nearly gets through another tidy over, but Mooney drives four over cover from the last ball to improve the equation. Australia still need 141 in 96 balls.
I'm trying to figure out why Tayla Vlaeminck didn't get to bowl more. Two overs going for nine runs, the most economical on the day. Perhaps Lanning was worried that later in the innings when Mandhana was flying, the extra pace could have been used against Australia. But it seems odd that other bowlers were bowled out despite going at 10 an over or more.

3rd over: Australia 20-0 (Mooney 14, Villani 4) Gee, an over like that hurts Australia. India decide to go with spin in the Powerplay, and Deepti Sharma's off-breaks are the method. Mooney can't time them at all, sits there marooned for several balls. Deepti gives some oxygen with a couple of wides, but the frustration of not being able to make good contact can make players do silly things in short order. Six from the over including the extras.

2nd over: Australia 14-0 (Mooney 13, Villani 1) Anuja Patil complements the seam of Reddy with her little spinners, dropping them on a length for a couple of dots and a couple of singles.
That's right. If she can't come to the middle, that's one less wicket for India to take.

1st over: Australia 11-0 (Mooney 11, Villani 0) Good start for Australia! In the circumstances. No Healy, as expected - the attacking Villani opens with Mooney. But Mooney faces all the balls and scores all the runs. Arundhati Reddy is the bowler, and Mooney glides her for four on one side of the keeper, then glances her for four down the other.

Australia will need 168 to win

For reference, there have only been three successful chases of this size or bigger in Women's T20 Internationals. None of them by Australia. So a huge task ahead, and made that much harder by the likelihood that Alyssa Healy could miss out under concussion protocols: doubt they'll risk her. On the plus side for Australia, they've already qualified for the semi-finals so this match isn't a must-win.

20th over: India 167-8 (Yadav 1) Deepti Sharma is bowled by the last ball of the innings for 8 from 10 balls, Perry just bowling straight as per the manual, and conceding eight runs from the final over is a decent result. Two wickets, and Perry ends with 3 for 16 from her three overs.


Women',s World Twenty20,Australia women',s cricket team,Women',s cricket,Australia sport,Sport,Over by over reports,Cricket