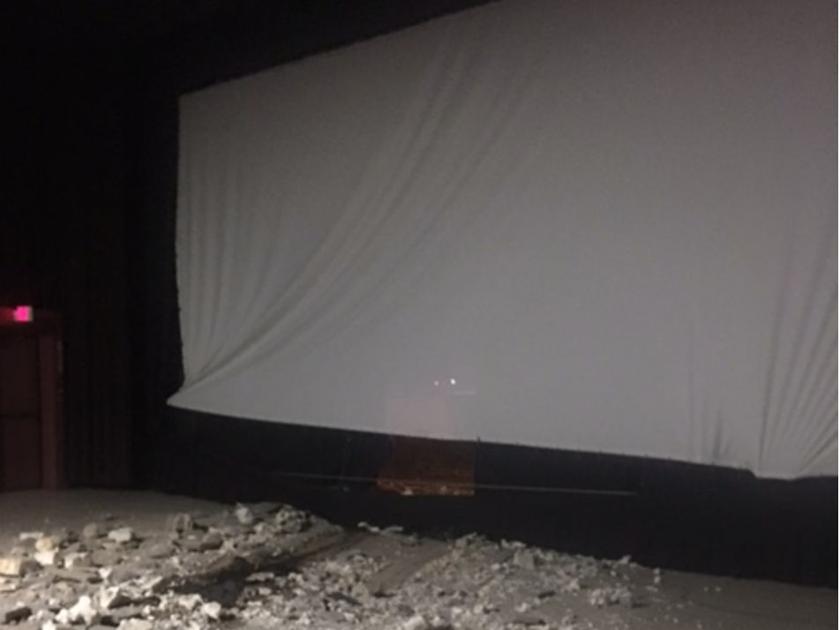 cinema
Greensboro movie cinema struck by vehicle; driver in serious condition
January 09,2018 09:21
Sedgefield Cinemas sustained substantial damage to Auditorium 4 after a driver lost control of his vehicle and drove through the concrete wall. Photo contributed by Daniel Kleeberg. Cinema. Damage to Sedgefield Cinemas. Daniel Kleeberg. Sedgefield ...and more »

GREENSBORO — A 31-year-old man is in serious condition after his vehicle crashed into a movie theater.
Lt. C. Stevens with the Greensboro Police Department said officers are still investigating what caused Komala Koughbany to lose control of his car early Monday morning.
Stevens said officers determined that around 1:15 a.m. Koughbany was driving around a sharp curve on Groometown Road when something affected his control over the vehicle.
Koughbany crashed his car into a sports utility vehicle, sending the SUV into a light pole. His car then continued to travel until it went through the back concrete wall of Sedgefield Cinemas at 4631 Gate City Blvd.
Sedgefield owner Daniel Kleeberg said the wreck sent concrete flying through the air, landing in the first eight rows of Auditorium 4.
"I got the call at 1:47 a.m. that someone was trying to make the theater into a drive-in," Kleeberg said.
The wreck left oil stains on the carpet and severely damaged the screen, curtains and speakers.
Kleeberg said there is at least $150,000 in damages, but he believes the total is more likely to be closer to $300,000.
Stevens said police haven't been able to speak with Koughbany since the wreck.

Contact Danielle Battaglia at 336-373-4476 and follow @dbattagliaNR on Twitter.

sedgefield cinemas,daniel kleeberg,komala koughbany,wreck,groometown road,gate city boulevard,greensboro cinema,greensboro movie,c. stevens,cinema,motor vehicle,highway,transports,vehicle,officer,car,curtain