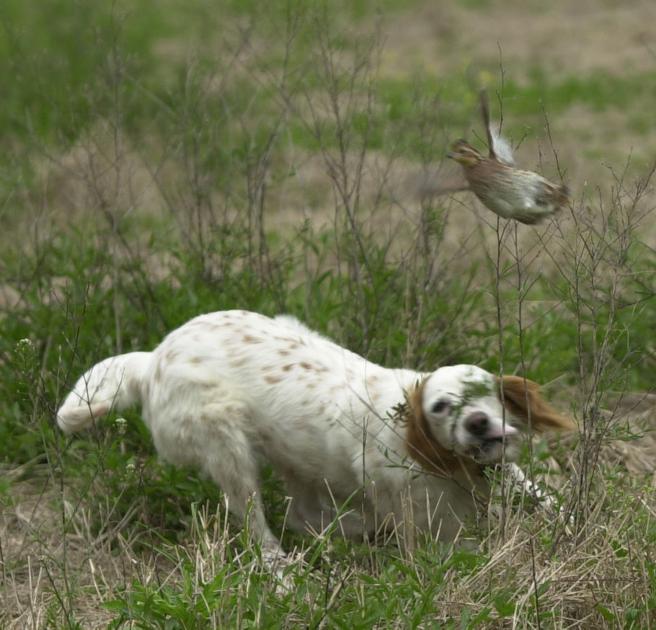 sport
Friday's Quail Forever event aims to preserve age-old shooting sport ...
October 22,2017 08:22
English setter Belle chases a quail at Covey Rise, a hunting preserve in Tangipahoa Parish. The local Quail Forever chapter is holding its annual fundraiser ...and more »

There will be a celebration Friday night in Port Allen.
It's not for things present, but to remember the glory of days past, and to pray sprigs of hope grow into something resembling those grand memories of now long-ago days.
That's not too much to expect from Friday's Quail Forever afternoon and evening at the newly refurbished and newly named Bridgeview Gun Club (the old Hunters' Run).
It's the third such annual gathering for QF's Atchafalaya Chapter, but the roots go much deeper, much further back in time.
True, the purpose for having something named Quail Forever is to preserve this ages-old shooting sport, and to help find ways to restore quail habitat in Louisiana.
And more.
"It's family for me," chapter organizer John Ballance said. "It goes back to my father's father and to my father. Quail hunting in Louisiana goes back generations. It was, and continues to be a family sport.
"I have memories of my father and seeing his passion for the dogs working in a field. He passed that along to me, a gentleman's sport, and that's why this tradition needs to be passed along," he said. (A note here: Ballance heads The Advocate's Photography Department).
Ballance's enthusiasm for this sporting way spilled over after a hunt on a south Mississippi preserve. Gary Littlefield remembered that conversation and the memories it stirred.
"Yeah, John roped me into it after a hunt," Littlefield said. "It was after we went to Thornhill's (the quail hunting preserve in Jayess, Mississippi) and the experiences with family and friends and knowing how rewarding it is on a morning or afternoon hunt.
"I was introduced to quail hunting in East Feliciana when I was 13 years old," the Baton Rouge banker said. "I love to watch dogs work a field, to see the quail fly, to experience the hunt with my sons and to have the thrill of being with them in the outdoors. And I love to eat quail, and that makes this a full-circle sport."
There's more to Friday than a gathering of gray-haired men and their spouses.
Ballance and Littlefield ticked off a list of activities the Atchafalaya Chapter have organized during the past two years, and a handful of coming attractions.
"First, our group decided to use the (banquet) funds we raise for youth events to expose youngsters to hunting, to quail hunting, to bird dogs and get fathers and sons, fathers and daughters and mothers into a sport they can enjoy and get the family into the outdoors and away from TV and other electronic distractions," Littlefield said. "Quail hunting isn't a sedentary sport. It's walking, it's exercise."
Ballance said these youth events teach shotgunning — safety is paramount — and shooting on skeet, trap and sporting clays ranges.
"We've set up meetings with landowners and (The Department of) Wildlife and Fisheries to help landowners understand what they can to do establish and enhance quail habitat, and the practices they can use to develop lands to nurture and develop their lands for quail," Ballance said. "And what landowners have found out in these meetings is developing quail habitat is not that difficult."
Their efforts include sporting dogs. The local chapter partnered with a couple of other groups to sponsor a snake training event.
"I've had friends whose dogs have been bitten by snakes, and the training session was designed to help dogs recognize the dangers of snake bites," he said. "Everyone knows Don Dubuc (outdoors radio and TV host) and his dog was bitten by a snake on a woodcock hunt. Thankfully his dog survived, but I had a friend whose dog didn't. The training was for all hunting dogs, Labradors included and it was a success."
Pushing out 12 months, future plans call for at least one more youth event, another landowner-wildlife biologists meeting and an "awareness" days spent at Covey Rise Preserve outside of Husser northeast of Hammond.
Longtime outdoors activist Camp Matens is another volunteer Ballance enlisted for the cause of quail. He and his wife, Barbara, are avid hunters and shooters.
"It was easy to get involved," Matens said. "I started quail hunting when I was 10 years old, always with family. The outdoor world has been good to me, and this is a chance to return that favor."
Friday night
It's more than a banquet: The Atchafalaya Chapter moved from a more formal setting to Bridgeview in Port Allen and begins its annual fundraiser with a 4:30 p.m. "fun" shoot. The usual social hour (grilled oysters are on the menu) begins at 6 p.m. followed by a steak dinner at 7 with the usual sides of raffles and silent, then live auctions.
For details, or for tickets, call Ballance at (225) 266-1953, Littlefield at (225) 932-7245 or Chad Linder at (225) 281-3279.
You can help
The state has a special Quail Forever license plate "Bring back the Bobwhite," with the proceeds from the plate going into Wildlife and Fisheries' Natural Heritage account for use in promoting quail habitat.

sports,outdoors