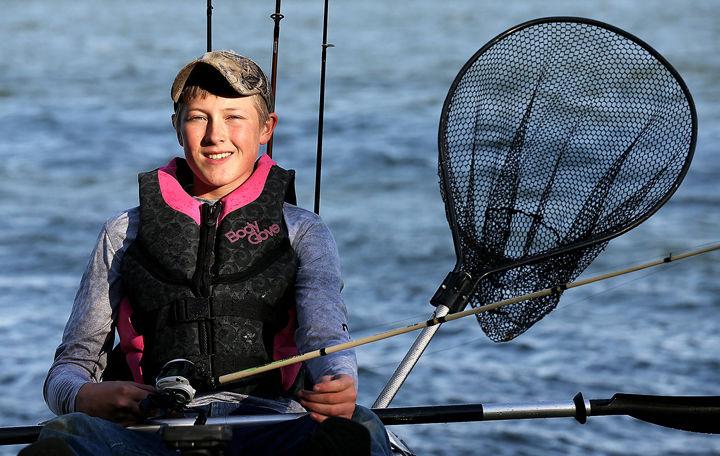 lifestyle
Fishing and outdoors have become a lifestyle for Aurora 15-year-old
October 23,2017 09:21
Aurora freshman Ford Ekhoff, 15, sits in his kayak at Mormon Island State Recreation Area south of Grand Island. Ekhoff, who has been fishing since age 3, placed first in every youth kayak fishing series event he entered across the state over the past ...

AURORA —Nature's noise is the most peaceful thing to 15-year-old Ford Ekhoff.
Ekhoff is a freshman at Aurora High School and has been an outdoorsman since he was about 3 years old.
"It's just kind of been my lifestyle," he said. "It gets me to connect with the wilderness. I like the nature and being alone."
Ekhoff said when he was young, he would go along hunting with his dad. He would learn how to shoot a BB gun, while his dad used the rifle. He also started trapping a couple of years ago.
He participated in more than 10 fishing tournaments across Nebraska this past summer. The tournaments usually last from 2 to 7 p.m.
Ekhoff placed first in all the kids fishing series he participated in and all except for one 15-and-up series. In the tournaments, the fish are caught and measured for length before they are thrown back. A computer system records the total inches and whoever has the most inches wins.
He does kayak fishing, which he started about two years ago. Ford said Peter Maudin taught him how to kayak fish, as he's always wanted to.
"He inspired me to do kayak fishing," Ekhoff said.
The difference between fishing in a boat and in a kayak is significant. In a kayak, he said, he can't endure as many waves without possibly tipping over. However, he is able to get into much shallower water and into tighter spaces. If fish are in a small nook in a lake, he's able to get to them.
Ekhoff's mom, Renee, said when he fishes he always wears a special pink life jacket. The life jacket is pink to represent breast cancer. However, he has about a dozen names of friends and family who have been diagnosed with all types of cancer.
He enjoys fishing for bass the most. With other types of fish, such as walleye or catfish, it's more waiting. He said he likes bass fishing because he gets to cast a lot more times and move the bait around.
A few times a year he takes veterans from the Veterans of Foreign Wars post on a fishing outing. He also is a certified Nebraska Game and Parks instructor, as is much of his family, so he helps teach younger kids to fish. His mom heads the Grand Island Senior High fishing and outdoor club and he helps out with that.
About being a successful fisherman at 15, Ekhoff said, "it just gets me one step closer to my goal in the future."
That goal is to be a career fisherman.
He said he loves fishing because he not only loves to eat fish, but it offers a challenge. It may not be as exhilarating as hunting a buck, but he enjoys it most.
Ekhoff says he always tries to stay positive, even when he is fishing for hours and not getting any bites.
"That's the thing that matters," he said. "Never give up."
"Every moment that I can get out on the water, I try as hard as I can," Ekhoff said.

fishing,ford ekhoff,outdoors,nature,ichthyology,sport,peter maudin,kayak,renee,fisherman,life jacket