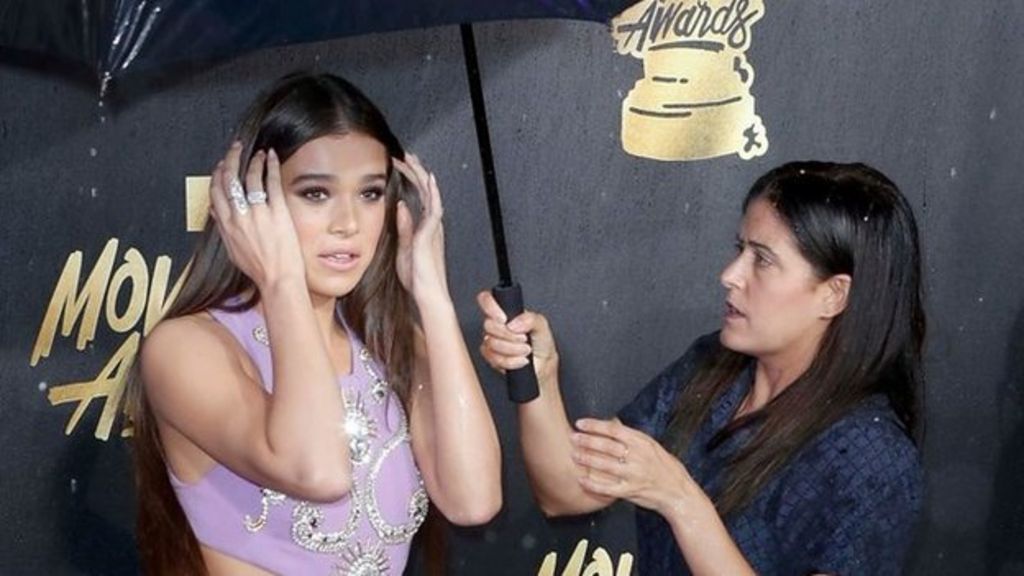 entertainment
Entertainment news round-up: 6-12 May
May 14,2017 12:13
Catch up on some of the entertainment stories from the past seven days that you might have missed. Image copyright Getty Images Image caption Emma Watson won the the first gender-neutral prize at the MTV Movie and TV awards, stoking the debate about ...and more »

Catch up on some of the entertainment stories from the past seven days that you might have missed.

Image copyright Getty Images
Image caption Emma Watson won the the first gender-neutral prize at the MTV Movie and TV awards, stoking the debate about whether award ceremonies should have different "best actor" and "best actress" prizes any more.Is it time to scrap gender specific awards?
Media playback is unsupported on your device

Media captionBut to get inside the awards, the celebrities had to brave a hailstorm on the red carpet.
Image copyright Shirley Ballas
Image caption After a year of waiting, Strictly Come Dancing fans were told "Queen of Latin" Shirley Ballas will replace Len Goodman as head judge.Who is the new Strictly Come Dancing judge?
Media playback is unsupported on your device

Media captionJessica Chastain's expression said it all when she was asked about Johnny Depp's technique for memorising lines - using an earpiece. "My technique is working hard," she responded.Media playback is unsupported on your device

Media captionDavid Beckham has made his speaking debut in a film - with a role in Guy Ritchie's King Arthur: Legend Of The Sword. Film fans were less than impressed.
Image copyright PA
Image caption DJ Robert Miles, seen receiving a Brit Award from Gary Barlow and Louise Redknapp in 1997, died at the age of 47. He will be remembered for his trance hit Children, which was written partly to calm down clubbers at the end of a night out so there was less risk of car crashes.Robert Miles' Children - the hit written to save clubbers' lives

Image caption Twenty-five years after their debut album and two years after their comeback, the surviving members of R&B group TLC finally played their first UK show.TLC make a 'joyous' UK stage debut

Image caption Actor Chris Evans took time out from being Captain America to read a bedtime story to CBeebies viewers... and their mums and dads.Mums swoon over Chris Evans on CBeebies

Image caption The latest rays of sunshine to arrive in Albert Square have been revealed - the Taylor family will move in for fun and frolics on EastEnders this summer.Meet the new EastEnders family

Image copyright Getty Images
Image caption Channing Tatum wrote an open letter to his three-year-old daughter, urging her to have "the fearlessness to always be her authentic self, no matter what she thinks men want her to be".Tatum writes open letter to daughter

Image copyright Getty Images
Image caption Actor Michael Parks was once touted as the heir to James Dean, and was one of Quentin Tarantino's favourite actors. He died at the age of 77, and was described as "the best actor I've ever known" by director Kevin Smith.RIP Michael Parks: Hollywood's most underrated actor?

Image copyright Getty Images
Image caption Millions of children love the stories of Roald Dahl - and now we will see the story of the man behind Charlie and the Chocolate Factory and Matilda when he's played by Hugh Bonneville in a new film biopic.Hugh Bonneville to play Roald Dahl
Follow us on Facebook, on Twitter @BBCNewsEnts, or on Instagram at bbcnewsents. If you have a story suggestion email entertainment.news@bbc.co.uk.

entertainment entertainment news entertainment center entertainment weekly entertainment tonight entertainment earth entertainment near me entertainment book entertainment careers entertainment partners