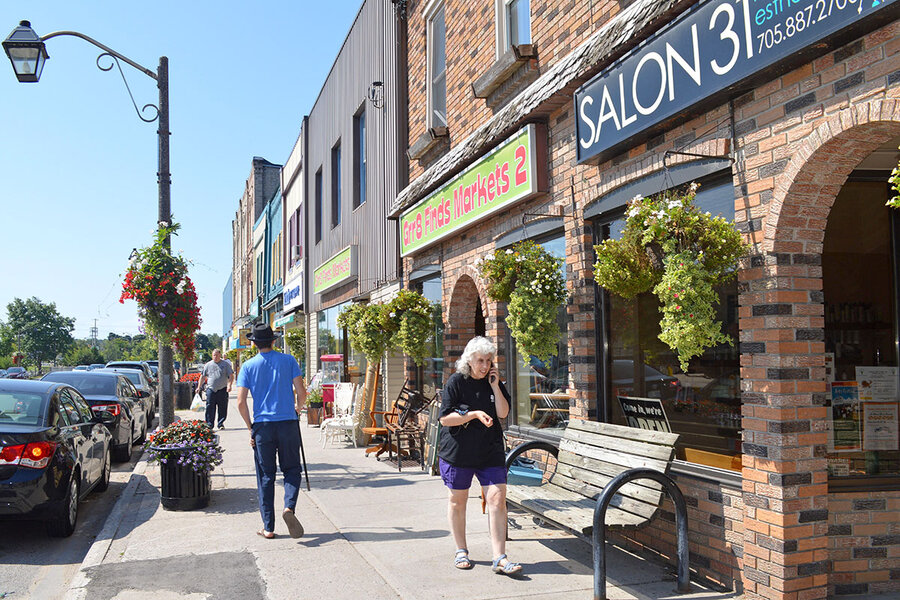 lifestyle
Endless summer? More Canadians embrace a getaway lifestyle.
August 30,2018 22:09
Some have been priced out of the Greater Toronto Area, or, because they are no longer bound to desk jobs, want to opt for quieter lifestyles. And local officials see seasonal visitors beyond their tourist potential, as an untapped resource for ...

Summers at the "cottage" are part of the seasonal ritual for city dwellers across Canada. Tim Wisener spent each of his on one of the 250 lakes and rivers that dot the municipality of Kawartha Lakes, east of Toronto. He still recalls what it felt like when their car made the last turn. "It was freedom at the end of road," he says. "You had a bicycle, and your mother did not want to see you until dinner." But Kawartha Lakes, like other Ontario region vacation towns, is now becoming a home beyond just the summer. An increasing number of seasonal residents like Mr. Wisener are deciding to live year-round in summer towns, and opening up new businesses, restaurants, and cultural opportunities. A report from the Federation of Ontario Cottagers' Associations showed a significant number already working from their waterfront properties. Terry Rees, executive director of FOCA, calls it a win-win for rural towns and people who now are calling themselves townspeople. "It offers something different than what is increasingly an urban existence in Ontario," he says.

Kawartha Lakes, Ontario
Two pre-teen girls shriek as their inner tube cuts a path on the lake. A couple picks up mallets for a croquet game on a nearby lawn. At nightfall around a campfire, a grown man delights children with his best loon call.
It's a perfect slice of summer, this scene from "cottage country" in Ontario. And across the northern hemisphere, as Labor Day weekend turns, the curtain will come down. Along coasts, seafood shacks will shutter. Canoes and kayaks will be stored. Cars will be packed to the brim and driven away from town centers.
But not everywhere.
An increasing number of seasonal residents are deciding to live year-round in summer towns, and opening up new businesses, restaurants, and cultural opportunities. A report from the Federation of Ontario Cottagers' Associations (FOCA) showed a significant number already working from their waterfront properties. And more than a third of those surveyed say they'd consider it – which could help to sustain summer vibrancy off-season.
Some have been priced out of the Greater Toronto Area, or, because they are no longer bound to desk jobs, want to opt for quieter lifestyles. And local officials see seasonal visitors beyond their tourist potential, as an untapped resource for community and economic revitalization. Terry Rees, executive director of FOCA, calls it a win-win for rural towns and people who now are calling themselves townspeople. "It offers something different than what is increasingly an urban existence in Ontario," he says.

Sara Miller Llana/Staff
A view of Lower Buckhorn Lake in Ontario's 'cottage country,' which will empty out after summer's high season.

Summers at the "cottage" are part of the seasonal ritual for city dwellers across Canada. Tim Wisener spent each of his on one of the 250 lakes and rivers that dot the municipality of Kawartha Lakes, east of Toronto. He still recalls what it felt like when their car made the last turn. "It was freedom at the end of road," he says. "You had a bicycle, and your mother did not want to see you until dinner."

Last fall, he and his husband Chris Van Lierop decided to relocate to that cottage, setting up their design company, Home By Tim+Chris, in the town of Fenelon Falls. Their market is other cottagers who want to prepare their properties beyond simply summering, and their growth shows the demand: they've expanded to eight employees in a year.
They've also joined the chamber of commerce and downtown revitalization committee. Mr. Wisener is working to bring a theater company to Fenelon Falls for a run next summer. This summer they opened a gallery space on the town's main street, in a former radio station and dance studio that were both shuttered.
"One of our reasons for opening a gallery was that we really wanted to give another opportunity for the lights to be on," Wisener says. "Things don't need to shut down."
It becomes a virtuous circle. Anna Radey, the owner of Slices 'n Scoops in Fenelon Falls – a quintessential summer joint where kids walk out with blue ice cream smeared on their faces – normally would be closing her doors after Labor Day weekend. This year she has decided to stay open through Thanksgiving.
"Things have changed," says Gail McCormack, the founder of Kawartha Waterfront Realty. "There are many, many people who live year-round in our area now that was not heard of even five years ago."
That's an envious position for many summer towns. Michael Goodman, the executive director of the Public Policy Center at the University of Massachusetts Dartmouth, researches the historic summer destinations of coastal Massachusetts. He says aging populations and growing inequality, with second homes more out of reach for the middle class, have exacerbated seasonal use and winter depopulation. "These communities are having a very difficult time recruiting and retaining people of working age who want to live year-round," he says.
Kawartha Lakes is still very much a summer boom town, too. The population is 75,000, but the municipality attracts 1.6 million domestic visitors throughout the year. And while the overall population declined between 2006 and 2016 according to census figures, among those ages 20 to 34 there was a slight bump.
Cheri Davidson, communications manager of the municipality of Kawartha Lakes, says that costs and lifestyle drive that change. And as more make the move, infrastructure follows which draws more long-term residents. "Our culture is shifting to be much more attractive [to those] used to a bigger city who want all the benefits of a cottage lifestyle," she says.
Living year-round changes the notion of summer escape, admits Wisener. But it's his extended family – packing up on a recent day to return to their homes – whom he pities. "I feel so badly for my little cousins," he says. "There are tears."
That sense of angst is real, as the days wane and the "summer afternoon" – what author Henry James called "the two most beautiful words in the English language" – vanishes. Therapists even talk about "August blues."
Of course not all experience it. Fenelon Falls librarian Heather Saigeon says she supports the cottagers and those moving here long-term. But she looks forward to the end of Labor Day weekend as much as others might dread it.
"Kids go back to school, the cottagers disappear. You can drive down main street and get a parking spot," she says. "I can't wait."

lifestyle lifestyleshop lifestyles lifestyle magazin lifestyles skyn lifestyle hotel kupon lifestyle cook it lifestyle hotel wellness lifestyleshop kupon lifestyles ultra thin